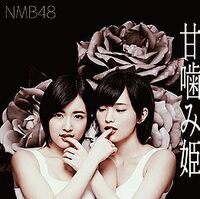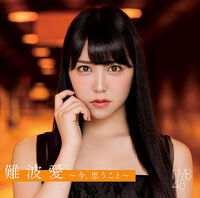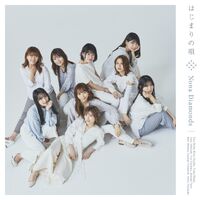 365nichi no Kamihikouki (365日の紙飛行機) is a coupling song from AKB48's 42nd single Kuchibiru ni Be My Baby, performed by Asa ga Kita Senbatsu. The song is also included in their 5th studio album Thumbnail. Also, it's included on NMB48's 14th single Amagami Hime and 3rd album Namba Ai ~ Ima, Omou Koto ~, performed by Yamamoto Sayaka; and have a version of Nona Diamonds in their unit's debut single Hajimari no Uta.
Information
Artist: AKB48
Arrangers:

Shimizu Teppei (清水哲平) (Kuchibiru ni Be My Baby)
Sakamoto Hidekazu (坂本秀一) (Amagami Hime)

Composers:

Kadono Toshikazu (角野寿和)
Aoba Hiroki (青葉 紘季)

Kanji title: 365日の紙飛行機
Romanji title: 365nichi no Kamihikouki
English title: 365 Days of Paper Airplanes
Singles:
Albums:
Stage: STU48 1st Stage
Performing Members
AKB48 Single Version
NMB48 Single Version
Nona Diamonds Version
STU1 Version
Fujiwara Azusa, Fukuda Akari, Hyodo Aoi, Imamura Mitsuki, Ishida Chiho, Isogai Kanon, Kadowaki Miyuna, Kai Kokoa, Morishita Maiha, Nakamura Mai, Okada Nana, Otani Marina, Shinano Soraha, Takino Yumiko, Yano Honoka, Yura Akari
Concert Version
Kojimatsuri ~ Kojima Haruna Kanshasai ~
Kojima Haruna, Yokoyama Yui, Yamamoto Sayaka
Music Video
Request Hour Rankings
AKB48 Request Hour
NMB48 Request Hour
Trivia
This song is the theme song of NHK Asadora Asa ga Kita. Due to the drama's popularity, this song has garnered more praise and popularity than the title track.
The drama also has ex-member Oshima Yuko's cameo with the role of Hiratsuka Raicho, a pioneering Japanese feminist, for 3 episodes.
This is also the most streamed AKB48 song in Spotify, and is also one of the most sang AKB48 B-sides.