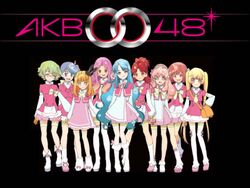 AKB0048 (pronounced "AKB zero-zero-forty-eight"), sometimes stylized AKB∞48, is a 2012 Japanese anime television series based on the popular AKB48 idol group. The anime is produced by Satelight, with Shōji Kawamori as chief director and writer. The first season aired in Japan between April and July 2012 whilst the second season aired between January and March 2013.
Story
At the start of the 21st century, an interplanetary war broke out. Earth's ecosystem was severely damaged, and humanity was forced to flee the planet. In several planets of this new society, things that "disturb the heart" like music and art are forbidden. 48 years later, the legendary idol group AKB48 is resurrected as the interplanetary troupe AKB0048, made up of girls who carry on the title and spirit of the original members. Held as heroines by some and labeled as terrorists by others, they must take up arms to bring their music to their fans wherever they are. The story follows a group of young hopefuls as they train to become the next generation of AKB0048.
In the year since the 77th generation understudies joined AKB0048, the Deep Galactic Trade Organization [DGTO] and DES have stepped up their attacks on entertainment. In response, AKB0048 brings back the general elections and the Center Nova position. The understudies are now thrusted into a new competition directly against the successors. But as AKB0048 brings back policies not seen since Acchan's disappearance, a new more powerful enemy is quietly moving behind the scenes.
Characters
NO NAME
Kenkyuusei
Voice: Kinoshita Momoka
Voice: Takeuchi Miyu
Successors
Voice: Sawashiro Miyuki
Voice: Kanda Akemi
Voice: Shiraishi Ryoko
Voice: Kawasumi Ayako
Voice: Ueda Kana
Voice: Horie Yui
Voice: Noto Mamiko
Voice: Nakahara Mai
Voice: Tamura Yukari
Others
Voice: Kakazu Yumi
Voice: Watanabe Katsumi
Voice: Ono Daisuke
Voice: Kojima Sachiko
Other AKB48 Group Member voices
Yayoi (Ep 6), Koenji Aoi

Alyona (Ep 9 and 26), Airport Announcer (Ep 2)

Two Priestesses [Miko] (Ep 3)

Operator (Ep 1 and 2)

Announcer (Ep 2)
Music
Season 1
Season 2
External Links
Gallery
Community content is available under
CC-BY-SA
unless otherwise noted.