AKB48

AKB48, 2022. Front to back, left to right: Team A, Team K, Team B, Team 4 & Team 8.

Location

Tokyo, Japan

Genre

Japanese Pop

Years Active

December 5, 2005 - present

Producer

Akimoto Yasushi

Label

KING Records (You! Be Cool)

Company

DH

Associated

SKE48, NMB48, HKT48, NGT48, STU48, JKT48, BNK48, MNL48, AKB48 Team SH, SGO48, AKB48 Team TP, CGM48

Color

Pink

Current
AKB48 (short for Akihabara48) is a Japanese all-female idol group based in Akihabara, Tokyo, where they have their own theater in Don Quijote. The group, established in 2005, is produced by Akimoto Yasushi and signed under King Records, originally from DefSTAR RECORDS/Sony Music Japan. Currently the group consists of five teams: Team A, Team K, Team B, Team 4 and Team 8. In addition, the group also has trainees called Kenkyuusei, and an international transference team, Team Kaigai. They hold the record for highest overall single sales for a female group on the Oricon charts and also hold the Guinness World Record for world's "largest pop group".
The group also has five sub-units: No Sleeves, established in 2008, Watarirouka Hashiritai 7, established in 2009, French Kiss, established in 2010, and Not yet and DiVA, both established in 2011. Many (former) members have debuted as soloists while part of AKB48: Kashiwagi Yuki (still active), Fujita Nana, Ohori Megumi, Itano Tomomi, Maeda Atsuko, Watanabe Mayu, Iwasa Misaki, Takahashi Minami, Matsui Sakiko, Kasai Tomomi and Kuramochi Asuka. Some former AKB48 members debuted as soloists after their graduation: Oshima Mai, Hoshino Michiru, Ono Erena, Hayano Kaoru, Oku Manami, Sato Amina, Masuda Yuka, Goto Moe and Chou Kurena.
History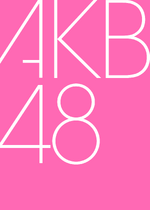 Theater Debut and Indies Era
2005
In July 2005, renowned producer Akimoto Yasushi held an audition for a new theater based idol girl group. Of the 7,924 girls that applied, 45 passed the first round of auditions, detailed screening of the application documents. Finally, only 24 girls were chosen to be in the group. In November, the selected girls went through an extensive one month training program.
On December 1st, the AKB48 Theater had its grand opening. On December 8, 2005, the group held its first public show in the theater with only 20 girls, later known as Team A. The team consisted of:
Itano Tomomi‬, ‪Kawasaki Nozomi‬, Kojima Haruna‬, Komatani Hitomi‬, Maeda Atsuko‬, Masuyama Kayano‬, Minegishi Minami, Nakanishi Rina‬, Narita Risa‬, Ohe Tomomi‬, Oshima Mai‬, ‪Sato Yukari‬, Takahashi Minami‬, Tojima Hana‬, Usami Yuki, Orii Ayumi, Hoshino Michiru, Urano Kazumi‬, Watanabe Shiho‬, and ‪Hirajima Natsumi‬
A second audition was soon announced, and was held in cooperation with Japanese telecom company NTT DoCoMo. It was the first audition ever where the applicants had to send in their audition video with their mobile phones.
2006
In January 2006, three months before Team K was formed, Akimoto allowed Shinoda Mariko to join the group as part of Team A without passing the second audition. Prior to joining the group, Shinoda was actually working as a waitress in a cafe in the same building and on the same floor as the the AKB48 theater. She could not attend the first audition for the group because she was working at the cafe. Fans petitioned for Shinoda to be able to join the group.
19 of the 11,892 applicants who participated in the second audition were chosen to join AKB48, but in the end only 17 girls joined the group to become Team K in April 2006. They were:
Akimoto Sayaka, Umeda Ayaka, Oshima Yuko, Ohori Megumi, Oku Manami, Ono Erena, Kasai Tomomi, Kobayashi Kana, Sato Natsuki, Noro Kayo, Hayano Kaoru, Masuda Yuka, Matsubara Natsumi, Miyazawa Sae, Imai Yu, Uemura Ayako, and Takada Ayana
AKB48 released its debut single Sakura no Hanabiratachi in February 2006. The single peaked at #10 on Oricon charts and sold 22,011 units in its first week, a surprisingly high rank for a group on an indies label.
In March of 2006, Usami Yuki of Team A became the first girl to graduate from the group.
On April 1, Team K started performing at the AKB48 theater.
On June 7 AKB48 released their second indies single, Skirt, Hirari, and performed on TV for the first time. Shortly after, on June 17th, Uemura Ayako of Team K graduated from the group.
Major Label Debut and DefSTAR Records Era
2006 (continued)
In August 2006 AKB48 signed a major label contract with DefSTAR Records, a part of Sony Music Entertainment Japan. Their first single under DefSTAR Records, Aitakatta, was released on October 25, 2006. It reached #12 on the Oricon Weekly Singles Chart.
In October, another audition was announced, resulting in the arrival of 13 new members. The third team of AKB48, Team B, was created in December 2006. The selected girls were:
Inoue Naru, Oota Aika, Kashiwagi Yuki, Katayama Haruka, Kikuchi Ayaka, Saotome Miki, Tanabe Miku, Nakagawa Haruka, Nakaya Sayaka, Noguchi Reina, Matsuoka Yuki, Yonezawa Rumi, and Watanabe Mayu
On November 3rd and 4th, 2006, AKB48 performed their first concert AKB48 First Concert "Aitakatta ~Hashira wa Nai ze!~ at Nippon Seinenkan in Sendagaya, Shinjuku.
In December 2006, the first change was made to the three teams. Team A members Urano Kazumi, Watanabe Shiho, and Hirajima Natsumi were transferred to Team B.
2007
On January 25, 2007 Team A member Orii Ayumi graduated from the group. Six days later, AKB48's fourth single (second under DefSTAR Records) Seifuku ga Jama wo Suru was released. It peaked at #7 on the Oricon charts. There has been speculation that the PV and lyrics of the song are an allusion to Enjo-kosai (援助交際  Enjo-kosai?) - voluntary underage "compensated dating" - though this has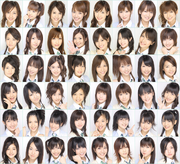 not been confirmed. Their next single, Keibetsu Shiteita Aijou, featured a theme of bullying and suicide in the lyrics and PV. To promote the two singles, AKB48 went on their second concert tour, AKB48 Haru no Chotto dake Zenkoku Tour ~Madamada daze AKB48!~ which began on March 10, 2007.
In June 2007, Team A member Hoshino Michiru and Team K members Imai Yu and Takada Ayana all graduated. The group's fifth single, BINGO!, was released on July 18th.
AKB48's next single Boku no Taiyou was released on August 8th. It peaked at #2 on the Oricon charts, the highest chart position which the group had achieved up to that point.
On October 2, Team A member Watanabe Shiho graduated from the group. The eight single of the group, Yuuhi wo Miteiru ka?, was released on October 31st. It peaked at #6 on the Oricon charts. Another member of Team A, Masuyama Kayano, graduated on November 30.
On December 31, 2007, 43 members of AKB48 appeared on the 58th Annual Kohaku Uta Gassen, the prestigious end of the year music special. They performed with idols Leah Dizon and Nakagawa Shoko.
2008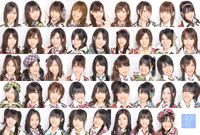 On New Years Day 2008, AKB48 released their first studio album, Set List: Greatest Songs 2006–2007. The compilation album included all of the group's singles up until Yuuhi wo Miteiru ka?. Team K member Ohori Megumi (who was transferred to SDN48 in 2009) became the first member to have a solo cover on one of AKB48's CD releases. She appeared exclusively on the cover of the Limited Edition of the album. The album reached #3 on the Oricon Weekly Album charts. On January 23rd, the group released their next single Romance, Irane.
On January 24, the first episode of their new variety show AKB48 1ji 59fun! started airing. The hosts were Takada Junji and comedy duo Bad Boys. The show's name signified that the show was airing at 01:59am. Only ten episodes later, the show was renamed to AKB48 0ji 59fun! and would air an hour earlier.
In February 2008, AKB48 re-released their first indies single, changing the title to Sakura no Hanabiratachi 2008. This would turn out to be their last release under the DefSTAR Records label. A spring concert was initially announced. Fans who bought a copy of the single at the theater would be given a random poster featuring one of the members. If a fan collected all 44 types of the posters, they would be entered in a lottery to win tickets for their spring concert. The concert was later canceled because this violated a Japanese anti-monopoly law.
In August 2008, Team B member Kikuchi Ayaka was fired from the group after a scandal. But after fans requested that the management of AKB48 give her a second chance for her, she auditioned again. Kikuchi was admitted to the group as an kenkyuusei.
KING RECORDS
2008 (continued)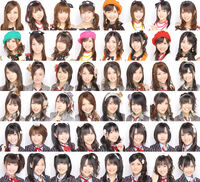 On October 2008, the group signed with KING RECORDS under the You, Be Cool! sublabel, and released their 10th single titled Oogoe Diamond featuring Matsui Jurina of the just newly formed SKE48 on the CD cover. In that same month, at the final performance of A4 Revival, original members Ohe Tomomi, Komatani Hitomi, Tojima Hana, Nakanishi Rina and Narita Risa announced their graduation simultaneously. Their graduation took place at AKB48's NHK Shuffle Concert on November 23, 2008.
On October 1, their variety show was renamed again and was now called AKBINGO!. It would become their longest running show of all time.
2009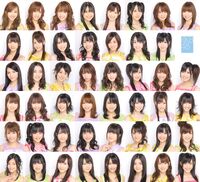 From August 22-23, 2009, AKB48 and SKE48 performed a concert at the famous Japanese stadium, the Nippon Budokan. At the end of the concert a new formation of AKB48 was announced, shuffling members from all teams. Each team was also assigned a captain; Takahashi Minami was to lead Team A, Akimoto Sayaka was to lead Team K, and Kashiwagi Yuki would become the leader of Team B. Four of the group's oldest members, Ohori Megumi, Noro Kayo, Urano Kazumi, and Sato Yukari were transferred into the newly announced mature group named SDN48 (Saturday Night 48).
In October 21, 2009, AKB48 released the single RIVER which became the first AKB48 single to reach #1 on the Oricon Weekly Singles chart. It became the second best selling female single of 2009.
In December 31, 2009, AKB48 performed RIVER-Surprise special remix at the 60th NHK Kouhaku uta gassen. 72 members (all of AKB48 including the Kenkyusei, and 3 SKE48 members) were in the performance.
2010
"Majisuka Gakuen" (Majisuka Academy), a drama featuring several members of AKB48, SKE48 and SDN48 started airing from January 8th, 2010 on TV Tokyo.
On March 3, 2010, a full 5 months after they announced that all the teams were to be reshuffled, the first new formation of AKB48's Team K premiered with their new stage titled "RESET."
On August 2010, AKB48 expanded their official shops outside of Japan (namely Asia region) with it being in Hong Kong. They then expanded their locations with it being: Taiwan (April 2011), Singapore (May 2011) and Shanghai (July 2011).
On December 8, 2010, AKB48 celebrated its 5th anniversary in the theater with a special performance by all members, as well as returning graduates. All 9th generation kenkyuusei were also promoted.
2011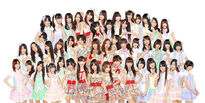 On January 22, their first major documentary was released, titled DOCUMENTARY of AKB48 to be continued "10 Nengo, Shoujo Tachi wa Ima no Jibun ni Nani o Omou Nodarou?".
In March 2011, it was announced on their blog they have temporarily closed the AKB Theater due to the 2011 Sendai earthquake and tsunami. Many upcoming activities were also postponed, including their concerts at Yokohama Arena from March 25th to the 27th, and the release of their first studio album, Koko ni Ita Koto.
On June 6, 2011, AKB48 made public announcement during this evening's Himawari H1 Revival Stage the formation of a brand new AKB48 team, bluntly titled Team 4. The Team will consists of the 10 previously promoted kenkyuusei.
On June 11th, 2011, It was announced at a handshake event that Eguchi Aimi, a girl who auditioned for NMB48, would be joining AKB48 as a trainee, she appeared immediately in Playboy Weekly and in advertisements. Producer Akimoto Yasushi stated that she will be "the heroine of the new age". Eguchi was immediately met with skepticism from many fans and soon Team K member Kikuchi Ayaka leaked on her blog that Eguchi was made of parts of other members through photoshop. On June 20th, Weekly Playboy published an article about Eguchi, stating that she was made up of parts of Takahashi Minami, Maeda Atsuko, Watanabe Mayu, Shinoda Mariko, Itano Tomomi, Oshima Yuko and 12th generation Kenkyuusei Sasaki Yukari. There was an official announcement on the June 20, 2011 regarding Aimi.
On July 3rd, AKB48 announced and confirmed that they will be having their '24th Single Senbatsu Janken (Rock, Paper, Scissors) Tournament' in September. This will be the second year in a row that they will be choosing their 'senbatsu' members for their new single, which is due to be released in December. The event will take place on September 20th at the Nippon Bukoukan once again. Moreover, This event will be broadcasting in Taiwan, Hong Kong, South Korea, Singapore and Thailand.
On December 30, 2011, AKB48 won the 53rd Japan Record Award for their song Flying Get.
2012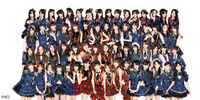 On January 27, 2012, it was revealed that Hirajima Natsumi and Yonezawa Rumi resigned from AKB48. This was the same day on which their 2nd major documentary, DOCUMENTARY of AKB48 Show must go on Shoujo-tachi wa Kizutsuki Nagara, Yume wo Miru was released.
On March 25, 2012, it was announced that Maeda Atsuko would be graduating from AKB48. This announcement was widely reported in the Japanese media, including the major Japanese newspapers. A rumor also ran around that a student from University of Tokyo had committed suicide because of this news, though this later proved false. This is one of the biggest surprises in AKB48 history.
On June 14, 2012, Team A member, Sashihara Rino, was transferred to HKT48. article: AKB48 Members
On August 24, 2012, AKB48 had another team shuffle since August 2009. It was also announced that "Team 4" which was formed in June of last year, will be discontinued, thus, they are back to 3 teams; Team A, K, and B, like it used to be. Each team was also assigned a new captain; with Shinoda Mariko leading Team A, Oshima Yuko leading Team K, and Umeda Ayaka (who was transferred from Team K) leading Team B. Takahashi Minami, the former Captain of Team A, was appointed as AKB48's General Manager. Several of the members were shuffled temporarily to AKB48's overseas sister groups. Takajo Aki and Nakagawa Haruka were transferred to JKT48. Miyazawa Sae and Suzuki Mariya were transferred to SNH48. Ota Aika was transferred permanently to HKT48. Kitahara Rie and Yokoyama Yui were appointed as dual members to participate in both AKB48 and SKE48/NMB48 activities respectively. These changes are in effect starting November 1st.
The AKB48 29th Single Senbatsu Janken Taikai was held on September 18, 2012 at Nippon Budokan. The top 16 members are featured in the group 29th single Eien Pressure.
On December 17, 2012, it was announced that Kasai Tomomi would be graduating from AKB48.
On December 30, 2012, AKB48 won the 54th Japan Record Award for second consecutive year, for their song Manatsu no Sounds Good!
2013
On January 25, 2013, it was announced that AKB48 and their sister groups will be having a concert at Nippon Budokan.
On January 27, 2013, it was announced that AKB48 will be holding a concert at Nissan Stadium. They were the first female group to perform there.
On February 1, another 1st-generation AKB48 member Itano Tomomi made an announcement about her intention to "graduate" from the group sometime within the year 2013. The announcement was made during a stage greeting for their documentary film, DOCUMENTARY of AKB48 No flower without rain Shoujo Tachi wa Namida no Ato ni Nani wo Miru?, which was released to cinemas on that day.
On March 26, 2013, AKB48 will be holding their annual "Senbatsu General Election" at Nissan Stadium on June 8! This year's election will be held during the "AKB48 Super Festival". The "Super Festival" will be titled "AKB48 Super Festival ~Nissan Stadium, Chicchee! Chicchakunaishi!!~", and it will consist of 2 parts. The first part will be a live concert which all AKB48 groups appear (will begin at 3:00 pm), and the second part will be the event for the results of the vote count (will begin at 5:30 pm).
On May 22nd, the 31st single Sayonara Crawl was released. It was the first time an A-side song had four center positions (Oshima Yuko, Itano Tomomi, Shimazaki Haruka and Watanabe Mayu). The single sold 1,762,873 copies in its first week and reported 1,955,162 copies at the end of 2013 – this makes Sayonara Crawl their best selling single of all time.
On June 8, 2013, at the 5th Senbatsu Election, Shinoda Mariko announced her graduation from AKB48.
On July 21, Shinoda Mariko graduated from AKB48.
On August 8, it was announced that a new event called "AKB48 Group Draft Meeting" will be held on November 10th at Grand Prince Hotel New Takanawa. The event will be held to recruit new members by the draft. Just like the drafts in sports, the captains of 10 total teams in AKB48, SKE48 (*leaders for SKE48), NMB48, and HKT48, will appoint new members among the candidates who pass the "AKB48 Group Draft Candidate Audition" (to be held one of these days), after consultations with each group's theater managers.
On August 21, the group released its 32nd single, "Koi Suru Fortune Cookie", which reached number one on the Oricon daily chart. The single contains graduation songs for Shinoda Mariko and Itano Tomomi. The music video involved 3,800 extras, the most for any AKB48 and sister group-related video. Sister group JKT48 also released it's own version of "Koi Suru" on the same day.
On August 22, Akimoto Sayaka graduated from AKB48.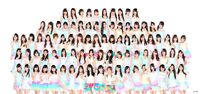 On August 24, AKB48 announced the reinstatement of Team 4, with Minegishi Minami as the captain, and the members promoted from the 13th and 14th generation trainees.
On August 25, Itano Tomomi graduated from AKB48.
On September 18, AKB48 held its annual rock-paper-scissors tournament to determine the lineup for its 34th single. The event was held at the Nippon Budokan. The winner was Matsui Jurina. This was the last time that the rock-paper-scissors tournament would define the line-up for an AKB48 single. Following the event, AKB48 announced the lineup for the group's 33rd single, "Heart Electric", and performed the song, which will be released in October.
On October 5, their music show AKB48 SHOW! started airing. It showed little skits, but for the most part, it showed performance videos. Some of these were recordings from concerts and stages, but also featured a variety of studio performances.
On November 6, it was reported that the title of 34th single would be "Suzukake no Ki no Michi de "Kimi no Hohoemi wo Yume ni Miru" to Itteshimattara Bokutachi no Kankei wa Dou Kawatteshimaunoka, Bokunari ni Nannichi ka Kangaeta Ue deno Yaya Kihazukashii Ketsuron no youna Mono" (鈴懸の木の道で「君の微笑みを夢に見る」と言ってしまったら僕たちの関係はどう変わってしまうのか、僕なりに何日か考えた上でのやや気恥ずかしい結論のようなもの A sort of slightly embarrassing conclusion after several days of my deliberation about 'how will our relationship be changed if I tell you "I dream your smile" on the platanus road), composed by Tetsuro Oda.
On November 10, the first AKB48 Group Draft Meeting was held.
On December 31, Oshima Yuko announced her graduation from AKB48.
2014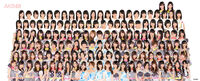 On January 22, 2014, AKB48 released their 4th studio album Tsugi no Ashiato.
In 2014, AKB48 will release their 35th overall single "Mae shika Mukanee" (前しか向かねえ?, "Not Fit to Go In Front").
On January 26, it has been announced that AKB48 groups will reshuffle for the third time since in 2012. The shuffle will take place at the "AKB48 Group Dai Sokaku Matsuri" (AKB48 Group Big Team Shuffle Festival) to be held at Zepp DiverCity TOKYO on February 24. The team shuffle was announced during the encore at the 4th day of the "AKB48 Request Hour Set List Best 200 2014" held at the Tokyo Dome City Hall on January 26. While the members on stage are still confused, AKB48 group's general director Takahashi Minami said, "We don't know what kind of team shuffle will occur but as different people go on to different teams, AKB48 will be come even bigger and better in 2014. Please look forward to February 24, Zepp DiverCity TOKYO. Thank you."
On February 24, AKB48 group's big team shuffle "AKB48 Group Dai Sokaku Matsuri" was held at Zepp DiverCity in Tokyo. One of the biggest surprises was that AKB48's "official rival" group, Nogizaka46 member Ikoma Rina would join team B. Ikoma will continue her activities as a Nogizaka46 member, but will also be in team B as an "exchange student." It was also announed SKE48 Team E member Matsui Rena will also hold a concurrent position in Nogizaka46. Also announced was that they would launch a new "vice captain" system for the whole teams in 48 group in which each team would have both captain and vice captain ("leader" and "vice leader" for SKE48.) When all the announcement for the team shuffle was ended, Takahashi Minami who will continue serving as the whole 48 group's general director, spoke her mind, "I was taking it too lightly. I did not expect the members coming apart this much, and I am shocked. Both members and you fans need some time to think, so I would also like to have some time before comprehending this."
On May 7, AKB48 released their first smartphone app – AKB48 Official Music Game. It was a rhythm game, featuring songs from AKB48 as well as other Japanese sister groups.
On May 21, the 36th single Labrador Retriever was released and sold 1,462,156 copies on its first day, making it the highest first day sales of any AKB48 single until then.
On May 25, during a handshake event held at the Iwate Industry Culture & Convention Center in Takizawa City, members Kawaei Rina, Iriyama Anna and a staff member were attacked by a male person (24) with a handsaw. All three victims suffered light wounds and were taken to hospital; the event, as well as all other group activities on that day, were halted.
On June 2, the AKB48 theater resumed operation. Sister groups SKE48, NMB48, and HKT48 have not suspended their theater performances, but have introduced security measures such as metal detectors, forbidding the use of the theaters' front rows, suspending post-performance high five events, and increasing security guard presence.
Also in June, the 37th single General Election was held. For the first and only time, Watanabe Mayu won, with 159,854 votes. For her win, she was made the center in AKB48's 37th single Kokoro no Placard.
On July 4, AKB48's 4th big documentary, DOCUMENTARY of AKB48 The time has come, was released. The documentary featured footage from big members' graduations (Oshima Yuko, Itano Tomomi and Shinoda Mariko), the big Daisokaku Matsuri shuffle, the first Draft Kaigai, Sashihara Rino's 2013 Election win, Watanabe Mayu's 2014 election win, and the failed AKB48 National Olympic Stadium Concert.
2015

On January 21, 2015, the group released its sixth studio album, Koko ga Rhodes da, Koko de Tobe!. On March 4, the group released the single "Green Flash". The group became the first group who sold their 20 consecutive singles in 1 million on the first week. On March 26, member Kawaei Rina announced her graduation from the group in order to continue her acting career on her own, stating that the previous incident and long period of rest brough her to reflect on her future without depending on the group.
On May 10, AKB48 was invited to the annual Japan Day festival in New York, their second performance in the city since 2009. A small away team consisting of members Rina Hirata, Ryoka Oshima, Haruna Kojima, Tomu Muto, Saho Iwatate and Rena Nozawa performed a total of five songs cheered by a crowd of 5000 attendants. On the same day, the second Draft Kaigai was held, where AKB48 members would choose girls to join AKB48 through auditions.
On May 20, the group released the single "Bokutachi wa Tatakawanai". It sold 1,472,375 copies on the first day and broke the previous record for first day sales set by Labrador Retriever.
June 6 saw the announcement of the seventh general election results. The event was broadcast live from Fukuoka Dome on Fuji TV, which reported an average viewer rating of 18.8% with a peak of 23.4%. A record 3.2 million votes were cast, with Rino Sashihara winning the poll for the second time with a record 194,049 votes.

On August 26, the group released the single "Halloween Night"
On November 18, the group released its 7th album, 0 to 1 no Aida. This album marks the 10th anniversary of Japanese group, founded in 2005.
The group's 42nd single Kuchibiru ni Be My Baby sold 813,044 copies on its first day of release. This brought their combined single sales to over 36,158,000 single albums sold, making them the artist with the highest number of single album sales in Japan, surpassing rock group B'z.
2016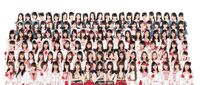 Before Takahashi Minami's graduation, she planned special stages to be performed at the AKB48 Theater. 8 special stages were performed between February 16 and February 28; Staff Stage, Okurairi Stage, Ichigochanzu Stage, Dance Senbatsu Stage, The Idol Stage, Chaos Stage, Saturday Night Stage and Itoshi no Nyan Nyan Otanjoubi Omedetou Stage.
Released on March 9th, the 43rd single Kimi wa Melody featured graduated members Maeda Atsuko, Shinoda Mariko, Itano Tomomi and Oshima Yuko to honor the group's 10 year anniversary. Takahashi Minami was also still part of this single. Later that month, Takahashi Minami's graduation concert Shuku Takahashi Minami Graduation "148.5cm no Mita Yume" was held. The role of general manager was passed onto Yokoyama Yui.
In June, the 44th single Tsubasa wa Iranai was released with Mukaichi Mion as the center for the first time. The general election was held in the same month and saw Sashihara Rino win for the third time (second consecutive win), and yet another record of 243,011 votes. In June, the hosts for their variety show AKBINGO! (Bad Boys) graduated, and were eventually replaced by another comedy duo, Woman Rush Hour.
In August, AKB48 appeared for the first time at the Tokyo Idol Festival. SKE48, HKT48 and former AKB48 member Ono Erena had appeared in the past, but this marked the first time for the group AKB48. The members that performed were all part of Team 8.
In September, the 7th Rock-Paper-Scissor Tournament was held. This year, the winner would become the center of a new unit. The winner was Team B's Tanabe Miku and the unit was called Jankenmin. Their single, Sakasazaka, was released on December.
AKB48's New Gen Ace Shimazaki Haruka also announced her graduation, was the center of her final and AKB48's 46th single High Tension and eventually graduated on December 31.
2017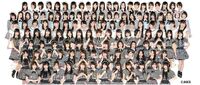 In January, Team 8 held various concerts, followed by solo concerts for the 13th Generation, 16th Generation and Mukaichi Mion. On January 25th, AKB48 released their 8th original album Thumbnail.
In February, Kojima Haruna's graduation concert Kojimatsuri ~Kojima Haruna Kanshasai~ was held. She centered AKB48's 47th single Shoot Sign (released in March).
In May, AKB48's 48th single Negaigoto no Mochigusare was released and sold 1,305,747 copies in its first week. Furthermore, the 7th Special Stage "Thumbnail" started on May 12. AKB48 received this stage as a gift for having the most members rank in Senbatsu in the General Election 2016.
The general election was held once again in June. The total vote count for Sashihara Rino broke another record with 246,376 votes and marked her fourth win (third consecutive). Watanabe Mayu announced her graduation at the election. The election single, #SukiNanda, was released in August and the music video prominently featured both Rino and Mayu.
On July 8, AKB48's 5th official documentary, DOCUMENTARY of AKB48 Sonzai suru Riyuu, was released.
In September, the Rock-Paper-Scissor event was held once again and the winner would receive a solo debut. Members could participate in groups or alone, and the winners were Aramaki Misaki and Unjo Hirona. They debuted as fairy w!nk with their first single Tenshi wa Doko ni Iru? on December 13 the same year.
In October, Watanabe Mayu's graduation concert Minna no Yume ga Kanaimasu you ni was held. On November 22, the 50th single 11gatsu no Anklet was released. It served as Watanabe Mayu's graduation single and also contained her graduation song. It was also the last time Minegishi Minami was chosen for senbatsu for a long time.
On October 4, AKB48 released Ano Koro ga Ippai〜AKB48 Music Video Shuu〜. This was a collection of all the music videos from their 32nd up to their 48th single.
On November 29, AKB48 performed at the Mnet Music Awards in Japan and joined Korean idols for a medley performance of Heavy Rotation, Koi Suru Fortune Cookie and PICK ME (Korean survival show "Produce 101" theme song). Yasushi Akimoto announced that AKB48 Group members would participate in the next season of Produce 101 to be broadcast next summer.
At the 12 Year Anniversary Stage, a team shuffle was announced. All the kennin positions for all other 48 Groups were removed, but all Team 8 members received a kennin position, meaning all Team 8 members were now also part of Team A, Team K, Team B or Team 4. The new team captains were Okabe Rin (Team A), Komiyama Haruka (Team K), Takahashi Juri (Team B) and Murayama Yuiri (Team 4). The role of co-captain was also removed.
2018

The year started with another Team 8 concert, as well as "Fresh All Stars Concert" (Zero Position to Mirai) and a 16th Generation solo concert. Okada Nana and Yokoyama Yui also held their first solo concerts. On January 21, the Japanese 48 Groups held the third Draft Kaigai, where members would pick girls from an audition. The chosen members would become Kenkyuusei bound to specific teams. On January 24, AKB48 released their 9th original album Bokutachi wa, Ano Hi no Yoake wo Shitteiru.
On March 14, the 51st single Jabaja was released and featured Okada Nana in her first A-side center position.
On April 1, AKB48 held their first AKB48 Only concert since 2014. The old team formations performed songs together, and then the new team formations performed songs together to mark the shuffle that took place in December 2017.
On May 30, the 52nd single Teacher Teacher was released. On Day 1, it sold 1,591,164 copies and broke the record set by Bokutachi wa Tatakawanai. Over the next few weeks, it sold 1,812,868 copies, making it AKB48's second-best selling single of all time (first still being Sayonara Crawl with 1,995,800 reported sales).
In June, the tenth and last General Election was held. It was held in Nagoya, and also marked the ten year anniversary of SKE48. The winner was SKE48's Matsui Jurina with a personal record of 194,453 votes. Her winner single, Sentimental Train, was released on September 19. However, Jurina could not participate in the filming of the music video due to health reasons and a CGI sketch version of her was included in the original release of the video. On June 12, the new teams performed new stages for the first time. On June 15, the broadcast of Produce 48 (season 3 of Produce 101) started and over 40 AKB48 Group members participated in the show.
In September, the 9th and last Rock-Paper-Scissor tournament was held. Like in the previous year, the winner would receive a solo debut and members could participate alone or for a team. The winners were Tada Kyoka and Matsuda Yumi. They debuted as Fortune Cherry with their first single Himawari no Nai Sekai on December 19.
AKB48 Team 8 member Honda Hitomi as well as HKT48 members Miyawaki Sakura and Yabuki Nako were part of the 12 winners of Produce 48 and would go on a two-and-a-half-year hiatus to focus on IZ*ONE. As a send-off gift, Sakura was made the center of AKB48's 54th single NO WAY MAN. Hitomi and Nako were also front row members for the single, and a B-side of the single featured the Top 16 Produce 48 members (excluding Hitomi, Sakura and Nako).
At the 13 Anniversary Special Stage, Yokoyama Yui announced she would retire in her role as General Manager of AKB48 but would stay in the group. She appointed Mukaichi Mion as her successor. On Christmas Eve, AKB48 released their 6th major documentary, Legend of AKB48: New Chapter.
2019

In January, Yahagi Moeka, Murayama Yuiri and Okabe Rin received their first solo concerts. Moeka became the fastest member to ever receive a solo concert. AKB48 also performed at the AKB48 Group Asia Festival in Bangkok in January, alongside JKT48, BNK48, MNL48, AKB48 Team SH, AKB48 Team TP and SGO48.
Previous election winner Sashihara Rino announced her graduation and was made the center of the group's 55th single Jiwaru DAYS.
In March, the last episode of AKB48 SHOW! aired.
In April, Kojima Mako graduated from AKB48 at the AKB48 Group Spring Festival in Yokohama Stadium.
In September, the last episode of AKBINGO! aired. On September 18, AKB48 released their 56th single Sustainable. The center for this single was Yahagi Moeka, making her the member to achieve the quickest A-side center position ever (except for Maeda Atsuko).
From July 7 to December 10, AKB48 held their first AKB48 Zenkoku Tour since 2014. They also performed at the Tokyo Idol Festival 2019, the AKB48 Group Asia Festival in Shanghai and "AKB48 in Taipei ~Are You Ready?~".
At the 14th Anniversary Commemorative Stage, the remaining 1st Generation member Minegishi Minami announced she would graduated at AKB48's Spring Concert 2020.
2020
In January, Kubo Satone, Yamauchi Mizuki and Oguri Yui received solo concerts. Okada Nana and Murayama Yuiri held a duet concert.
On February 4, Yahagi Moeka graduated from AKB48.
On March 24, AKB48's 57th single, Shitsuren, Arigatou, was released. It sold 1,414,077 copies and was the highest first-week seller of 2020 at this point. AKB48's Spring Concert was cancelled due to the COVID-19 pandemic and therefore, graduations (such as Minegshi Minami's) were put on hold. AKB48 theater performances were also stopped around this time.
On June 6, AKB48 released its third charity single – Hanareteitemo. The song featured every active AKB48 member, as well as Matsui Jurina and some graduates: Takahashi Minami, Kojima Haruna, Oshima Yuko Maeda Atsuko, Shinoda Mariko, Itano Tomomi, Sashihara Rino and Yamamoto Sayaka. The goal was to feature the original Kami 7 members, as well as SKE48's, NMB48's and HKT48's aces. However, Watanabe Mayu had retired from the entertainment industry in June 1, 2020, and did therefore not participate.
In June, the theater started holding "Social Distance" Stages, in which a smaller number of members would perform on stage. In the beginning, there was no live audience, but viewers could stream the theater performances from home. Slowly but surely, members started holding graduation stages again. In September, a limited number of people was admitted back into the theater.
On September 18, most of AKB48's discography finally became available for streaming worldwide. Early releases (singles before Oogoe Diamond) as well as most early stage recordings were not available. The stage recordings did not become available in every region, but most.
2021
On May 23, AKB48 has began a new era, where they held their Tandoku Concert shortly after Minegishi Minami graduated. On that same concert, it was also announced that AKB will release Ne mo Ha mo Rumor on September 29 and will have their new TV show aired on TV Tokyo, Nogizaka ni, Kosaremashita ~AKB48, Iroiro Atte Tereto Kara no Dai Gyakushu!~.
On July 6, AKB announced the title and Senbatsu for Ne mo Ha mo Rumor during the first episode of Nogizaka ni, Kosaremashita ~AKB48, Iroiro Atte Tereto Kara no Dai Gyakushu!~, and soon announced the center for the title song, which was revealed to be Okada Nana, making the song her second center after Jabaja, which was released in 2018. The full Senbatsu first performed the song live on the special program Ongaku no Hi 2021, with Oda Erina filling in for Kashiwagi Yuki who was recovering from her surgery.
Between August 9 and 17, several members tested positive for COVID-19.
On December 8 at AKB48 16th Anniversary, AKB48 announced the recruitment of their 17th Generation, on top of a Team Shuffle, the first one since 2019. The new teams will come into effect on February 6, 2022.
2022

On January, AKB48 cancelled their scheduled concerts on 5th and 6th because several members tested positive for COVID-19.
On February 23, AKB48 announced that they will release their 59th single, later revealed to be Moto Kare desu on May 18 on the program AKB48, Saikin Kiita? ~Issho ni Nanka Yatte Mimasen ka?~, with Honda Hitomi serving as the center, marking the song her first center. The full Senbatsu first performed the song on the music show CDTV Live! Live! on March 28.
On May 14, AKB48 revealed the members of 17th Generation through a livestream.
Musical style
The group's style is loosely characterized as "bubblegum pop and synchronized dancing" that appeals to pre-pubescent girls as well as older males who support the group's merchandise. Mari Yamaguchi of Associated Press wrote that the "performances can seem orchestrated. As the girls sing and dance in unison, fans follow a cheering formula" and likened the fan responses to a Kabuki audience. Monica Hesse of The Washington Post described the group's style: "It is as if Miley Cyrus, Taylor Swift and the entire cast of Twilight were placed into a saucepan and simmered on a low boil until nothing remained but the sweet, cloying essence of fame, and if that fame were then poured into pleated tartan skirts and given pigtails."Andrew Joyce and Kenneth Maxwell of The Wall Street Journal described the music as "sugar-sweet pop tunes and sometimes-suggestive lyrics". During the AKB48 performances, "members perform a revue of simply choreographed routines in front of a roughly 95% male audience. The music is typical Japanese pop: fast-paced numbers with high-pitched, singalong choruses."
Reception
The pop group has achieved enormous popularity in Japan, and has been characterized as a social phenomenon. In 2011, the group had record sales in Japan of over $200 million. According to Oricon, AKB48 had sold a total of 11,787,000 singles as of January 6, 2012, breaking the record of "the most singles sold in Japan by a female group". Twelve of its singles have topped the Oricon TOP10 Weekly Singles Chart. In 2010, "Beginner" and "Heavy Rotation" placed, respectively, first and second in the list of Japan's best selling singles for the year, while in 2011 and 2012 AKB48 occupied the top five positions on the Oricon Yearly Singles Chart. Japanese ambassador to the United States, Ichirō Fujisaki, on meeting the group on its visit to Washington, D.C., stated that "AKB" stood for Adorable, Kind and Beautiful.
AKB48 holds several Guinness World Records, including being recognized on December 1, 2010 as the "largest pop group", when it consisted of 48 members. It set the record for "Most Number of Same Product Television Endorsement within 24 Hours" on February 28, 2012, after 90 of its group members appeared in 90 different commercials that were aired in the Kanto, Kansai and Tokai regions of Japan.
On February 1, 2012, Japan Post issued a postage stamp in honor of the group.
Controversies
Over the years, AKB48 has received criticism for sexually suggestive lyrics, which some felt were unsuitable for its young members. When asked about it by CNN's Anna Coren, AKB48 founder Yasushi Akimoto, who also writes all of AKB48's song lyrics, said that his works were a way of "depicting reality" and were meant to provoke in listeners thought about difficult issues.
The band's risqué music videos have also been a focal point for controversy. Underwear shots, teenage members hugging, kissing, and taking a bath together were complained about. "Heavy Rotation" music video director Mika Ninagawa explained she wanted to appeal to both men and women by creating a creative and fun video, due to the group's rising popularity among girls.
In a TV commercial for the candy brand Puccho, which aired from March 15, 2012, featured AKB48 members in schoolgirl uniforms passing a candy from mouth to mouth. Although the girls held the candy between their teeth, some viewers were offended, and called it "encouraging homosexuality", apart from being simply "unhygienic" and a "bad example to children".
In the second week of January 2013, the group came under fire when an image that showed a boy's hands covering a topless Tomomi Kasai's breasts was intended to be published in Shukan Young Magazine. The image was subsequently pulled from the magazine and from Kasai's upcoming photobook, where it would have been the cover picture. The sale of the magazine was postponed from January 12 to January 21.
In February 2013, member Minami Minegishi appeared in a YouTube video with a shaved head to apologize after it was reported by a tabloid that she had spent a night with a man in violation of her contract. The act of shaving her hair was seen as extreme and drew criticism on how the situation was handled. Labor expert and writer for The Japan Times Hifumi Okunuki argued that a no-dating clause in a labor contract would be in violation of Japanese labor laws.
Philanthropy
A few days after the March 11, 2011 earthquake and tsunami, AKB48's official blog reported that that a sum of more than 617 million yen had been donated to the Japanese Red Cross Society. On April 1, the group issued a digital charity single titled "Dareka no Tame ni (What Can I Do for Someone?)", all profit from which was donated to a 2011 earthquake and tsunami relief fund. AKB48's 23rd single "Kaze wa Fuiteiru" was also dedicated to the 2011 tsunami victims, its title song's lyrics having been written with the intention of cheering up the Japanese people who were affected by the March 11 disaster.
In February 2012, the group announced another donation to the Japanese Red Cross, of over 580 million yen. It was reported that to date AKB48 had raised a total of over 1.25 billion yen for the earthquake and tsunami relief.
Performances outside of Japan
AKB48 Team A became an honored guest at the Japan Expo in Paris between July 2 to 5, 2009, and featured an English version of "Ōgoe Diamond" for the first time. AKB48 had their United States debut concert at Webster Hall in New York on September 27, 2009.
On 23 October 2010, the band represented Japan and performed at the 7th Asia Song Festival, organized by Korea Foundation for International Culture Exchange, at the Seoul Olympic Stadium.
In November 2010, AKB48 performed in Russia for the first time. A 12-member team gave a concert on November 20 at the Japanese Pop Culture Festival which took place in Moscow. Also in November 2010, AKB48 performed in the Cool Japan Night in Singapore as part of the Anime Festival Asia X. This is followed by a 2nd performance also in Singapore at the Singapore Toy Games & Comics Convention.
In February 2012, AKB48 performed with JKT48 in Jakarta for the first time as part of "Jakarta Japan Pop Culture Festival 2012"
In April 2013, they performed at the Inaugural Tokyo Auto Salon Singapore.
Members
Names in Bold are Team Captains and Co-Captains.
Draft Members
Teams
ALL48 General Manager: Mukaichi Mion
Sister groups
Former Sister Groups
Rival Groups
Soloists
Units
Terms
Baragumi and Yurigumi
On November 4th, 2006, it was announced that the members of Akihabara48 would be rearranged into two groups: Baragumi ('rose group') and Yurigumi ('lily group'). No more official announcements have been made on this matter since then, and it is widely believed that this idea has been scrapped.
The two groups are as follows (☆ denotes a girl who has graduated, and ☆☆ changed teams, since the announcement was made):
Team A: Hirajima Natsumi☆, Kojima Haruna☆☆, Komatani Hitomi☆, Masuyama Kayano☆, Minegishi Minami☆☆, Oshima Mai☆, Takahashi Minami, Urano Kazumi☆, Watanabe Shiho☆.
Team K: Akimoto Sayaka, Imai Yu☆, Kasai Tomomi☆, Kobayashi Kana☆☆, Matsubara Natsumi, Noro Kayo☆, Ohori Megumi☆, Ono Erena☆.
Team A: Hoshino Michiru☆, Itano Tomomi☆, Kawasaki Nozomi☆, Maeda Atsuko☆, Nakanishi Rina☆, Narita Risa☆, Ohe Tomomi☆, Sato Yukari☆, Shinoda Mariko, Tojima Hana☆.
Team K: Hayano Kaoru☆, Masuda Yuka☆, Miyazawa Sae☆☆, Oku Manami☆, Oshima Yuko, Sato Natsuki☆, Takada Ayana☆, Umeda Ayaka☆☆.
Discography
Stages
AKB48 Events
Stages
Team A
Team K
#

Stage name

Date

Performances

1
PARTY ga Hajimaru yo
(PARTYが始まるよ)
2006.04.01 - 2006.07.05
2006.04.01 - 2006.07.05
61
9
2
Seishun Girls
(青春ガールズ)
2006.07.08 - 2006.11.06
77
3
Nounai Paradise
(脳内パラダイス)
2006.12.17 - 2007.06.22
64
4
Saishuu Bell ga Naru
(最終ベルが鳴る)
2008.05.31 - 2009.04.04
2014.02.20 - 2014.04.16
2015.11.30 - 2018.05.15
150
11
-
5
Saka Agari
(逆上がり)
2009.04.11 - 2010.02.21
90
6
RESET

2010.03.12 - 2012.10.24
2014.05.07 - 2015.08.26
2018.07.06 -
205
82

Waiting
Waiting Stage

2012.11.01 - 2014.02.12
95
Team B
#

Stage name

Date

Performances

1
Seishun Girls
(青春ガールズ)
2007.04.08 - 2007.10.02
94
2
Aitakatta
(会いたかった)
2007.10.07 - 2008.02.21
73
3
Pajama Drive
(パジャマドライブ)
2008.03.01 - 2009.02.01
2014.04.28 - 2015.08.27
209
80
4
Idol no Yoake
(アイドルの夜明け)
2009.02.08 - 2010.04.16
166
5
Theater no Megami
(シアターの女神)
2012.11.03 - 2014.04.23
2018.09.08 -
280
TBA
Waiting

Waiting Stage



2012.11.03 - 2014.04.23
41
6
Tadaima Renaichuu
(ただいま 恋愛中)
2015.12.26 - 2018.05.28
70
Team 4
Team 8
#

Stage name

Date

Performances

1
PARTY ga Hajimaru yo
(PARTYが始まるよ)
2014.08.05 - 2015.08.16
2018.02.17 -
109
TBA
2
Aitakatta
(会いたかった)
2015.09.05 - 2017.08.20
2018.02.12 -
106
TBA
3

Kimi mo 8 (Eito) de Nakou janai ka


(君も8(エイト)で泣こうじゃないか)
2017.09.02 - 2018.01.08
23
4

Sono Shizuku wa, Mirai e to Tsunagaru Niji ni Naru.


(その雫は、未来へと繋がる虹になる。)
2018.11.22 -
TBA
Special Stages
#

Stage name

Date

Performances

1

Eve wa Adam no Abarabone


(イブはアダムの肋骨)
2015.09.13 - 2017.03.07
31
2

Seishun wa mada owaranai


(青春はまだ終わらない)
2015.09.18 - 2017.03.17
48
3

Dounaru?! Dousuru?! AKB48


(どうなる?!どうする?!AKB48)
2015.10.16 - 2017.03.05
-
4

Boku ga Koko ni Iru Riyuu


(僕がここにいる理由)
2015.11.08 - 2016.12.27
-
5

Koukando Bakuage


(好感度爆上げ)
2016.11.21 - 2017.04.13
-
6

Minerva yo, Kaze wo Okose


(ミネルヴァよ、風を起こせ)
2017.02.28 - 2018.12.20
7
Thumbnnail
(サムネイル)
2017.05.12 -
8

Kamikyoku Shibari


(神曲縛り)
2017.07.20 - 2018.12.25
-
9

Sekai wa Yume ni Michite Iru


(世界は夢に満ちている)
2017.08.16 - 2018.12.18
-
10
Yabai yo! Tsuite koren no ka?!
(ヤバイよ!ついて来れんのか?!)
2018.04.17 -
-
11
Idol Shuugyouchuu♡
(アイドル修業中♡)
2018.05.04 - 2018.11.17
12

Boku no Natsu ga Hajimaru


(僕の夏が始まる)
2019.06.30 -
Filmography
Appearance
Anime
Manga
Games
[2010.12.23]

AKB1/48 "Idol to Koishitara..."

(Playstation Portable)
[2011.10.06]

AKB1/48 "Idol to Guam de Koishitara..."

(Playstation Portable)
[2011.10.25]

AKB48 Stage Fighter

(Smartphone App)
[2012.08.10]

AKB48 Trading Card Game & Collection

(AR Card Game)
[2012.10.05]

AKB48+Me

(Nintendo 3DS)
[2012.12.20]

AKB1/149 Renai Sousenkyo

(Playstation Portable, Playstation Vita, Playstation 3)
[2013.01.30]

AKB48 no Yabou

(Smartphone App, PC)
[2013.12.21]

Sailor Zombie AKB48 Arcade Edition

(Arcade)
[2014.05.07]

AKB48 Official Music Game

(Smartphone App)
[2017.04.17]

AiKaBu

(Smartphone App)
[2017.10.27]

AKB48 Stage Fighter 2 Battle Festival

(Smartphone App)
[2018.04.10]

AKB48 Dice Caravan

(Smartphone App)
[2018.07.02]

Arcana no Himitsu

(Smartphone App)
[2018.08.16]

AKB48 Beat Carnival

(Smartphone App)
Musicals
DUMP SHOW!

AKB48 Kagekidan "∞・Infinity"

AKB49 ~Renai Kinshi Jourei~ The Musical
TV Shows
[Nippon TV] (2008-10-01 to 2019-09-24 and 2021-03-30) AKBINGO!
[Enta!371](2007.10 - 2009.9) AKB48+10
[Family Gekijo] AKB48 Nemousu Terebi (AKB48 ネ申テレビ)
[Nippon TV] (2008-04-07 to 2008-09-29) AKB 0ji 59fun (AKB0時59分)
[NHK] (2008.11.8-2009.3.31 to present) Suiensa すイエんサー
[TV Tokyo] (2009.7.10 to present ) ShuukanAKB 週刊AKB
[Enta!371] (2009.11.18. to present ) AKB1/48
[TV Tokyo] (2021.07.06 to present) Nogizaka ni, Kosa remashita ~AKB48, Iroiro Atte Tereto Kara no Dai Gyakushu!~
Radio
[bayfm] ON8
[CBC Radio] AKB48 Konya wa Kaeranai... (AKB48 今夜は帰らない…)
[Star Radio] AKB48 no Zenryoku de Kikanakya Dame Jyan!! (AKB48の全力で聴かなきゃダメじゃん!!)
[Bunka Hoso] AKB48 Asu Made Mou Chotto. (AKB48 明日までもうちょっと。)
[Bunka Hoso] Sakurazuka Yakkun no Sukeban Rengo Kinkyu Shukai (桜塚やっくんのスケバン連合緊急集会)
[TOKYO FM] COUNTDOWN JAPAN
[TOKYO FM] AKB48 no Yonpachi After (AKB48のよんぱちアフター)
Commercial
Cokyo Koukoku Kikyo (公共広告機構) / Mittsu no R de Chikyu wo Sukue! REDUCE RESUME RECYCLE (3つのRで地球を救え! REDUCE REUSE RECYCLE)
Recrute (リクルート) / Hana Saku・Project (ハナサク・プロジェクト)
Tokyo City「TOKYO exercises」
Yomiuri Newpaper 『読売新聞×AKB48』
Recochoku 「レコチョクの部屋 AKB編」
AOKI『AOKI×AKB48』
Awards
The most important awards received by the group
Records attained
The group and its songs have attained the following records:
Guinness World Record for Largest Pop Group - In November 2010, Guinness named AKB48 as the largest pop group.
Guinness World Record for Most Number of Pop Singers Featured in a Video Game - In December 2012, AKB48's dating simulation game AKB1/149 Ren'ai Sōsenkyo featured 149 members of the group.
Guinness World Record for broadcasting the Most Number of Same Product Television Endorsement within 24 Hours - In February 2012, AKB48 broadcast 90 solo member's CMs for Asahi's 'Wonda Coffee Morning Shot' and defeated the previous Guinness World Record for broadcasting 60 commercials in 24 hours.
Oricon – Most consecutive number one singles by a female group in Japan
Oricon – Most number one singles by a female group in Japan, beating the previous record set by Pink Lady.
Oricon - Most singles sold by a female artist in Japan - In May 2013 after the release of the group's 31st single "Sayonara Crawl", the combined sales figures of all AKB48's singles have reached 21.852 million since the group's debut in 2006, exceeding the previous best record of 21.416 million held by J-pop icon Ayumi Hamasaki.
Oricon - Highest sales of female group single in Japan - In June 2013, the 31st single of the group, "Sayonara Crawl"'s cumulative sales number reached 1,872,000 copies, exceeding the previous best record for a female group's single sales (1,845,000 copies) which SPEED had kept for over 15 years with their 1997 single "White Love". The total cumulative sales of "Sayonara Crawl" marked at 1,955,800.
Oricon - Highest number of consecutive million-selling single sold in Japan - In October 2013, the group's 33rd single "Heart Ereki" sold 1,021,000 copies on the first day of release, becoming the 14th consecutive million-selling single of the group and beat the previous record of 13 by B'z.
Oricon - Most million-selling singles sold in Japan - In December 2013, the group's 34th single "Suzukake Nanchara" sold 1,033,000 copies during the first week, scoring their 16th million-selling single and surpassed the record of 15 which B'z had kept for 13 years and 9 months.
Oricon - 30 million sales in 8 years and 10 months since their debut is the fastest record in history (Broke B'z as it took 14 years and 7 months to reach the number).
Oricon - Consecutive and total number of million-selling singles
Oricon - First female artist to have a total of 30 million sales for singles.
Number of current members
(as of September 12, 2021)
Team
Members
Notes

A

19

Yokoyama Yui announced graduation

Team 8 Kennins: Okumoto Hinano, Oguri Yui, Shitao Miu, Yoshida Karen

K

18

Yokoyama Yui (Team 8) announced graduation

Team 8 Kennins: Oda Erina, Kuranoo Narumi, Hashimoto Haruna Hidaritomo Ayaka, Yamada Kyoka, Yokoyama Yui

B

20

Team 8 Kennins: Okuhara Hinako, Kawahara Misaki, Shimizu Maria, Hattori Yuna, Honda Hitomi, Yoshikawa Nanase

4

23

Team 8 Kennins: Utada Hatsuka, Onishi Momoka, Gyoten Yurina, Sakaguchi Nagisa, Takaoka Kaoru, Takahashi Ayane, Takahashi Sayaka, Nagano Serika, Hama Sayuna, Hirano Hikaru

STU48 Kennin: Okada Nana

8

34

KKS

0
All 16th Generation members are promoted
Total
87
AKB48 Kennin members (Team 8 members) are not counted twice
See Also
External Links