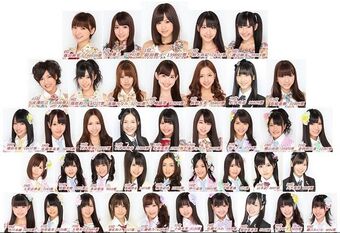 The AKB48 22nd Single Senbatsu Sousenkyo "Kotoshi mo Gachi Desu" was held on June 9, 2011 at Nippon Budokan. Fans made their voices heard by voting for their favorite AKB48/SKE48/NMB48 member at the third annual AKB48 members election. The top 21 members are featured in the groups 22nd single Flying Get. Meanwhile, the 22nd to 40th place members join the reformed Undergirls unit for the B-side track Dakishimechaikenai
Selected Members
Names in bold denote the media senbatsu (those promoting the single in the media)
Maeda Atsuko (Team A) (139,892 votes)
Oshima Yuko (Team K) (122,843 votes)
Kashiwagi Yuki (Team B) (74,252 votes)
Shinoda Mariko (Team A) (60,539 votes)
Watanabe Mayu (Team B) (59,118 votes)
Kojima Haruna (Team A) (52,920 votes)
Takahashi Minami (Team A) (52,790 votes)
Itano Tomomi (Team K) (50,403 votes)
Sashihara Rino (Team A) (45,227 votes)
Matsui Rena (SKE48 Team S) (36,929 votes)
Miyazawa Sae (Team K) (33,500 votes)
Takajo Aki (Team A) (31,009 votes)
Kitahara Rie (Team B) (27,957 votes)
Matsui Jurina (SKE48 Team S) (27,804 votes)
Minegishi Minami Team K) (26,070 votes)
Kasai Tomomi (Team B) (22,857 votes)
Akimoto Sayaka (Team K) (17,154 votes)
Sato Amina (Team B) (16,574 votes)
Yokoyama Yui (Team K) (16,455 votes)
Masuda Yuka (Team B) (14,137 votes)
Kuramochi Asuka (Team A) (12,387 votes)
Note: There's an article online which reports that one person bought 5,500 copies of the single and voted for Yuko. [1]
Eligible Members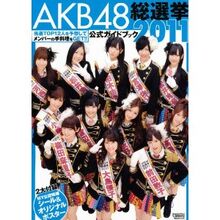 AKB48 (Team A: 16 members; Team K: 16 members; Team B: 15 members; AKB48 Kenkyuusei: 21 members)
SKE48 (Team S: 16 members; Team KII: 16 members; Team E: 16 members; SKE48 Kenkyuusei: 9 members)
NMB48 (Team N: 16 members; NMB48 Kenkyuusei: 9 members)
Total: 150 members
Voting Methods
Fans had six methods of voting. Voting opened on May 24, 2011 at 10:00:00 JST and closed on June 8, 2011 at 14:59:59 JST.
"Everyday, Katyusha" serial number
AKB48 Fanclub member
AKB48 Mobile member
AKB48 LIVE!! ON DEMAND member
SKE48 Mobile member
NMB48 Mobile member
◄Previous
AKB48 17th Single Senbatsu Sousenkyo
Next►
AKB48 27th Single Senbatsu Sousenkyo
Community content is available under
CC-BY-SA
unless otherwise noted.