The AKB48 Request Hour Setlist Best 100 2012 (AKB48 リクエストアワー セットリストベスト100 2012) was held from January 19 to January 22, 2012 at Tokyo Dome City Hall. Fans made their voices heard by voting for their favorite AKB48/SKE48/NMB48/SDN48 original songs.
Description
AKB48 Request Hour Setlist Best 100 2012 is AKB48's 5th Request Hour. A voting ticket was included in Kaze wa Fuiteiru's limited edition. Togasaki Tomonobu posted the top 101 to 200 on his google+ page.
Setlist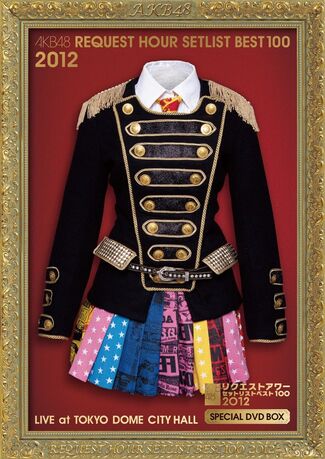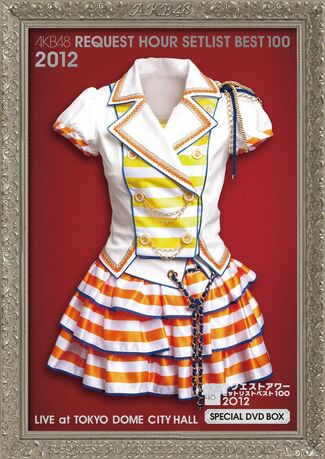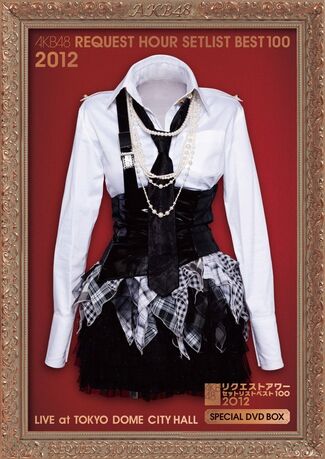 1st Day (100 - 76)
00. Guru Guru Curtain (Nogizaka46)

100. Theater no Megami (Kashiwagi Team B)

99. Pajama Drive (Hirajima Natsumi, Watanabe Mayu, Nakagawa Haruka)
98. Dakishimeraretara (Kuramochi Asuka, Kasai Tomomi, Sato Natsuki)

97. Dear my teacher
96.

Anata ga ite kureta kara

95.

AKB Sanjou!
MC.
94.

Higurashi no Koi

93. Wasshoi E! (SKE48)
92. High school days
91.

Kataomoi no Taikakusen

90.

Seifuku Resistance

89.

To be continued
87. Seventeen
86. Nakeru Basho
85. Ice no Kuchizuke
84.

Hikkoushimashita

83. FIRST LOVE
81. Kimi ni Tsuite
80. Blue rose
79.

Sougen no Kiseki

78. Nagisa no CHERRY
Encore
Lost the way

/ DIVA

Mujineki

/ Iwasa Misaki
Flying Get / All
2nd Day (75 ~ 51)
75. 1!2!3!4! YOROSHIKU! (SKE48)
73. Tenshi no Shippo
72. Gomen ne, SUMMER (SKE48)
71.

Himawari

70.

Tsundere!

69.

Saishuu Bell ga Naru

68.

Locker Room Boy

67. Sasae
66. Kimi no Senaka
64. Yankee Soul
63. Banzai Venus (SKE48)
61.

Honest Man

60.

UHHO UHHOHO

59. RESET
58. Namida Surprise!
56.

Only Today

55.

Korogaru Ishi ni Nare

54. RIVER
52. Chance no Junban
51. End Roll
Encore
3rd Day (50 ~ 26)
50.

Mammoth

49.

Omoide Ijou

(SKE48)
48.

Zannen Shoujo

47.

Kuchi Utsushi no Chocolate

46.

Gyakuten Oujisama

45.

Ookami to Pride

(SKE48)
44.

MARIA

43. 10nen Zakura
42.

Dareka no Tame ni ~What can I do for someone?~

41. Kuroi Tenshi
39.

Pioneer

37.

Enjou Rousen

36. Enkyori Poster
35. Shoujotachi yo
34.

Itoshisa no Accel

33. Oogoe Diamond
32.

Candy

31. Choose me!
28.

Junai no Crescendo

26. Shonichi
Encore
Soredemo Suki da yo

/ Sashihara Rino
Everyday, Katyusha / All
4th Day (25 ~ 1)
24.

Kiseki wa ma ni Awanai

23. Seishun no Lap Time (NMB48)
21.

Omatase Set list

(SKE48)
20. Mushi no Ballad
19. Oh My God! (NMB48)
18. Beginner
17.

Kareha no Station

(SKE48)
16. Pareo wa Emerald (SKE48)
15. Heart Gata Virus
14. Kurukurupa
13. Bird
11. Iiwake Maybe
09.

Nakinagara Hohoende

08.

Dakishimecha Ikenai

07. Kaze wa Fuiteiru
06.

Itoshiki Natasha

05. Team B Oshi
04. Flying Get
03.

Kodoku na Runner

(SDN48)
01. Heavy Rotation
Encore
Aitakatta / All
101 - 200
101 – Mikazuki no Senaka (c/w from NMB48 1st single Zetsumetsu Kurokami Shoujo)
102 – Sakura no Hanabiratachi (A1)
103 – Majijo Teppen Blues (c/w from AKB48 16th single Ponytail to Shushu)
104 – Zutto Zutto (A6)
105 – Lucky Seven (c/w from AKB48 17th single Heavy Rotation)
106 – Nusumareta Kuchibiru (c/w from AKB48 16th single Ponytail to Shushu)
107 – Koike (A7)
108 – Kioku no Dilemma (H2)
109 – Kesshou (c/w from NMB48 2nd single Oh My God!)
110 – Junjou Shugi (B3)
111 – Deja vu (H1)
112 – Kimi to Niji to Taiyou to (from AKB48 album Kami-kyokutachi)
113 – Aitakatta (A2)
114 – Tonari no Banana (H2)
115 – Minasan mo Go Issho ni (B4)
116 – Tengoku Yarou (B4)
117 – Kokoro no Hashi no Sofa (K5)
118 – Guuzen no Juujiro (c/w from AKB48 20th single Sakura no Ki ni Narou)
119 – TWO ROSES (c/w from SKE48 4th single 1!2!3!4! YOROSHIKU!)
120 – Boku wa Matteru (c/w from NMB48 2nd single Oh My God!)
121 – Oshibe to Meshibe to Yoru no Chouchou (K4)
122 – BINGO (A4)
123 – Baby! Baby! Baby! (AKB48 digital single)
124 – Love Jump (c/w from AKB48 19th single Chance no Junban)
125 – Aozora Kataomoi (SKE48 2nd single)
126 – Mokugekisha (A6)
127 – Kagami no Naka no Jeanne de Arc (B3)
128 – Area K (c/w from AKB48 20th single Sakura no Ki ni Narou)
129 – Renai Kinshi Jourei (A5)
130 – Gondola Lift (c/w from AKB48 23rd single Kaze wa Fuiteiru)
131 – Nandeyanen Idol (c/w from NMB48 2nd single Oh My God!)
132 – Cross (KII3)
133 – Aisareru Tame ni (SDN48 S1)
134 – Jibun Rashisa (from AKB48 album Kami-kyokutachi)
135 – Majisuka Rock 'n' Roll (c/w from AKB48 15th single Sakura no Shiori)
136 – Boku no Yell (c/w from AKB48 16th single Ponytail to Shushu)
137 – Suki Suki Suki (B5)
138 – Boku no Taiyou (H1)
139 – Yoyaku Shita Christmas (c/w from AKB48 19th single Chance no Junban)
140 – Kinjirareta Futari (K2)
141 – Renai Circus (from AKB48 album Kami-kyokutachi)
142 – Finland Miracle (KII3)
143 – Tobenai Agehachou (c/w from AKB48 13th single Iiwake Maybe)
144 – Ai no Kazu (c/w from SKE48 5th single Banzai Venus)
145 – Boku ni Dekiru Koto (from AKB48 album Kami-kyokutachi)
146 – Bye Bye Bye (H2)
147 – Faint (A4)
148 – Miniskirt no Yousei (A6)
149 – 100 meter Conbini (B5)
150 – Skirt, Hirari (AKB48 2nd single)
151 – RUN RUN RUN (H1)
152 – Mangekyo (S3)
153 – Mantenrou no Kyori (A6)
154 – Kodoku na Ballerina (KII3)
155 – Anti (c/w from AKB48 21st single Everyday Kachuusha)
156 – Ougon Center (c/w from AKB48 20th single Sakura no Ki ni Narou)
157 – Kimi wa Pegasus (K3)
158 – NMB48 (N1)
159 – Saboten to Gold Rush (A6)
160 – Hoshi no Mukogawa (A6)
161 – Kaze no Yukue (from AKB48 album Kami-kyokutachi)
162 – Te wo Tsunaginagara (S2)
163 – Glory days (S2)
164 – Boku Dake no Value (c/w from AKB48 18th single Beginner)
165 – Kizashi (KII3)
166 – Ramune no Nomikata (KII3)
167 – Confession (H1)
168 – Inseki no Kakuritsu (B5)
169 – Ningyo no Vacance (from AKB48 album Kami-kyokutachi)
170 – Hatsukoi yo Konnichiwa (B5)
171 – Kiss Made 100 mile (c/w from AKB48 20th single Sakura no Ki ni Narou)
172 – Nagai Hikari (A5)
173 – Kaiyuugyo no Capacity (K4)
174 – Wimbledon he Tsureteitte (S2)
175 – Mattemashita, Shingakki (c/w from NMB48 1st single Zetsumetsu Kurokami Shoujo)
176 – Namida no Shounan (A2)
177 – Korekara Wonderland (c/w from AKB48 21st single Everyday Kachuusha)
178 – Yuuwaku no Garter (SDN48 S1)
179 – ALIVE (c/w from AKB48 19th single Chance no Junban)
180 – Tadaima Renaichuu (A4)
181 – Idol nante Yobanaide (H1)
182 – Hito no Chikara (c/w from AKB48 21st single Everyday Kachuusha)
183 – Yasai Sisters (c/w from AKB48 17th single Heavy Rotation)
184 – Keibetsu Shiteita Aijou (A4)
185 – Koko ni ita Koto (from AKB48 album Kami-kyokutachi)
186 – Manatsu no Christmas Rose (A5)
187 – Sakura no Shiori (AKB48 15th Single)
188 – Overture – NMB48 version (N1)
189 – Utsukushiki Mono (A6)
190 – Manazashi Sayonara (KII3)
191 – Wasshoi B! (B3)
192 – Two years later (B3)
193 – GAGAGA (SDN48 1st single)
194 – MIN.MIN.MIN (SDN48 3rd single)
195 – 7ji 12fun no Hatsukoi (A4)
196 – Kimi ni au Tabi Koi wo Suru (A5)
197 – Senaka Kara Dakishimete (A2)
198 – Nounai Paradise (K3)
199 – Ashita no Tame ni Kiss wo (K6)
200 – Hazumisaki (c/w from SKE48 3rd single Gomen ne, SUMMER)