AKB48 Super Festival ~Nissan Stadium, Chicchee! Chicchakunaishi!!~ (AKB48 スーパーフェスティバル at 日産スタジアム) is AKB48 's big summer concert, including its sister groups SKE48, NMB48 and HKT48.
Description
AKB48 Super Festival ~Nissan Stadium, Chicchee! Chicchakunaishi!!~ is AKB48's biggest concert ever, held at the Nissan Stadium (the largest in Japan), which seats 72,327 people.
AKB48 Super Festival at Nissan Stadium will be held on June 8, 2013. The Senbatsu General Election will also be held. The first part will be a live concert which all AKB48 groups appear (will begin at 3:00 pm), and the second part will be the event for the results of the vote count (will begin at 5:30 pm).
Setlist
(Announcer: Takahashi Minami)
0. overture
1. AKB Festival (All)
2. Heavy Rotation (All)
3. Flying Get (All)
4. Gingham Check (All)
5. Aitakatta (All)

MC
6. Suki! Suki! Skip! (HKT48)
7. Onegai Valentine (HKT48)
8. Hatsukoi Butterfly (HKT48)
9. Oh My God! (NMB48)
10. Nagiichi (NMB48)
11. Kitagawa Kenji (NMB48)
12. 1!2!3!4! YOROSHIKU! (SKE48)
13. Banzai Venus (SKE48)
14. Pareo wa Emerald (SKE48)
15. Everyday, Kachuusha (AKB48)
16. Manatsu no Sounds Good! (AKB48)
17. Ponytail to Shushu (AKB48)

18. Heavy Rotation (All Kenkyuusei)
19. Korogaru Ishi ni Nare (Team K)
20. Team B Oshi (Team B)
21. Pioneer (Team A)
22. Tengoku Yarou
23. Faint (Itano Tomomi, Matsui Jurina, Muto Tomu)
24. Heart Gata Virus (Kojima Haruna, Matsui Rena, Watanabe Miyuki)
25. Junai no Crescendo (Umeda Ayaka, Takahashi Minami, Yamamoto Sayaka)
26. Manatsu no Christmas Rose (Kitahara Rie, Shinoda Mariko, Takajo Aki, Yokoyama Yui)
27. Itoshiki Natasha (Sashihara Rino, Suda Akari, Minegishi Minami)
28. Temodemo no Namida (Kashiwagi Yuki, Miyazawa Sae)
29. Pajama Drive (Watanabe Mayu, Tashima Meru, Shimazaki Haruka)
30. Nakinagara Hohoende (Oshima Yuko)
31. Hasute to Wasute (BKA48)

MC (BKA48)
32. Bokura no Eureka (NMB48)
33. Utsukushii Inazuma (SKE48)
34. Kimi no Koto ga Suki dakara (HKT48)
35. 1% (Itano Tomomi)
36. Bara no Kajitsu (Undergirls)
37. First Rabbit
38. Shoujotachi yo (All)
39. Hikoukigumo (All)
40. Sayonara Crawl (All)
41. Skirt, Hirari (Graduated Members - Sato Yukari, Urano Kazumi, Hirajima Natsumi, Kohara Haruka, Ohori Megumi)

Release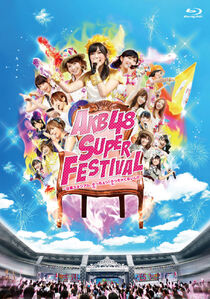 Artist
DVD

AKB48 Super Festival ~Nissan Stadium, Chicchee! Chicchakunaishi!!~ (AKB48 スーパーフェスティバル ~日産スタジアム、小 (ち) っちぇっ! 小 (ち) っちゃくないし!!~)
Release Date

2013.10.09

Label/Catalog Number/Price

Label: AKS
AKB-D2208 (DVD)/¥9,800
AKB-D2209 (BluRay)/¥11,800
Community content is available under
CC-BY-SA
unless otherwise noted.