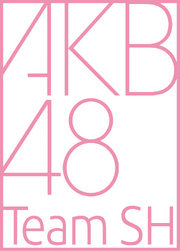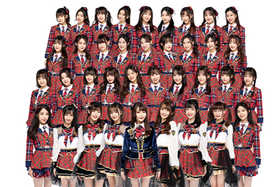 AKB48 Team SH (short for Shanghai) (SH队) is a Chinese idol group and the 4th international sister group of AKB48. The 1st Generation members were announced on July 24, 2018. The debut single, LOVE TRIP, was released digitally on December 3, 2018.
Members
History
2017
On October 26, after 1.5 years since SNH48 broke their relationship with AKB48, the AKB48 official blog announced that will launch their new sister group in Shanghai, China, named AKB48 Team SH, stated for "This is the real AKB48 sister group".
Sister Groups
Soloists
Discography
Original Songs
[2020.04.09] Action! (2020)
[2021.06.27] Qianqiu Ling (千秋令)
Cover
All of the new songs that aren't included in discography yet will be listed below. All of coupling songs that will and may be released are also included below. The songs are listed by the initial release / debut year.
Concerts
With AKB48 Group
[2019.01.27] AKB48 Group Asia Festival 2019 in Bangkok
[2019.08.24] AKB48 Group Asia Festival 2019 in Shanghai
[2021.06.27] AKB48 Group Asia Festival 2021 ONLINE
Independent
[2019.11.23] AKB48 Team SH 1st Anniversary Concert: 365nichi no Sustainable (AKB48 Team SH 1周年纪念演唱会:365天持续的爱恋)
[2020.11.28] AKB48 Team SH 2nd Anniversary Concert (AKB48 Team SH 2周年纪念演唱会)
[2020.12.27 – 2021.01.17] AKB48 Team SH Senbatsu Election Thank You Tour (AKB48 Team SH 总选答谢巡回演唱会)
Stages
[2020.06.07 - 2021.06.26] Thumbnail (缩略图)
[TBA] Renai Kinshi Jourei (恋愛禁止条例)
Games
Media
Survival Shows
AKB48 Team SH Events
Senbatsu Elections
Request Hour
External Links
AKB48 Team SH
Discography
EPs
Albums
Digital Singles
Community content is available under
CC-BY-SA
unless otherwise noted.