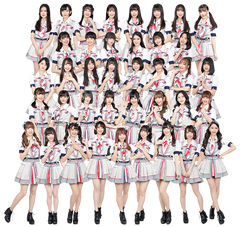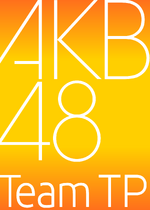 AKB48 Team TP (short for Akihabara48 Team Taipei) (formerly known as TPE48 (short for Taipei48)) is a Taiwanese girl idol group located in Taipei, Taiwan and is the 5th international sister group of AKB48. The motif color of their logo represents the charm of each member gradually growing with the gradation, just like a mango matures and changes the color from time to time.
History
Group formation was announced on the AKB48 official website in October. Due to the popularity of AKB48 merchandise in Taiwan Shops during that same year, Daily Sports commented that a group formed in Taiwan would also be popular.
The group was first expected to be created around January of 2012. Construction of a theater in Taipei City was planned. AKB48 management stated that preparations to begin performances at the theater were scheduled to begin in summer of 2012.
The auditions for the group were scheduled in September, but these plans were later postponed.
A site for the auditions for a possible member/s from Taiwan for AKB48 that will perform in Japan was opened. From 2152 candidates, 170 girls were selected for the second round and 60 for the final round. The final results are scheduled to be announced in August.
The auditions will be held 09.01.2017 - 10.01.2017. [1] From the press conference, it was announced that Abe Maria will be transferred and became the member of TPE48 along with AKB48 Special Taiwan Audition. In order to promote the TPE48 auditions two of the members, Chen Shih-Ya and Chen Shih-Yuan, went on a 10 day tour of Taiwan.
On November 30, Abe Maria transferred permanently to
TPE48
from
AKB48
's
Team K
. She's only a
Kaigai
member to be included in TPE48 formation.
On August 25, Chen Shih-yuan left the group.
On December 9, Honda Yuzuka announced her hiatus in all AKB48 Team TP releated activities due to her poor health conditions.
On December 25, Christmas Day, the group released their debut single
Mae Shika Mukanee
(勇往直前 / Yǒngwǎngzhíqián), centered by
Liu Yu-ching
, together with their corresponding music video.
On January 7, the group released their debut single coupling song music video Sakura no Hanabiratachi (櫻花瓣 / Yīng huābàn), centered by Chiu Pin-han and Chen Shih-ya.
On January 27, the group participated for the first time in 1st AKB48 Group Asia Festival Concert happened in Bangkok, Thailand, together with their international sister groups of AKB48.
On July 26, the group released their 2nd single TTP Festival, centered by Lin Yu-hsin. This is the last single and Senbatsu participation of Abe Maria.
On August 24, the 2nd AKB48 Group Asia Festival was held in Shanghai, China. On lineup of Team TP members for the concert, Abe Maria was replaced by Pan Tzu-yi due to the former's problem with the visa.
On August 26, two days after the 2nd AKB48 Group Concert, Abe Maria announced her graduation.
On September 14, the group held their 1st anniversary mini concert entitled "AKB48 Team TP 1st Anniversary Mini Concert" until September 22.
On October 19, AKB48 launched their foreign concert in Taiwan, entitled "AKB48 in Taiwan ~Are You Ready For It?~". The concert was held in Taipei Arena. Also, during their concert, they held Abe Maria's graduation ceremony for her final performance.
On December 20, their 3rd single music video Yuuhi wo Miteiru ka? was released on their official YouTube channel, five days before their 3rd single release.
On December 25, a year after their debut single release on the same date, their 3rd single
Yuuhi wo Miteiru ka?
(看見夕陽了嗎?/ Kànjiàn xīyángle ma?) was released. This is
Liu Jie-ming
's last single participation.
On February 8, Liu Jie-ming was dismissed from the group due to her violations.
On September 19, the Shonichi stage of their 1st stage has started, entitled RESET. The stage is a revival from AKB48's Team K 6th Stage.
On September 20, the group held their
first Janken Taikai
at Huashan 1914 Cultural and Creative Industry Park Wumei Theater. The event has decided the Janken Senbatsu members and the center for the song
Chance no Junban
(which was later included in their 5th single
Ticktock Promise
).
On March 25, Honda Yuzuka graduated from the group due to her poor health conditions.
On August 27, the group announced their 5th single line-up, and their center is Lin Yu-hsin. Also, their 5th single will be an original single.
On October 15, the group released their 5th single Ticktock Promise (一秒一秒 約好). This is their first original single.
On November 15,
Lin Chia-ying
and
Tseng Shih-yu
graduated from the group due to their poor health conditions.
Members
Units
Disbanded Teams
Sister Groups
Sub-Units
Discography
| # | Cover | Title | Release date |
| --- | --- | --- | --- |
| 01 | | RESET | 2019.04.15 |
Original Song(s)
Girls Cafe Gun (Endorsement Song) (2020)
Cover
Aitakatta

(2018)

Heavy Rotation

(2018)

Koi Suru Fortune Cookie

(2018)

Tenshi no Shippo

(2019)

Enkyori Poster

(2019)

Migiashi Evidence

(2019)

AKB48 Team TP

(2019)

Kimi Dake ni Chu! Chu! Chu!

(2019)

TTP Sanjou!

(2019)

Confession

(2020)

Baby! Baby! Baby!

(2020)

365nichi no Kamihikouki

(2020)

Shonichi

(2020)

RIVER

(2020)

LOVE TRIP

(2020)

11gatsu no Anklet

(2020)

Yume e no Route

(2021)
Concert
Stages
#
Stage Name
Unit
Date
Performaces
RESET

Daisy

2020.09.19 -

Bellflower

2020.09.19 -

Sakura

2020.09.20 -
AKB48 Team TP Events
Janken Taikai
External Links
References