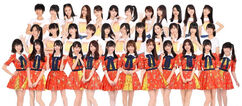 AKB48 Team TP (short for Taipei) (formerly known as TPE48) is a Taiwanese Idol Group located in Taipei, Taiwan and is the 7th international sister group of AKB48.
History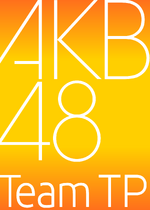 2011
Group formation was announced on the AKB48 official website in October. Due to the popularity of AKB48 merchandise in Taiwan Shops during that same year, Daily Sports commented that a group formed in Taiwan would also be popular.
The group was first expected to be created around January of 2012. Construction of a theater in Taipei City was planned. AKB48 management stated that preparations to begin performances at the theater were scheduled to begin in summer of 2012.
2012
The auditions for the group were scheduled in September, but these plans were later postponed.
2015
A site for the auditions for a possible member/s from Taiwan for AKB48 that will perform in Japan was opened. From 2152 candidates, 170 girls were selected for the second round and 60 for the final round. The final results are scheduled to be announced in August.
2017
The auditions will be held 09.01.2017 - 10.01.2017. [1] From the press conference, it was announced that Abe Maria will be transferred and became the member of TPE48 along with AKB48 Special Taiwan Audition. In order to promote the TPE48 auditions two of the members, Chen Shih-Ya and Chen Shih-Yuan, went on a 10 day tour of Taiwan.
Members
Units
Sister Groups
Sub-Units
Discography
Concert
Stages
All Units
| | | | |
| --- | --- | --- | --- |
| # | Stage name | Date | Performances |
| 1 | RESET | 2020.09.19 - | - |
AKB48 Team TP Events
Janken Taikai
External Links
References