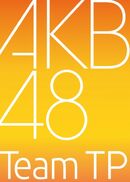 Introduction
AKB48 Team TP has had a total of 42 original members over their two generations (not including the Team Kaigai member). As of March 2021, AKB48 Team TP currently has a total of 40 members (17 promoted members and 23 trainee members).
Like in AKB48, regular auditions to recruit new members are held, and the future successful candidates, the Trainee members, take part of a in-training team of members that work as sub and under for the official members in various activities (mostly the theater performances). And then, when any of the official members graduate, a girl is promoted to fill the space.
AKB48 Team TP Members
Bolded means the member is still active in the group.
The members' pictures are of members who are still active and are listed in accordance to the alphabetical order of members in each generation.
1st Generation
Announced on August 25, 2018
Members (29): Chang Fa-fa, Cheng Chia-yu, Cheng Yu-wei, Chia I-chen, Fujii Mayu, Gao Yun-jue, Honda Yuzuka, Kao Yen-chen, Lau Hiu-ching, Lee Meng-chun, Li Cai-jie, Li Jia-li, Lin Chia-ying, Lin Chieh-hsin, Lin Yu-hsin, Lin Yi-yun, Lo Jui-ting, Liu Jie-ming, Liu Yu-ching, Oyama Mirei, Pan Tzu-yi, Po Ling, Sin Tik-kei, Tsai Ya-en, Tsai Yi-jou, Tseng Shih-yu, Tung Zih-syuan, Wang Yi-chia, Zhou Jia-yu
2nd Generation
Announced on December 21, 2019
Members (8): Miyata Ruka, Weng Tung-hsun, Wu Chi-hui, Yuan Tzu-chu, Lin Ting-li, Chou Chia-an, Wu Wan-ling, Lin Jia-ni
Special Audition
Members (5): Chen Shih-ya, Kuo Shin-yu, Lin Chieh, Chiu Pin-han, Chang Yu-lin
1st Generation
Announced on September, 2017
Members (1): Abe Maria
Community content is available under
CC-BY-SA
unless otherwise noted.