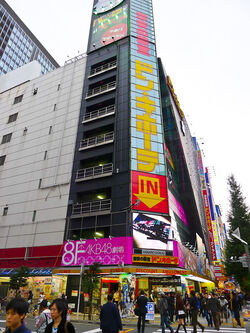 AKB48 Theater (AKB48劇場), is where AKB48 was founded, and where they hold their Theater Performances almost everyday. The AKB48 Theater is in Akihabara, Tokyo, which is the city that AKB48 is named after.
The AKB48 Theater is situated in the Don Quixote in Akihabara, with the theater on its 8th floor.
The Theater famously contains 2 pillars just before the stage, which on them have pieces of pink tape. These stripes of paint represent the number of years that AKB48 has been performing at the theater.
The AKB48 Theater is small and can therefore only fit a small amount of people. In order to go to a Theater Performance, fans have to enter a lottery to get tickets.
The theater formerly held the theater performances of SDN48, until their disbandment.
The current theater manager is Yuasa Hiroshi, and Kayano Shinobu is General Theater Manager of ALL48 Groups.
To celebrate Maeda Atsuko's graduation from AKB48, a photo mosaic was created with 10,000 pictures sent by fans. The poster was displayed at AKB48 Theater between August 27 through September 3.
AKB Theater Anniversary is coincide with AKB48 Anniversary.
Iwate Incident
In May 2014, AKB48 members Kawaei Rina and Iriyama Anna were attacked during a handshake event. The group closed its theater for a week, and cancelled all planned shows. When the theater was reopened, AKB48 had made several changes to its security system. Metal detectors were established at the theater entrance. The number of security staff was also increased, and for the opening show 6 policemen were on lookout in the theater. A fence was established between the audience and the stage, forbidding the use of the front rows. This was a drastic change for AKB48, as the group had always put emphasis on being "close" to their fans.
During the first theater show since the attack, the members did not see off the fans with high fives as usual. It is unknown whether the high-fives will be introduced again. Furthermore, it was not possible to watch the show on the monitor in the theater lobby. Only people with a ticket to the specific show or those on the cancellation waiting list were allowed into the theater.
Current Stages
Past Stages
Team A
Team K
Team B
Team 4
1st Stage 「僕の太陽」 (AKB48 Team 4 1st Stage "Boku no Taiyou") [2011.10.10-2012.10.25]
Himawarigumi
1st Stage 「僕の太陽」 (AKB48 Himawarigumi 1st Stage "Boku no Taiyou") [2007.07.01-2007.11.30]
2nd Stage 「夢を死なせるわけにいかない」 (AKB48 Himawarigumi 2nd Stage "Yume wo Shinaseru Wake ni Ikanai") [2007.12.08-2008.04.19]
Team Kenkyuusei
1st Stage

「ただいま恋愛中」 (AKB48 Team Kenkyuusei 1st Stage "Tadaima Renaichuu") (2008.05.22~2008.10.07)

2nd Stage

「アイドルの夜明け」 (AKB48 Team Kenkyuusei 2nd Stage "Idol no Yoake") (2009.03.06~2010.04.12)

3rd Stage

「恋愛禁止条例」 (AKB48 Team Kenkyuusei 3rd Stage "Renai Kinshi Jourei") (2010.04.17~2010.06.18)

4th Stage

「シアターの女神」 (AKB48 Team Kenkyuusei 4th Stage "Theater no Megami") (2010.06.20~2011.04.03)

5th Stage

「RESET」 (AKB48 Team Kenkyuusei 5th Stage "RESET") (2012.03.29~2012.09.08)

6th Stage

「僕の太陽」 (AKB48 Team Kenkyuusei 6th Stage "Boku no Taiyou") (2012.10.26~2013.03.17)

7th Stage

「パジャマドライブ」 (AKB48 Team Kenkyuusei 7th Stage "Pajama Drive") (2013.03.20~2013.10.27)
1st Stage

「誘惑のガーター」 (SDN48 1st Stage "Yuuwaku no Garter") [2009.08.01 - 2012.03.28]
Trivia
It is customary for the graduates to take off their own photo from the hall by the theater when they finally officially graduate.
Slideshow
AKB48 Theater
Members Removing Portrait