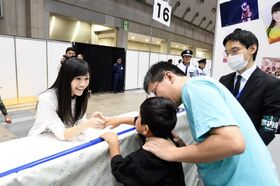 An Akushukai (握手会 - Handshake Event), are events held for every AKB48 group single release, where fans get to meet the members and shake hands with them.
The event started in December 16, 2005, after a problem with a equipment and later became a tradition from the group. After the Iwate Incident in 2014 the event suffered several changes to improve security.
There are two types of Akushukai, Zenkoku and Kobetsu
Zenkoku
Zenkoku Akushukai are when a group of around 20 AKB48 group members participate in a handshake event in a large city somewhere in Japan. You shake hands with all of the members in that certain row you choose, instead of an individual member. There is also a mini-live event at these events.
The tickets to the Zenkoku Akushukai come with the Limited-Edition copies of singles.
Kobetsu
Kobetsu Akushukai (also known as Dai-Akushukai), are events in which all members of AKB48 and it's sister groups are present. In this setting, fans get approximately 10 seconds per ticket to spend with a specific member. Fans are allowed to combine tickets to spend multiple minutes talking to the girl.
The tickets to the Kobetsu Akushukai come with the Theater-Edition copies of singles. However, you have to apply online and pre-order these copies via Chara-Ani when the handshake applications open. This is usually about 1 month before the release date.
Community content is available under
CC-BY-SA
unless otherwise noted.