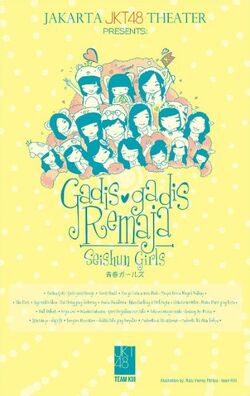 Ame no Doubutsuen (Kebun Binatang Di Saat Hujan) is a song from Team KIII 2nd Stage, Team T 5th Stage and JKT48 2nd Stage. The song is also included in JKT48's 2nd album Mahagita.
Information
Artist
Indonesian Titile

Kebun Binatang Di Saat Hujan
Romaji Title

Ame no Doubutsuen
English Title

The zoo while raining
Performing Members
Team KII Version

Cindy Yuvia, Riskha Fairunissa, Natalia, Alicia Chanzia, Jennifer Hanna, Sinka Juliani, Della Delila, Thalia/Nadila Cindi Wantari

Team T Version

Adhisty Zara, Tan Zhi Hui Celine, Melati Putri Rahel Sesilia, Adriani Elisabeth, Sonia Natalia, Eve Antoinette Ichwan, Syahfira Angela Nurhaliza, Fidly Immanda Azzahra

JKT48 One Version

Tan Zhi Hui Celine, Gabriela Margareth Warouw, Aninditha Rahma Cahyadi, Ariella Calista Ichwan, Yessica Tamara, Indah Cahya, Cornelia Vanisa, Gita Sekar Andarini / Marsha Lenathea, Reva Fidela, Eve Antoinette Ichwan, Flora Shafiq, Freya Jayawardana, Jinan Safa Safira, Lulu Salsabila, Febriola Sinambela
JKT48 Request Hour
Concert Units
Ayana Shahab, Natalia, Della Delila, Jennifer Hanna, Saktia Oktapyani, Fakhiryani Shafariyanti, Lidya Maulida Djuhandar, Dwi Putri Bonita

AKB48 x JKT48 Concert "Bergandengan Tangan Bersama Kakak"
Lyrics