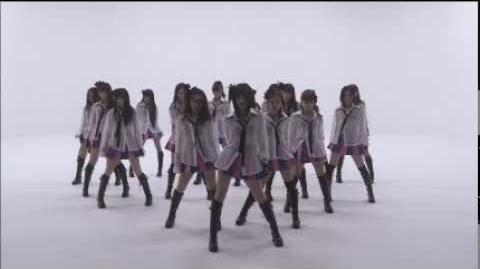 Beginner is the 18th major single (20th overall) released by AKB48. It was released in five versions: a limited type-A CD+DVD edition, a regular type-A CD+DVD edition, a limited type-B CD+DVD edition, a regular type-B CD+DVD edition, and a limited CD-only theater edition. The limited type-A and type-B editions came with an alternate cover, and a ticket to attend a handshaking event. All four type-A and type-B editions came with a serial number to vote for a song to be performed at AKB48's Request Hour Setlist Best 100 2011 concert in January 2011. Beginner was the best-selling single of 2010. The RIAJ has certified the title track Platinum for full song downloads of over 250,000.
Motto:
「今回のAKBは、かなり、ヤバイ!」
("Konkai no AKB wa, Kanari, YABAI!")
Translation: "AKB this time is, considerably, amazing!"
Tracklist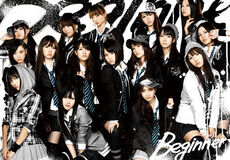 Selected Members
Senbatsu (16 Members (Maeda Atsuko Center)
Undergirls (22 Members) (Ota Aika and Takayanagi Akane Center)
MINT (5 Members) (Maeda Atsuko Center)
DIVA (17 Members) (Akimoto Sayaka Center)
Oricon Chart Positions
Mon
Tue
Wed
Thu
Fri
Sat
Sun
Week Rank
Sales
-
#1
568,095
#1
112,151
#1
61,863
#1
26,077
#1
23,109
#1
22,025
#1
826,989
#1
12,146
3
10,340
3
11,496
2
6,106
2
5,684
#1
6,896
#1
6,565
2
63,504
#1
3,604
14
9
6
6
6
3
4,247
6
25,452
3
2,315
16
16
15
11
11
8
16
14,308
15
14
20
15
17
8
10
15
9,861
13
26
24
17
14
14
11
17
7,065
9
25
19
14
11
9
12
15
7,104
7
22
23
14
10
9
5
13
7,001
9
14
14
7
7
6
6
11
7,501
8
7
5
6
6
3
1,459
4
5
8,505
4
4
4
3
1,437
4
4
4
4
10,502
4
10
7
7
6
4
4
6
7,444
4
21
17
15
16
9
7
12
5,935
x
x
x
x
x
x
x
21
5,323
x
x
x
x
x
x
x
20
3,925
x
x
x
x
x
x
x
39
3,000
x
x
x
x
x
x
x
29
2,961
x
x
x
x
x
x
x
61
1,048
21
x
x
x
x
39
37
51
2,152
30
x
x
x
x
44
36
60
1,618
42
x
x
x
x
35
44
56
1,155
40
x
x
x
49
43
49
58
863
39
48
40
36
43
39
38
42
1,226
34
42
49
39
36
37
32
40
1,241
Total Reported Sales: 1,040,670*
Total Sales in 2010: 954,283
Total Sales in 2011: 86,387*
Total of weeks charting inside Top 200: 23 (still charting)
5th consecutive single to debut at #1 in the Weekly Oricon rankings.
Beginner shipped a total of 1,030,000 copies of its first press edition. highest number for AKB48 so far
Beginner's first day sales was the highest first day sales ever since Oricon started to report daily sales.
Highest first week sales for AKB48, as well as highest first week sales ever for a female idol group single. (previous single with this record was SPEED's "ALL MY TRUE LOVE" released almost 12 years ago.)
In the female artist category, it places as the 3rd best first-week seller single, behind Namie Amuro's "CAN YOU CELEBRATE?" (828k) (with only a 2,000 copies difference) and Utada Hikaru's "Addicted To You" with over 1 million sales.
Beginner was the best selling single in 2010 in Japan, with over 950,000 copies sold.
First million-selling single since Akikawa Masafumi's "Sen no Kaze ni Natte" in August 2007 (released May 2006)
First million-selling single by a female artist since Nakajima Miyuki's "Chijou no Hoshi / Headlight Taillight" in March 2003 (released July 2000)
First million-selling single by a female group since Morning Musume's "Koi no Dance Site" in February 2000 (released January 2000)
Japan's 243rd million-selling single ever.
Achievements
Beginner - 7th Music Video to reach 20,000,000 views on YouTube
TV Performances
[2010.10.20] AKBINGO!
[2010.10.27] AKBINGO!
[2010.10.27] Music Station
[2010.10.30] Music Fair
[2010.10.30] Count Down TV
[2010.10.31] CDTV
[2010.10.31] Shin Domoto Kyuodai
[2010.10.31] Music Japan
[2010.11.03] AKBINGO!
[2010.12.24] Music Station Super Live 2010
[2010.12.30] 52nd Japan Record Awards
[2010.12.31] 61st Kohaku Uta Gassen (Medley)
[2011.06.07] SMAPxSMAP (Medley)
Beginner Music Clip Censoring Controversy
Beginner's Music Clip was premiered during the Janken Senbatsu Tournament. As described by fans who attended the event, the PV featured a survival video game plot, where all the girls were connected to a virtual reality where they fought against each other killing themselves with different irealist weapons such as gigant Chupa Chup.
Near the end of the PV, only Maeda Atsuko and Oshima Yuko are left. While fighting against the Stone Recordes, Stone stabs Maeda's hand against a wall, making it impossible for her to move. Oshima fires at the arm that's holding Maeda. Oshima smiles for just two seconds and is killed from the Stone Recordes.
When she regains consciousness, her hand starts to hurt and blood comes out of it while she screams in pain for several seconds. In this situation, Maeda decides to cut her whole arm to keep fighting, and, for some unexplained reason, her real self is disconnected from the virtual reality game while still playing (meaning she was still alive in the game).
When she cuts her whole arm off, she changes her arm to a sword and stabs the Stone Recordes. At the end, Matsui Jurina appeared to help Maeda.
This PV was aired again in the Tokyo Aki Matsuri, where a KING RECORDS Representative said, "Maybe this will be the last time we'll show the PV to an open public," claiming that the PV is "too strong visually" and that Dance Shot and Making of footage was going to be used to make a new version to use on TV and to include in the DVD of the Single.
This created a controversy in the AKB48 fandom. Many complained that they wanted to see the real PV, and some days later AKB48's KING RECORDS official website updated with a notice that the original PV was going to be released only through Recochuku. They also officially confirmed that the version included in the DVD of the single was going to be the censored clip. This was the first time a an AKB48 music clip was censored. Akimoto Yasushi commented, "I thought we made an splendid creation," and later explained that it was 100% a KING RECORDS decision to censor the PV.
Trivia
This was AKB48's first single under

KING RECORDS

to have Limited Editions. The

National Handshaking Events

tickets are now included in these editions.
This is also the first AKB48 single to have 5 editions.
The choice of

Front Girls

of this single and overall Senbatsu was greatly influenced from the result of the 2nd Senbatsu Election, with all the

Front Girls

being the same as the top 8 of that year and the rest of

Senbatsu Members

being basically the same, with the exclusion of Akimoto Sayaka (#17) for Sashihara Rino (#19).
This is the fourth AKB48 single with an English name, the first one being BINGO!, the second being River and the third one being Heavy Rotation.
This is the first AKB48 single to sell 1,000,000 copies.
The title song was used as an instrumental part in AKB48's Murder Mystery Series CMs for Glico's Ice no Mi.
Videos