Chance no Junban
Released:
December 8, 2010
Genre:
J-Pop
Format:
CD Single, CD+DVD
Label:
You, Be Cool!/KING RECORDS
Producer:
Akimoto Yasushi
Theater Edition

AKB48 Singles Chronology
Previous:
Beginner
18th Single
(2010)
Next:
Sakura no Ki ni Narou
20th Single
(2011)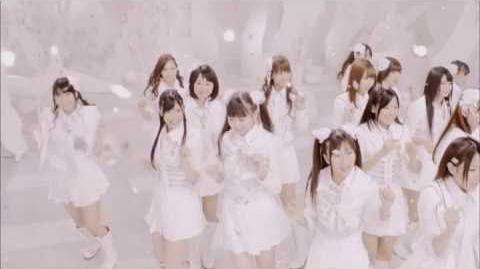 "Chance no Junban" (チャンスの順番; My Turn by Chance) is the 19th major single (21st overall) released by AKB48. It was released in four versions: a regular type-A CD+DVD edition, a regular type-K CD+DVD edition, a regular type-B CD+DVD edition, and a limited CD-only theater edition. There was a lottery ticket application for a handshake and talk event included in the first press of the regular editions. The title track was used as the theme song for AKB1/48 Idol to Koishitara...., a PSP dating simulation game.
Tracklist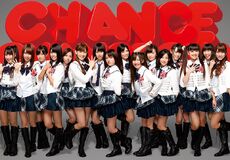 Partcipating Members
Senbatsu (16 Members) (Uchida Mayumi Center)
Team A: Kojima Haruna (#3), Nakagawa Haruka (#4), Takajo Aki (#8), Kuramochi Asuka (#10), Maeda Atsuko (#15)
Team K: Uchida Mayumi (#1), Maeda Ami (#5), Nakatsuka Tomomi (#9), Tanabe Miku (#12), Matsui Sakiko (#14)
Team B: Ishida Haruka (#2), Sato Sumire (#6), Sato Natsuki (#7), Kobayashi Kana (#11), Kasai Tomomi (#13), Chikano Rina (#16)
Members: (16 Members)

Team A (16 members) (Maeda Atsuko and Takahashi Minami Center)
Team K (16 members) (Oshima Yuko Center)
Team B (16 members) (Kashiwagi Yuki and Watanabe Mayu Center)
Team Kenkyuusei (16 members)
Oricon Chart Positions
Mon
Tue
Wed
Thu
Fri
Sat
Sun
Week Rank
Sales
-
#1
471,242
#1
54,780
#1
20,160
#1
15,765
#1
12,821
#1
13,201
1
596,769
#1
5,491
7
7
3
3,283
3
2,550
2
3,325
2
5,485
3
30,233
2
2,428
7
5
#1
2,510
#1
2,388
#1
2,392
#1
2,030
3
15,775
#1
1,283
#1
1,280
#1
1,370
#1
1,508
5
4
2
2,295
2
10,189
2
2,227
2
1,922
3
1,669
4
3
1,118
6
6
3
10,684
5
9
9
10
10
10
5
8
6,544
7
23
20
21
23
16
10
18
4,569
11
41
37
30
31
21
26
31
3,741
26
33
47
27
38
30
27
31
2,510
24
-
-
49
44
47
43
48
2,013
26
38
41
43
39
45
46
40
2,071
35
-
-
-
-
-
-
76
1,244
46
-
-
-
-
-
-
92
947
-
-
-
-
-
-
-
101
642
45
49
-
-
-
-
-
82
557
-
-
-
-
-
-
-
84
675
-
-
-
45
-
-
-
68
702
-
-
-
-
-
-
-
101
569
-
-
-
-
-
-
-
93
488
-
-
-
-
-
-
-
118
423
Total Reported Sales: 746,890*
Total Sales in 2010: 596,769
Total Sales in 2011: 150,121*
Total of weeks charting inside Top 200: 16 (still charting)
6th consecutive single to debut at #1 in the Weekly Oricon rankings.
Chance no Junban's first week sales updated AKB48's record of half-million first week sellers to 4. (Ponytail to Shushu~ current.)
This single made AKB48 the first female idol group in Japan to have 6 consecutive 1# Singles since an Onyanko Club streak, approximately 23 years ago.
For a 5 consecutive 1# single streak occurring during the same year, it was the first time happening in the female artist category since 1978 (32 years ago).
Chance no Junban placed as 8th in the Oricon Yearly Single Ranking for 2010 (this position was accomplished just with the single's first week sales, since it was released during the last Oricon Week for the year 2010)
Trivia
Videos