HKT48 (short for Hakata48) is a Japanese all-female idol group based in Hakata, Fukuoka, where they have their own theater in E • ZO Fukuoka. The group, established in 2011, is the fourth Japan-based sister group of AKB48. HKT48 is produced by Akimoto Yasushi and signed under Universal Music Japan. Currently the group consists of three teams: Team H, Team KIV and Team TII. In addition, the group also has trainees called Kenkyuusei.
History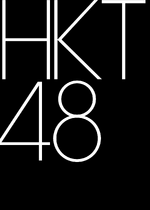 Plans for a group entitled HKT48 were first revealed by AKB48 producer Yasushi Akimoto on 19 November 2008. The group takes its name from its proposed base location of Hakata-ku, Fukuoka. HKT48 was officially announced on 1 May 2011 at an AKB48 handshake event. Instead of the previously targeted Hakata, the HKT48's theater will instead be based in the Hawks Town Mall based in neighboring Chūō-ku, Fukuoka. The group is the third AKB48 sister group to be launched, after the groups SKE48 and NMB48. This location is next to the Fukuoka Yahoo! Japan Dome. In addition, it was announced that the group will be accepting applications from girls whose age is between 11 and 22. The first-round of the first-ever HKT48 audition will take place from 31 May 2011, and successful applicants took part in the second round of auditions, consisting of a singing and dancing test, in the first half of July 2011.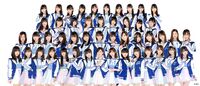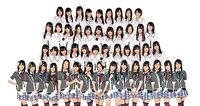 HKT48's 21 first generation members were first revealed at an AKB48 handshake event on 23 October 2011. Of these 21 members, 17 of them are junior high school students or below, and two of the members are elementary school students. The youngest member of the group, Natsumi Tanaka, was 11 years old at the time of the announcement. She said that "joining AKB48 is my ambition since I was 5 years old, so it feels like a dream to be in this group.". The oldest member is Yoko Sugamoto, who is 17 years old at the time of the announcement. Altogether, the average age of the group is 13.8 years old, the youngest average age amongst all of the AKB48-related groups. The group will have their debut performance in the HKT48 theater at the end of 2011.
On January 11, 2014, HKT had a Team Shuffle, the shuffle happened at the HKT48 Kyushu 7 Prefecture Tour ~Kawaii Ko ni wa Tabi wo Saseyo~. The shuffle will only take effect in the spring.
Members
Teams
Sister Groups
| | | |
| --- | --- | --- |
| Japanese | Overseas | Former Sister Groups |
Units
One-Shot Units
Sashihara Rino with AKB48 Team 8

(指原莉乃 with AKB48 Team 8)
Single Units
Album Units
Mixed Units
Soloists
Discography
[2013.07.06]

HKT48 Team H 1st stage "Te wo Tsunaginagara" ~studio recording~

(HKT48 Team H 1st stage 「手をつなぎながら」)
[2013.07.06]

HKT48 TeamH 1st stage "Te wo Tsunaginagara"

(HKT48 TeamH 1st stage 「手をつなぎながら」)
[2014.01.09]

Team H 2nd Stage "Hakata Legend"

(チームH 2nd Stage「博多レジェンド」)
[2013.09.25]

AKB48 Group Rinji Sokai ~Shirokuro Tsukeyojyanaika!~ (HKT48 Tandoku Koen)
[2014.01.11]

HKT48 Kyushu 7 Prefecture Tour ~Kawaii Ko ni wa Tabi wo Saseyo~
[2014.04.05] HKT48 in Saitama Super Arena
Stages
Team H
Team KIV
Team TII
Kenkyuusei
#

Stage name

Date

Performances

1
Te wo Tsunaginagara
(手をつなぎながら)
2011.11.26 - 2012.03.02
199
2

PARTY ga Hajimaru yo


(PARTYが始まるよ)
2012.09.30 - 2013.11.05
218
3

Nounai Paradise


(脳内パラダイス)
2013.11.17 - 2014.04.21
2019.03.10 -
47
-
Te wo Tsunaginagara
(手をつなぎながら)
2016.12.21 -
(Together with Team TII up until 2017.11.26)
-
Himawarigumi
Special Stages
#

Stage name

Date

Performances

1
Hakata Refresh
(博多リフレッシュ)
2019.02.23 -
AKB48 Senbatsu Events
Senbatsu Elections
Senbatsu Janken Taikai
HKT48 Events
Request Hour
Anniversaries
Concerts
[2020.01.19-2020.01.20]

AKB48 Group Request Hour Setlist Best 50 2020

[2021.05.29]

HKT48 Concert ~Did Everyone Get Well?~

,

Moriyasu Madoka Graduation Ceremony ~ Did Everyone Get Well? ~

[2021.07.24] HKT48 Request Hour Setlist Best 50 2021
[2021.10.01-2021.10.03] Tokyo Idol Festival 2021
[2022.04.08-2022.05.07]

HKT48 Tour 2022
Filmography
[2013.02.02]

Tsunagirl

[2013.08.24]

Himitsu

[2015.11.28]

Majisuka Gakuen 0 Kisarazu Rantouhen

[2016.01.29]

Ozaki Shihainin ga Naita Yoru DOCUMENTARY of HKT48
==
HKT48 Sashihara Rino Zachou Kouen at Meijiza

(2015.04.08 - 2015.04.23)

HKT48 Sashihara Rino Zachou Kouen at Hakataza

(2015.08.15 - 2015.08.30)
TV Shows
Variety Shows
Currently Airing
HKT Variety 48

(2012 - )

HKTV

(2021 ‐ )
Past Variety Shows
KoreKara

(2012 - 2014)

Aru Aru YY Terebi

(with NMB48) (2012 - 2013)

HKT48 Tonkotsu Mahou Shoujo Gakuin

(2013) under the

Nogizaka46 x HKT48 Crown Program Battle

HKT48 Shakariki 48!

(2014)
HaKaTa Hyakkaten 3 Seasons (latest 2015)

HKT48 no Goboten!

(2014 - 2016)

HKT48 vs. NGT48 Sashikita Gassen

(2016)

HKT48 no "Hokamina" ~Sonohoka no minasan~

(2014 - 2016)

HKT48 no Odekake

(2013 - 2017)
HKT48 Tonkotsu Magical Girls' Academy (HKT48トンコツ魔法少女学院)
Radio Shows
HKT48 no Baby Radio (Kari)

HKT48 Watanabedoori Icchoume FM Madoka ~Madoka no Mado Kara~

HKT48 no Momochihama Jogakuin
Games
Line-Up through the years
External Links