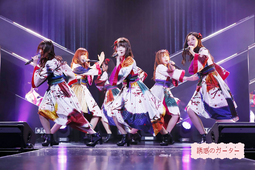 Yuuwaku no Garter (誘惑のガーター) will be HKT48's Himawarigumi (Team H, Team KIV and Team TII) 3rd Stage. The stage is a revival of SDN48 1st Stage.
General Information
Stage Name

Yuuwaku no Garter (誘惑のガーター)

Team

Shonichi / Senshuuraku

2017.12.17 -
Setlist
M00. overture

M01. Saturday night party (Kojina Yui, Komada Hiroka, Sashihara Rino, Matsuoka Natsumi, Miyawaki Sakura)

M03. Black boy

M08. Ganbariina (ガンバリーナ )
M09. Futsuu no Anata (普通のあなた)
M10. Best by...
M11. Aisareru Tame ni (愛されるために)

Encore
M12. Kodoku na Runner (孤独なランナー)
M13. Touhikou (逃避行)
M14. Medley
M15. Vampire Keikaku (ヴァンパイア計画)

Participating Members
Shonichi
Imada Mina, Ueki Nao, Kumazawa Serina, Kojina Yui, Komada Hiroka, Sakaguchi Riko, Sashihara Rino, Shimono Yuki, Tomiyoshi Asuka, Fukagawa Maiko, Fuchigami Mai, Matsuoka Natsumi, Miyawaki Sakura, Murashige Anna, Motomura Aoi, Yamada Marina
Notes
The Shonichi for this stage was announced at the HKT48 6th Anniversary concert.
Due the mature aspects of the songs, only members 18 years old and above will perform this stage.
Tadaima Rennaichuu will continue to be performed and HKT's Himawarigumi will have two stages at the same time.
This revival features new costumes for at least one song per segment.
Futsuu no Anata is performed as it's censored version.
Community content is available under
CC-BY-SA
unless otherwise noted.