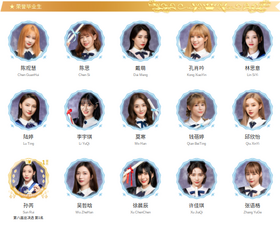 SNH48's Honorary Graduates (荣誉毕业生)
Formed on October 14, 2020.
Information
Members who graduated due to the contract expiring are referred to as Honorary Graduates.
The requirements to successfully graduate from the group and join the Honorary Graduates are:

For 1st Gen Members, they only need to be with the group for 8 years regardless of age as per their contract.
For 2nd Gen Members onwards, they can only successfully graduate from the group when their age reaches 30 as per their contract.
Under this rule, members who are 29 years old as of December 31 of the same year as the event or those who have been sent out by the company to pursue in other careers like acting can choose whether or not to join the group's major events (Election/Request Time) in that same year.

These members are still working together with

STAR48

and appear every so often at SNH48 events.
Members