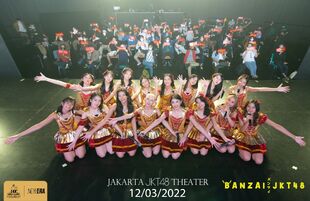 Banzai JKT48 (バンザイJKT48) is JKT48's Special Stage. The Setlist was announced on JKT48 10th Anniversary Kick-Off Conference.
General Information
Stage Name

Banzai JKT48 (バンザイJKT48)

Team

Shonichi / Senshuuraku

2022.03.12 -
Setlist
M00. Zenza Girls (前座ガールズ) / Oboete Kudasai (覚えてください / Tolong Ingatlah) (Raisha Syifa Wardhana, Alia Giselle, Amanda Puspita Sukma Mulyadewi, Aurellia, Callista Alifia Wardhana, Gabriela Abigail Mewengkang, Indira Putri Seruni, Jesslyn Elly)
M00. overture (JKT48 ver.)
M01. HA!
M02. Nagiichi (ナギイチ / Gadis yang Paling Cantik Di Pinggiran Pantai)
M03. Eien Pressure (永遠プレッシャー / Selamanya Pressure)

MC1
MC2
M09. Teacher Teacher
M10. Kataomoi Finally (片想いFinally / Cinta Tak Berbalas Finally)
M11. Must be now

MC3
M12. Sweet & Bitter (スイート&ビター)

Encore:
EN01. Tsugi no Season (次のSeason / Musim yang Selanjutnya)
EN02. Shoujo wa Manatsu ni Nani wo Suru? (少女は真夏に何をする? / Apa yang Sang Gadis Perbuat di Musim Panas?)
EN03. Pareo wa Emerald (パレオはエメラルド / Pareo adalah Emerald)

MC3
EN04. Banzai Venus (バンザイVenus)

Units
2nd Unit (19/03/2022)
3rd Unit (28/05/2022)
4th Unit (12/06/2022)
Trivia
Members not featured on the Shonichi: Adzana Shaliha, Cornelia Vanisa, Dhea Angelia, Febriola Sinambela, Flora Shafiq, Gita Sekar Andarini, Helisma Putri, Indah Cahya, Jesslyn Callista, Kathrina Irene, Lulu Salsabila, Reva Fidela, Yessica Tamara.
Members didn't get any unit on Shonichi: Feni Fitriyanti and Shani Indira Natio.
The unit song will be change every show.
Participating Members
Adzana Shaliha, Aninditha Rahma Cahyadi, Angelina Christy, Azizi Asadel, Cindy Hapsari Maharani Pujiantoro Putri, Cornelia Vanisa, Dhea Angelia, Febriola Sinambela, Feni Fitriyanti, Fiony Alveria, Flora Shafiq, Fransisca Saraswati Puspa Dewi, Freya Jayawardana, Gabriela Margareth Warouw, Gita Sekar Andarini, Helisma Putri, Indah Cahya, Jessica Chandra, Jesslyn Callista, Jinan Safa Safira, Kathrina Irene, Lulu Salsabila, Marsha Lenathea, Mutiara Azzahra, Reva Fidela, Shani Indira Natio, Shania Gracia, Tan Zhi Hui Celine, Yessica Tamara

Shonichi
Aninditha Rahma Cahyadi, Angelina Christy, Azizi Asadel, Cindy Hapsari Maharani Pujiantoro Putri, Feni Fitriyanti, Fiony Alveria, Fransisca Saraswati Puspa Dewi, Freya Jayawardana, Gabriela Margareth Warouw, Jessica Chandra, Jinan Safa Safira, Marsha Lenathea, Mutiara Azzahra, Shani Indira Natio, Shania Gracia, Tan Zhi Hui Celine
Senshuuraku
TBA