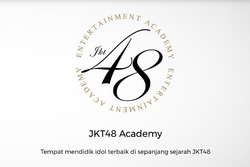 JKT48 Academy (Akademi) (previous name: JKT48 Trainee, Research Students, or Kenkyuusei). They currently have no members. This concept was announced on April 8, 2018. JKT48 will determine the amount of members to be 16 members for each teams. Trainee will be splitted into two levels, Member Academy Class A where the students are ready to become a backup team member in various performances, and Member Academy Class B where students learn various things about idols and prepare to rise to Class A.
Academy System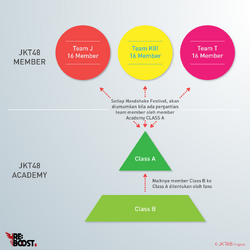 The students will learn various things about JKT48 through the activities around the theater such as a theater visitor's guide, sell tickets, and others. The students will be given the opportunity to perform before the theater performances on each team, so the fans will see their progress.
The academy period is one year. (never applied and not applicable anymore after High Tension Handshake Event).

If within a year an academy student can't be a team member, student will be excluded from the academy.
If the student has been promoted as a team member but then returned as an academy student, then a year will be calculated from the period after becoming a second time student.

There will be reshuffle (promotion and demotion) and it will be occured on handshake festival.
Promotion and demotion will be determined on student perform score totality. But, student can be fired although still be the student.
The students can rise from Class B to Class A, which is determined by the fans.
Some staff members, two ex-members, and a current member are the teachers:
Student Registration
There are two periods of registration on a year via JKT48 official web (TBC). There's other possible ways to apply.

There will be document selection and interview selection (including singing and dancing).
Members
Class A Trainees
Class B Trainees
Stages
#

Stage name

Date

Performances

1
Pajama Drive
2012.05.17 - 2012.12.13
2013.01.11 - 2013.05.12
2014.05.24 - 2015.01.17
2016.08.07 - 2016.11.19
2019.03.23 - 2021.03.11
67
69
88
-
-
2
Boku no Taiyou
(Matahari Milikku)
2013.05.17 - 2013.06.25
2020.02.28 - 2020.08.15
27
6
JKT48 Academy Songs on JKT48 Albums & Singles
JKT48 Academy Gallery