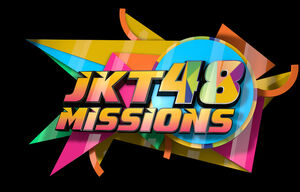 JKT48 Mission (JKT48ミッション/JKT48使命 JKT48 Misshon/ JKT48 Shimei) is the second television show of JKT48. Like the name, JKT48 members will given different missions each episodes. The mission is doing outside the room and be variable. This show airing since Sunday, June 23, 2013 on Trans7, Indonesia.
Episode List
July 7, 2013
Title
"Meet Akimoto Sensei" and "Konser Perkenalkan Nama Kami JKT48" (in English Introduce Our Name JKT48 Concert)
Quest Place(s)
[Second Mission] Five Great Cities of Indonesia:
Makassar, Solo/Surakarta, Balikpapan, Surabaya,Jakarta
Including Members
Takajo Aki
Higlighted Member(s)
-
On the first mission of this episode, JKT48 with their representative members introducing theirself and talking with Akimoto Yasushi and on the end of meeting with Akimoto Yasushi, JKT48 giving a souvenir for him a bottle of sauce.
On the second part, JKT48 reaching the second mission to doing a concert in 5 Great Cities of Indonesia. After announced the concerts, at Renai Kinshi Jourei theater last June, Rena-chan announcing she will moving to Japan (again) and also joining AKB48.
July 14, 2013
Title
"Goodbye High School, This is My Last Tribute"
Quest Place(s)
Kinal's high school, SMA Negeri 1, wikipedia:Bandung (in English -country- Senior High School 1)
Including Members
Team J
Higlighted Member(s)
Kinal
Today is the day when JKT48 Team J captain, Kinal was graduated from her high school.