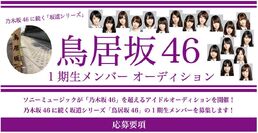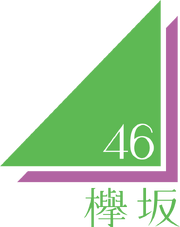 Keyakizaka46 (欅坂46  Keyakizaka46?) is a Japanese Idol Group and the first sister group of Nogizaka46. The 1st Generation members were announced on August 21, 2015 and on the same day, their name was changed from the original Toriizaka46 (鳥居坂46  Toriizaka46?). Their debut single, Silent Majority, was released on April 6, 2016.
On February 11, 2019 it was announced that Hiragana Keyakizaka46 would become independent from the group, renaming to Hinatazaka46.
On July 16, 2020, during the KEYAKIZAKA46 Live Online, but with YOU! live-streamed concert, captain Sugai Yuuka announced that the group would undergo a rebranding. Their final single as Keyakizaka46 was Dare ga Sono Kane wo Narasu no ka?, with their final concert taking place on October 12-13, 2020.
On September 20, 2020, it was officially revealed that Keyakizaka46's name would be changed to Sakurazaka46.
History
Members
Sister Groups
Units
Yuichanzu

(ゆいちゃんず)

Aozora to MARRY

(青空とMARRY)

Goninbayashi

(五人囃子)
Single Units
Album Units
Soloists
Outside Keyakizaka46
Discography
Singles
Digital Singles
[2020.08.21] Dare ga Sono Kane wo Narasu no ka? (誰がその鐘を鳴らすのか?)
Albums
Best Albums
[2020.10.07] Eien Yori Nagai Isshun 〜Ano Koro, Tashika ni Sonzaishita Watashitachi〜 (永遠より長い一瞬 〜 あの頃、確かに存在した私たち 〜)
Hiragana Keyakizaka46's Albums
Books
[2018.08.06] - KEYAKI 〜2018 Summer Tour Memorial BOOK〜
Photobooks
[2018.11.21] 21nin no Mikansei (21人の未完成)
Filmography
Bokutachi no Uso to Shinjitsu: Documentary of Keyakizaka46

(僕たちの嘘と真実 Documentary of 欅坂46) (2020)
TV Shows
Variety Shows
Dramas
Radio Shows
Keyakizaka46 Kochira Yurakucho Hoshizora Housoukyoku

(欅坂46こちら有楽町星空放送局) (2016)
Fandom Japan
External Links