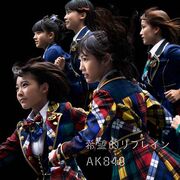 Kibouteki Refrain is the main song from AKB48's 38th single Kibouteki Refrain, by Senbatsu.
Information
Artist

Kanji Title

希望的リフレイン

Romaji Title

Kibouteki Refrain

English Title

-

Single
Performing Members
Music Video Information
Since their 20th single "Sakura no Ki ni Narou" (released February 2011), AKB48 have released 18 million-seller singles consecutively. In the PV for this single, AKB48 members who were all centers for the these million-selling singles, make appearances.
The PV features the members running away from a mysterious group of men who is after a black bag that contains two golden microphones. It begins with Takahashi Minami who passes the bag to Maeda. Afterwards, the bag gets passed on to Matsui Jurina, Shimazaki Haruka, Watanabe Mayu, Sashihara Rino, and Kojima Haruna. When they are cornered by the group of men, former members Shinoda Mariko, Oshima Yuko, and Itano Tomomi make an appearance to help them.
As the golden microphones are finally passed onto the centers for "Kibouteki Refrain", Watanabe Mayu and Miyawaki Sakura, and the 32 senbatsu members perform the song in front of about 950 extras. Then, they make a run for it again to continue passing the baton.
Order of Runners
AKB48 members who were all centers for million-selling singles.
Trivia
Community content is available under
CC-BY-SA
unless otherwise noted.