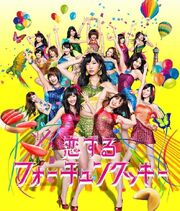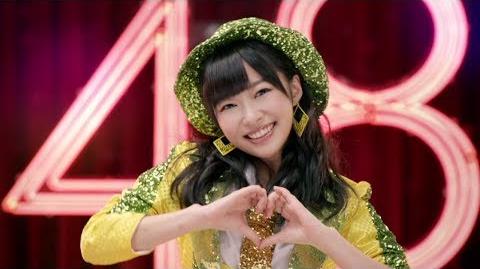 Koi Suru Fortune Cookie is the main song from AKB48's 32nd single Koi Suru Fortune Cookie, by Senbatsu.
Information
Artist

Kana Title

恋するフォーチュンクッキー

Romaji Title

Koi suru FOOCHUN KUKKII

English Title

Fortune Cookie in Love

Chinese Title

爱的幸运曲奇

Pinyin Title

Ài de xìngyùn qū qí

Indonesian Title

Fortune Cookie Yang Mencinta

Single

Albums
Performing Members
AKB48
JKT48
Team J: Nakagawa Haruka, Melody Nurramdhani Laksani, Shania Junianatha, Nabilah Ratna Ayu Azalia, Jessica Veranda Hardja, Takajo Aki, Rena Nozawa, Ayana Shahab, Devi Kinal Putri, Beby Chaesara Anadila, Sonia Natalia
SNH48
BNK48
Trainee: Cherprang Areekul, Isarapa Thawatpakdee, Jennis Oprasert, Jetsupa Kruetang, Jiradapa Intajak, Kanteera Wadcharathadsanakul, Milin Dokthian, Miori Ohkubo, Natruja Chutiwansopon, Patchanan Jiajirachote, Pimrapat Phadungwatanachok, Praewa Suthamphong, Punsikorn Tiyakorn, Sawitchaya Kajonrungsilp, Warattaya Deesomlert
Koi Suru Fortune Cookies Video Award
Staff Ver.
Staff going in order by Music Video
AKB48 Group Manager
AKB48 Assistant Theater Manager
AKB48 Footage Supervisor (Kitagawa Kenji)
HKT48 Theater "Friends"
AKB48 Office / Fleet Management
SKE48 Specialist Trainer
AKB48 Cafe Staff
NMB48 Theater Staff
SKE48 Hair / Make up / Costumes
SKE48 Lighting / Sound Staff
AKB48 Theater Staff
SKE48 Driver / Management / Office Staff
AKB48 Management / ex-HKT48 Theater Manager
AKB48 Theater Staff
SKE48 Theater Staff
AKB48 Management
AKB48 Writer / Head Of Management Supervision HQ / Accountant
NMB48 Footage Staff / Camera Man
AKB48 On Demand Team
AKB48 Footage Editing Team
HKT48 Theater Manager
SKE48 Theater Security
Catering personnel
AKB48 Costume Team
JKE48 Theater "Friends"
AKB48 Management
AKB48 PR Department / Music and Publishing Supervisor
AKB48 Fleet Management / Driver
AKB48 Management Supervision HQ / Producer
AKB48 Group Footage Team
SKE48 Hair / Make-up
NMB48 Theater Manager
HKT48 Management
Recording Team / Team Insomnia
The Team Behind This Video (Assist. Director / Director / Camera)
NMB48 Stage Team
SKE48 Theater Staff
AKB48 Concert Management Staff
AKB48 Costume Team
SKE48 Footage Team / Choreography / Management
AKB48 Cafe Staff
AKB48 Camera Man (Pancho) / Manager
AKB48 Specialist Trainer
NMB48 On Demand Team
Friends from King Records
SKE48 theater Manager
AKB48 Stage Staff
AKB48 Footage Editors
NMB48 Shop Staff
Concert footage live streaming chief / assistant
Concert footage live streaming recording team
Concert Performances
Videos
Slideshow
Community content is available under
CC-BY-SA
unless otherwise noted.