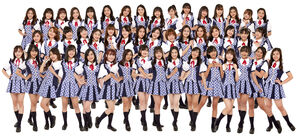 MNL48 (short for Manila48) is the 5th international sister group of AKB48, after Indonesia's JKT48, China's SNH48, Thailand's BNK48 and Taiwan's AKB48 Team TP (formely TPE48).
MNL48 Theater will be located at Centris Station Mall in Quezon City Philippines and will open soon.
History
2016
On March 26, the planned project for the formation of MNL48, BNK48, and TPE48 was announced during the 2016 AKB48 Single Concert at the Kanagawa Yokohama Stadium.[1]
2017
On September 17, Hallo Hallo Entertainment, the agency behind MNL48, officially signed a partnership agreement with ABS-CBN Corp., one of the major television stations in the Philippines.
On October 13, Hallo Hallo Entertainment announced the registration and audition tour dates for MNL48's 1st Generation members.
On November 10, Hallo Hallo Entertainment holds 1st audition for MNL48's 1st Generation.
2018
On January 20, ABS-CBN's "It's Showtime", officialy announced the top 200 members who qualified for the next round of competition. Throughout the competition, the aspiring candidates fought all the way to secure the top 48 spots, which are judged based through a combination of panel of judges and online voting via the MNL48 app.
On April 22, the "Meet Your Oshimen" was held at TriNoMa in Quezon City, Philippines, where three hundred lucky ticket-holding fans met and greeted their favourite MNL48 aspirants. 
On April 28, after 3 months of competition, Shekinah Igarta Arzaga was hailed as the Center Girl. Six days after the "Meet Your Oshimen", the 1st General Election took place at ABS-CBN, where Alice Margarita De Leon was elected as the overall team captain, as well as the team leader of Team MII. Members Ericka Joyce Sibug and Kaede Ishiyama were also elected as team leaders of Team NIV and Team L, respectively.
On June 3, the MNL48 1st Fanmeeting was held at Eton Centris Elements. The 1st generation members performed the Tagalized version of Aitakatta, Heavy Rotation and Sakura no Hanabiratachi for the very first time.
On June 8, less than week after the 1st Fanmeeting, two former top 7 members, Trixie Tano and Zen Inot announced their plans "to graduate" the group due to personal reasons. Their places were replaced by Ella Mae Amat and Ashley Cloud Garcia, who were part of the Top 16 girls of the group. Other members Mae Batocael and Vanessa Yap also said that they are leaving, paving the way for Alyssa Nicole Garcia and Erica Maria Macabutas to take their spots in the rankings within MNL48. To fill the gap left by the four members who exited, Andi Garcia, Coleen Trinidad, Rans Rifol, and Niña Guirnalda were plucked from the roster of trainees, dubbed "Kenkyuusei," as replacements.[2]
2019
On January 27, MNL48 participated in AKB48 Group Asia Festival Concert in Bangkok,Thailand where they performed with other international sister groups of AKB48 including JKT48, BNK48, SGO48, AKB48 Team SH, and AKB48 Team TP.
On January 31, MNL48 announced it's 2nd Generation Audition in their social media pages, the audition was privately runs until February 28, where 21 girls were selected and will be a candidate for 2nd General Election.
According to MNL48's Producer Paulo Kurosawa, Only 48 members will be chosen to be a part of MNL48 Second Year and the one who didn't made it will graduate to their group. [3[1]]
MNL48 also releases it's third single, 365 Araw ng Eroplanong papel which includes voting ticket and Handshake ticket inside for it's 2nd General Election.
On April 6, MNL48 held it's first own concert, "MNL48 First Generation:Living the Dream the Concert." at New Frontier Theater in Quezon City, Metro Manila where all members including trainees performed and 2nd generation, candidates was introduced to promote for it's 2nd General Election.
On April 27, 2nd General Election was held where Aly Padillo new center was announced.+2nd General Election, Seven 2nd Generation Candidates and Five Kenkyuusei (Trainee) were promoted to MNL48's official members and was assigned to their new respective teams.
On May 1, Twelve members from the 1st Generation graduated from the group. However, some of them returned as Trainee including some of unchosen 2nd Generation Candidates as Mr. Paulo Kurosawa announced that there will be a collaboration with Tokyo Girls Collection during their press conference, they was chosen after the audition process. [4[2]]
Members
Units
One-Shot Units
Non-music
Single Units
Soloists
Outside MNL48
Discography
Concerts
Filmography
Title
Director
Date
Notes
ICYMI : I See Me
Carlo Francisco Manatad
2019.10.21
The movie features various moments and behind-the-scenes of the 1st Generation Members of the group from their formation
Seikimatsu Blue
Hashi Tetsuya
Coming Soon
Based on manga story by Shintaro Hirota, only Abby,Coleen,Brei,and Kay will participate in the Movie, the movie was expected to be premiered in Japan in September, and in December in Philippines
MNL48 Present : 2020 Vision
ABS-CBN TV Production Digital Group (TVDG)
2020.03.11
Two friends, Sandy and Erika, meet for Valentine's Day: one no longer believes in love, the other believes she must not be alone for Valentine's. Together they experience a day that will change their views

on love, even for a short period of time. Erika is a hopeless romantic who believes in love and gives her all for love. Meanwhile her friend Sandy is frank and realistic and believes that "Valentine's Day is a social construct." She thinks rather than lets her emotions get the better of her.

MNL48 Present : Chain
MNL48
2020.06
A student has gone missing... and a chain message has been spreading since her disappearance.
MNL48 Present : By, Us
MNL48
2020.08.28 - 2020.09.05
Jackie gets her feelings all mixed up as her best friend Portia moves to Japan. She gets even more confused as she sorts her thoughts and realizes that Portia might mean a lot more than just a dear friend.
Media Appearance
Umagang Kay Ganda [Abs-Cbn]
Letters and Music [Net25]
MNL48 Events
Senbatsu Election
Sister Groups
External Links
Reference
Community content is available under
CC-BY-SA
unless otherwise noted.