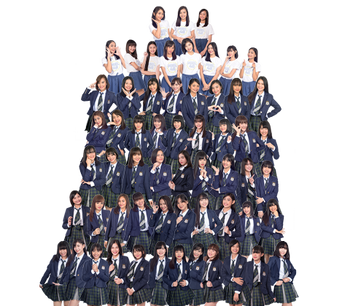 MNL48 (read M.N.L. Forty-eight) is the 5th international sister group of AKB48, after Indonesia's JKT48, China's SNH48, Thailand's BNK48 and Taiwan's TPE48. The group is named after Manila, the capital of the Philippines.
History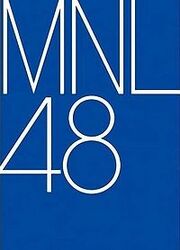 2016
On March 26, the planned project for the formation of MNL48, BNK48, and TPE48 was announced during the 2016 AKB48 Single Concert at the Kanagawa Yokohama Stadium.[1]
2017
On September 17, HalloHallo Entertainment, the agency behind MNL48, officially signed a partnership agreement with ABS-CBN Corp., one of the major television stations in the Philippines.
On October 13, HalloHallo Entertainment announced the registration and audition tour dates for MNL48's 1st Generation members.
On November 10, HalloHallo Entertainment holds 1st audition for MNL48's 1st Generation.
2018
On January 20, ABS-CBN's "It's Showtime", officialy announced the top 200 members who qualified for the next round of competition. Throughout the competition, the aspiring candidates fought all the way to secure the top 48 spots, which are judged based through a combination of panel of judges and online voting via the MNL48 app.
On April 22, the "Meet Your Oshimen" was held at TriNoMa in Quezon City, Philippines, where three hundred lucky ticket-holding fans met and greeted their favourite MNL48 aspirants. 
On April 28, after 3 months of competition, Shekinah Igarta Arzaga was hailed as the Center Girl. Six days after the "Meet Your Oshimen", the 1st General Election took place at ABS-CBN, where Alice Margarita De Leon was elected as the overall team captain, as well as the team leader of Team MII. Members Ericka Joyce Sibug and Kaede Ishiyama were also elected as team leaders of Team NIV and Team L, respectively.
On June 3, the MNL48 1st Fanmeeting was held at Eton Centris Elements. The 1st generation members performed the Tagalized version of Aitakatta, Heavy Rotation and Sakura no Hanabiratachi for the very first time.
On June 8, less than week after the 1st Fanmeeting, two former top 7 members, Trixie Tano and Zen Inot announced their plans "to graduate" the group due to personal reasons. Their places were replaced by Ella Mae Amat and Ashley Cloud Garcia, who were part of the Top 16 girls of the group. Other members Mae Batocael and Vanessa Yap also said that they are leaving, paving the way for Alyssa Nicole Garcia and Erica Maria Macabutas to take their spots in the rankings within MNL48. To fill the gap left by the four members who exited, Andi Garcia, Coleen Trinidad, Rans Rifol, and Niña Guirnalda were plucked from the roster of trainees, dubbed "Kenkyuusei," as replacements.[2]
Members
Discography
Singles
Digital Singles
| # | Cover | Title | Release Date |
| --- | --- | --- | --- |
| 01 | | Amazing Grace | 2018.12.24 |
Concert
Filmography
Sister Groups
External Links
Reference