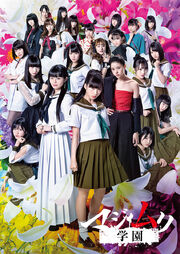 Majimuri Gakuen (マジムリ学園  Majimuri Gakuen?) is the 7th season in the Majisuka Gakuen Series.
Story Plot
Utopia Arashigaoka: A new city built by Gosaki Land, a big company headed by Gosaki Aran's father. In here, the system was built to establish a hierarchy system to establish the strong and the weak, with those with financial power reigning on top. The story revolves around the Hanagumi, a group of Arashigaoka Gakuen first year students who follows Lilly, a mysterious transfer student who is searching for an unidentified "culprit," who suddenly appeared and didn't follow any of Arashigaoka's power system.
Cast
Shiritsu Arashigaoka Gakuen (Arashigaoka Educational Institute)
1st Year Hanagumi (Team Flower)

Faculty

Other Arashigaoka Students

Seito-kai Class

Homma Hinata as Kaiser/Gosaki Aran (3rd Year)
Ogino Yuka as Bismarck/Kato Ayano (3rd Year)
Koyanagi Yuu as Muskel/Kondo Shusaku (3rd Year)
Kato Minami as Eins/Aoi Hinata (2nd Year)
Taniguchi Megu as Zwei/Kikuchi Tomoko (2nd Year)
Ochiai Motoki as Drei/Samejima Akira (2nd Year)

Shin Schutzstaffel (Shin'eitai)

Discipline Squad (Drei's Subordinates)
Arechi Kougyou Koko
Takino Yumiko as Manji/Matsumoto Seiko (2nd Year)
Jo Eriko as Garake/河本 智 (1st Year)
Amenomiya Masaaki as Hakase/小林 礼央 (1st Year)
Endo Yuya as Matsumoto Youji
Tokyo
Jun Kissa
Airabuyū
Ma ChiaLing as Rin/Rin Wen-Qin 林 文琴
Denden as Master/Igarashi Masaya
Seito-Kai's Hired Hitmen
Kido Yasuhiro as Kaba/河本 一馬 (Arechi 3rd Year)
Suzuki Takayuki as Shinigami Joe/影山 武 (Arechi 3rd Year)
Baruto Kaito as Raizanmaru/雷残丸 豊 (Arashi 2nd Year)
Hirose Tomoki as Kyouken Jack/Inuyama Shinichi (Arashi 3rd Year)
Sakaguchi Yukio as Kairiki Giganto Kong/Itaya Tetsuo (Arechi 3rd Year)
Kuwabara Family
Natsuki Chobi as Kuwabara Miko, Kuwabara Ikumi's mother
Episode List
Episode
Hulu Date
NTV Date
Title
1
2018 July 26
2018 July 26
A Lilly blooms in Arashigaoka (

嵐ヶ丘に百合が咲く

Arashigaoka ni Yuri ga saku

?

)
2
2018 July 26
2018 August 2
Kaba of Arechi (

荒地のカバ

Arechi no Kaba

?

)
3
2018 August 2
2018 August 9
Arrival of Hanagumi! (

華組参上!

Hanagumi sanjou!

?

)
4
2018 August 9
2018 August 16
Demon G and the Swordswoman (

魔人Gと女剣士

Majin G to nyokenshi

?

)
5
2018 August 16
To the comrades who wants to make a revolution! (

革命を起こそうとする同志諸君へ!

Kakumei o okosou to suru dōshi shokun e!

?

)
6
Pep Rally of Tears (

涙の決起集会

Namida no kekki shuukai

?

)
7
Event of Revolution (

革命の行事

Kakumei no gyouji

?

)
8
I Can't See the Sky in Tokyo (

東京の空は見えない

Tokyo no sora wa mienai

?

)
9
The Day that Lilly Lost (

リリィーが負けた日

Lilly ga maketa hi

?

)
10
The Flowers Scattered in Arashigaoka (

嵐ヶ丘に花が散る

Arashigaoka ni hana ga chiru

?

)
Music
Theme Music: Yuri wo Sakaseru ka? (

百合を咲かせるか?

?

)
Note
Hanagumi (

華組

?

) translates to "flower group", thus the original 6 members of Hanagumi have flower nicknames.
References
External Links
Community content is available under
CC-BY-SA
unless otherwise noted.