Makeoshimi Congratulation
Released:
March 14, 2012
Genre:
J-Pop
Format:
CD Single, CD+DVD
Label:
Universal Music Japan
Producer:
Akimoto Yasushi
Promotional Image

SDN48 Singles Chronology
Previous:
Kudokinagara Azabu Juuban
4th Single
(2011)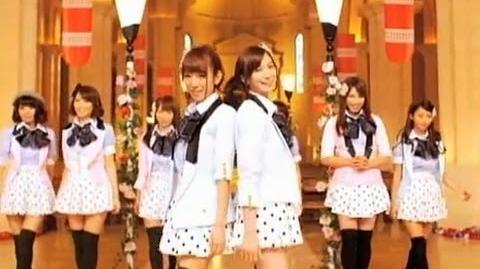 Makeoshimi Congratulation is the fifth and final single released by SDN48. It was released in three versions: Type A and B CD+DVD editions, and a CD-only theater edition. The single peaked at #2 on the Oricon charts, and sold 90,507 copies after charting for 5 weeks. "Makeoshimi Congratulation" was SDN48's top selling release, and also the highest charting single of the group.
Tracklist
CD
Makeoshimi Congratulation (負け惜しみコングラチュレーション)
Kurikuri (クリクリ)
Ue kara Natsuko (上からナツコ)
Makeoshimi Congratulation off vocal (負け惜しみコングラチュレーション)
Kurikuri off vocal (クリクリ)
Ue kara Natsuko off vocal (上からナツコ)
DVD
Makeoshimi Congratulation (MUSIC VIDEO) (負け惜しみコングラチュレーション)
Kurikuri (MUSIC VIDEO) (クリクリ)
Ue kara Natsuko (MUSIC VIDEO) (上からナツコ)
Recording & MV Making Clip (Type A Version)
SDN48 Stage, 3min Masterpiece selection (Type A ver.)
CD
Makeoshimi Congratulation (負け惜しみコングラチュレーション)
Kurikuri (クリクリ)
Owaranai Encore (終わらないアンコール)
Makeoshimi Congratulation off vocal (負け惜しみコングラチュレーション)
Kurikuri off vocal (クリクリ)
Owaranai Encore off vocal (終わらないアンコール)
Type-B DVD Tracklist
Makeoshimi Congratulation (MUSIC VIDEO) (負け惜しみコングラチュレーション)
Kurikuri (MUSIC VIDEO) (クリクリ)
Owaranai Encore (MUSIC VIDEO) (終わらないアンコール)
Recording & MV Making Clip (Type B Version)
SDN48 Stage, 3min Masterpiece selection (Type B ver.)
Makeoshimi Congratulation (負け惜しみコングラチュレーション)
Kurikuri (クリクリ)
Ue kara Natsuko (上からナツコ)
Owaranai Encore (終わらないアンコール)
Included Members
Makeoshimi Congratulation
★ Senbatsu (12 Members) (Sato Yukari and Serina Center)
Kurikuri
Undergirls A (12 Members) (KONAN Center)
Ue Kara Natsuko
Undergirls B (15 Members) (Kaida Juri Center)
Owaranai Encore
Members: (39 Members)