Miyawaki Sakura
宮脇咲良

Miyawaki Sakura, 2021

Information
Nickname
Sakura (

さくら

?

)
Sakuratan (

さくらたん

?

)
Kkura-unnie (꾸라언니)
Birthdate
March 19, 1998
Birthplace
Kagoshima City, Kagoshima, Japan
Bloodtype
A
Zodiac Sign
Pisces
Professional Information
Years Active
(2011- present)

(9 years)

Agency
Mercury
Group
HKT48
Team
Team KIV
Generation
HKT48 1st Generation
Associated Acts
HKT48
SNS
miyawaki-sakura
@39saku_chan
@39saku_chan
SHOWROOM
@39saku_chan.88
@ HKT48_宫脇咲良
YouTube
Miyawaki Sakura is the co-captain of HKT48's Team KIV. She announced her graduation on May 15, 2021. Her graduation concert is going to be held on June 19, 2021.
Catchphrase
あなたも、あなたも、みんなの心に(さくら咲けー!) 鹿児島県出身、宮脇咲良23歳です。
Anata mo, anata mo, minna no kokoro ni (Sakura Sake!) Kagoshima-ken shusshin, Miyawaki Sakura 23-sai desu.
(You too, you too, in everyone's heart (Sakura bloom!) I'm Miyawaki Sakura, I'm 23 years old, from Kagoshima prefecture.)
Team History
AKB48 Senbatsu Elections
AKB48 Janken Tournaments
Singles Participation
HKT48 A-Sides
HKT48 B-Sides
AKB48 A-Sides
AKB48 B-Sides
IZ*ONE A-sides
Vampire (Center)
D-D-Dance
Zero: Atitude
IZ*ONE B-sides
Other Songs
Albums Participation
HKT48 Albums
AKB48 Albums
IZ*ONE Albums
Units
NyaaKB with Tsuchinoko Panda
Stage Units
RS1 (Te wo Tsunaginagara)
H1 (Te wo Tsunaginagara)
Team H Waiting Stage (Hakata Legend)
HW1 (Pajama Drive)
A5 (Renai Kinshi Jourei)

Heart Gata Virus (Revival)
KIV1 (Theater no Megami)

Yokaze no Shiwaza (Under)
HW2 (Tadaima Renaichuu)
A7 (M.T ni Sasagu)
KIV2 (Saishuu Bell ga naru)
HW3 (Yuuwaku no Garter)
KIV3 (Seifuku no Me)
Concert Units
HKT48
AKB48 Group
Fukuoka Dome
Sapporo Dome
Oita Iichiko Grand Theater
Miyazaki Shimin Bunka Hall
Kumamoto Kenritsu Gekijou
Kagoshima Shimin Bunka Hall
Saga Shimin Kaikan
Nagasaki Brick Hall
HKT48
Shimane
Japanese Locations
Taipei, Taiwan
Hong Kong
Yokohama Arena
IZ*ONE Concert Units
Eyes On Me
Oneiric Theater
Monster (Irene & Seulgi Cover)
One, The Story
IZ*ONE Units Songs
Solo Songs
Photobooks
Media Appearances
Stage Plays
Movies
Dramas
Variety Shows
Radio
All Night Nippon
KBS Cool FM
Saku no Ki
Survival
Trivia
Charm point: Big ears
Hobbies: Movies, theater appreciation, reading
Favorite drink: Green tea latte
Favorite member of HKT48 2nd Generation: Inoue Yuriya
Special skills: Drawing, being able to sleep anywhere
Good friends with: Mukaichi Mion, Yabuki Nako (SakuNako), Tanaka Miku (SakuMiku), Murashige Anna (Sakunyaa), Motomura Aoi (SakuAo), Mizukami Rimika, Lee Chaeyeon (KuChae), Kang Hyewon
Future ambition: Actress
Name in Hangul : 미야와키 사쿠라
Sakura's (咲良) name doesn't contain the word for "Cherry Blossom" because her name is from the word "Saku Ra" means "Blooming Well".
Member of Drama Club
Former member of the Melonpan Alliance
Was a child actress
It was exposed by a few other members that she has a weird way of running, and has been shown in the music videos of Kuchibiru ni Be My Baby and Otona Ressha.
Is a talented writer and is known for communicating her ideas well
One of the 50 winners of the Young Jump Gravure Competition
Loves gaming and has a gaming channel on YouTube. IZ*ONE fans, known as WIZ*ONE, gave her a PS4 and a Nintendo Switch as gifts during fan signs.
First HKT48 member chosen by management to become Center for an AKB48 A-side

Was picked to center in AKB before HKT

She and Kodama Haruka often call themselves Sakuruppi or HaruSaku
The only member of HKT48 to have ranked in the 4th Senbatsu Election
Finished in 2nd place on Produce 48 and made it into the final group, IZ*ONE.
She's the one HKT48 member to make Shonichi and Senshuuraku performances on the setlist M.T. ni Sasagu.
Her Hogwarts house (Harry Potter) is Slytherin.
Her graduation was leaked before the official announcement, in the magazine Bis from ViVi Magazine. She is the 2nd member whose graduation announcement was leaked before officially announced, the first being Shimazaki Haruka.
She's good on singing, dance and acting.
On March 29, Sakura uploaded a video to her Youtube channel, her first time since 2019.
Photobooks
Sakura (2015)
SAKURA MIYAWAKI "Graduation Visual Booklet" (2021)
IZ*ONE Official Character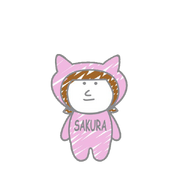 Gallery
HKT48 Profile Images
AKB48 Profile Images
IZ*ONE/Produce48 Profile Images
Games
HKT48 Photo Gallery
IZ*ONE Photo Gallery
Community content is available under
CC-BY-SA
unless otherwise noted.