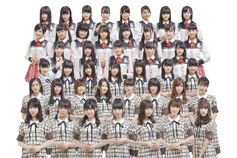 NGT48 (short for Niigata48) is an all-female Japanese idol group produced by Akimoto Yasushi. It will be the fourth currently active domestic sister group of AKB48. The 1st generation audition application period will start on April 10, 2015 and lasts until May 18, 2015. Girls between ages 11 and 23 are eligible to apply. NGT48 will have its own theater in Niigata, where performances will begin on October 1, 2015.
History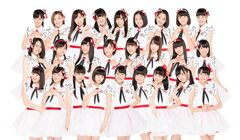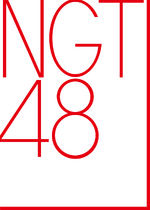 The creation of the group was announced at the end of AKB48 Request Hour 2015. Before the auditions for NGT48 began, two AKB48 members were given positions in the group. During the shuffle in March 2015, Kitahara Rie was transferred from AKB48 to NGT48. She was appointed as the captain of the entire group. Kashiwagi Yuki was announced to have a concurrent position in NGT48.
At January 10, 2016 it was announced NGT48 has formed their first Team, Team NIII. It was announced in first LIVE performance of NGT48 Theater. As of May 2019, Kashiwagi Yuki left her concurrent position with NGT48. As of May 2019, NGT48 is the only group to have dissolved the team system in place. (Team NIII and Team G) Many sponsorships and the city of Niigata have now cut ties with the group following the incidents of Yamaguchi Maho and others.
Members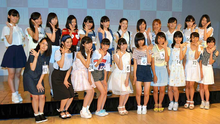 Disbanded Teams
Discography
Singles
[2017.04.12] Seishun Dokei (青春時計)
[2017.12.06] Sekai wa Doko Made Aozora na no ka? (世界はどこまで青空なのか?)
[2018.04.11] Haru wa Doko kara kuru no ka? (春はどこから来るのか?)
[2018.10.03] Sekai no Hito e (世界の人へ) (Людям всего мира)
[2020.07.22] Sherbet Pink (シャーベットピンク)
[2021.06.23] NGT48 6th Single

Other Songs
Stages
NGT48 Promoted 1st Generation Stages
#

Stage Name

Date

No. of Performances

1
Yume wo Shinaseru Wake ni Ikenai
(夢を死なせるわけにいかない)
2019.08.18 -
-
Team NIII Stages
#

Stage Name

Date

No. of Performances

1
Party ga Hajimaru yo
(PARTYが始まるよ)
2016.01.10 - 2016.05.15
62
2
Pajama Drive
(パジャマドライブ)
2016.05.28 - 2017.06.05
3
Hokori no Oka
(誇りの丘)
2017.07.02 - 2018.06.23
2018.06.30 - 2019.04.21
93
43
Team G Stages
#

Stage Name

Date

No. of Performances

1
Saka Agari
(逆流而上)
2018.07.01 - 2019.04.21
Kenkyuusei Stages
#

Stage name

Date

No. of Performances

1
Natsu no Nijikai PARTY
(夏の二次会PARTY)
2016.08.09 - 2016.10.06
2
PARTY ga Hajimaru yo・Galveston Dori
(PARTYが始まるよ・ガルベストン通り)
2016.10.13 - 2017.10.29
46
3
PARTY ga Hajimaru yo・Echigo Yuki Tsubaki
(PARTYが始まるよ・えちご雪椿)
2017.11.12 - 2018.06.24
20
4
PARTY ga Hajimaru yo ~ Kenkyuusei no Ibuki wo Kanjite! ~
(PARTYが始まるよ〜研究生の息吹を感じて!〜)
2018.12.24 -
-
AKB48 Events
Senbatsu Elections
Senbatsu Janken Taikai
Media
TV Shows
Variety Shows
Past Shows
Radio Shows
Sister Groups
External Link
Community content is available under
CC-BY-SA
unless otherwise noted.