NMB48

NMB48, January 2022

Location

Osaka, Japan

Genre

Japanese Pop

Years Active

October 9, 2010 - present

Producer

Akimoto Yasushi, Yoshikazu Kenmotsu

Label

laugh out loud! records

Company

Showtitle

Official Website

TikTok
NMB48 (short for Namba48) is a Japanese all-female idol group based in Namba, Osaka, where they have their own theater, located in the Yes-Namba Building. The group, established in 2010, was the third sister group of AKB48. NMB48 is produced by Akimoto Yasushi and signed under laugh out loud records. Currently the group consists of 27 Promoted Members and 21 Kenkyuusei.
On January 1, 2022, NMB48 had a team shuffle which reformed their teams, which were disbanded on January 20, 2021.
History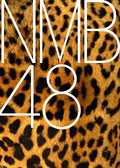 2010
The creation of AKB48's third sister group was announced in July 2010. Akimoto Yasushi revealed that he would continue his plan for a franchise of idol groups in Japan, by forming a group in Namba. Auditions were held in August 2010, and were broadcast on the TV show "Starhime Sagashitarou", which featured members of SKE48. The 26 girls who passed the auditions were introduced in October 2010 at AKB48's Tokyo Aki Matsuri.
2011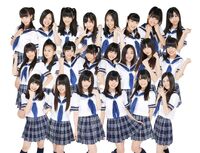 NMB48 performed for the first time at their theater in January 2011. During this performance, the members of NMB48's first team was announced. In March, Team N was formed with Yamamoto Sayaka appointed as captain. The 2nd generation of the group was announced in May. NMB48's debut single, Zetsumetsu Kurokami Shoujo, was released in July. Zetsumetsu Kurokami Shoujo sold over 200,000 copies in its first week. The single also reached the top of the Oricon charts. This made NMB48 the second girl group to reach number 1 at debut.
2012
In January 2012, NMB48's second team was formed with 16 members. Shimada Rena was appointed as captain of Team M. The third generation of NMB48 was announced in February. In May, Team M began to perform their first stage at the theater. During the Tokyo Dome concert in August, it was announced that AKB48 member Yokoyama Yui would have a concurrent position in NMB48. Kotani Riho and Watanabe Miyuki received concurrencies in AKB48. On October 10, Team BII was formed by sixteen members of the third generation. Kamieda Emika was made the captain of the team. The fourth generation of NMB48 was announced in December.
2013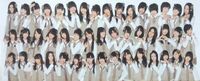 At the AKB48 Group Rinji Soukai in April 2013, Yokoyama Yui's concurrent position in NMB48 was ended. AKB48 member Ichikawa Miori was given a concurrency in Team N instead. In November, four members joined NMB48 from the first AKB48 Group Draft.
2014
During the AKB48 Group Dai Sokaku Matsuri in February 2014, NMB48 underwent its first shuffle. Kashiwagi Yuki, Murashige Anna, and Takayanagi Akane were given concurrencies in NMB48. Co-Captains for every team were appointed for the first time. Ichikawa Miori, Fujie Reina, and Umeda Ayaka were transferred permanently from AKB48 to NMB48. The centers of the group, Yamamoto Sayaka and Watanabe Miyuki, were given concurrencies. Ogasawara Mayu was transferred permanently to AKB48.
2022
In January 1, NMB48's 8th Generation was revealed.
Members
Sister Groups
| | | |
| --- | --- | --- |
| Japanese | Overseas | Former Sister Groups |
Terms
Units
Soloists
Discography
Music Video Collections
[2018.08.08]

NMB48 ALL CLIPS -Kurokami Kara Yokubo Made-

(NMB48 ALL CLIPS -黒髪から欲望まで-)
Stage DVDs
[2011.06.24] Team N 1st Stage "Dareka no Tame ni" (チームN 1st Stage「誰かのために」)
[2012.08.21]

2nd Generation Stage "Party ga Hajimaru yo" Senshuuraku

(2期生公演「PARTYが始まるよ」千秋楽)
[2012.09.25] Team N 2nd Stage "Seishun Girls" (チームN 2nd Stage「青春ガールズ」)
Concert DVDs
[2012.03.27]

NMB48 1st Anniversary Special Live

[2013.10.12]

NMB48 3rd Anniversary Special Live

[2014.02.25]

NMB48 Team M Osaka Tour 2014 ~Benchi Atametemashita~

[2014.03.31]

NMB48 Osaka Juban Shoubu

[2014.03.31]

NMB48 Kinki Juuoumujin Concert Tour ~Mina-san, Chapu Chapu shimashou~

[2014.03.31]

NMB48 Western Japan Tour 2013 12/31

[2014.04.05] NMB48 in Saitama Super Arena
Stages
NMB48
Team N
Team M
#

Stage Name

Date

Performances

1
Idol no Yoake
(アイドルの夜明け)
2012.05.05 - 2014.04.17
2017.01.24 - 2019.02.21
146
-
2
RESET
2014.05.02 - 2016.12.25
209
3

Dareka no Tame ni


(誰かのために)
2019.03.02 - 2021.01.22
-
4
Koi wa Totsuzen Yattekuru
(恋は突然やってくる)
2022.02.11 -
Team BII
Kenkyuusei
#

Stage Name

Date

Performances

1

Dareka no Tame ni


(誰かのために)
2011.01.01 - 2011.03.10
81
2

PARTY ga Hajimaru yo


(PARTYが始まるよ)
2011.08.13 - 2012.05.02
111
3

Aitakatta


(会いたかった)
2012.04.29 - 2012.10.06
57
4

Seishun Girls


(青春ガールズ)
2013.02.01 - 2014.10.05
89
5

Souzou no Shijin


(想像の詩人)
2014.10.24 - 2015.03.18
15
6

Todokanasou de Todoku Mono


(届かなそうで届くもの)
2016.10.04 - 2017.05.29
46
7

Yume wa Nigenai


(夢は逃げない)
2018.09.26 - 2020.01.31
97
8
Will be Idol
2020.11.21 - 2022.02.05
61
Cattleyagumi=
#

Stage Name

Date

Performances

1

Koko ni Datte Tenshi wa Iru


(ここにだって天使はいる)
2017.06.27 - 2019.02.26
-
Kyunmart Stages
#

Stage Name

Date

Performances

1

Kitto Mitsukaru, KOI shite LOVE shite Kyunmart


(きっと見つかる、KOIしてLOVEしてきゅんmart)
2021.04.04 -
TBA
Special Stages
#

Stage Name

Date

Performances

1

NMB48 Theater Special Week 2018 Tandoku Juuban Shoubu!


(NMB48劇場スペシャルウィーク 2018 単独十番勝負!)
2018.05.14 - 2018.05.20
10
2

NMB48 Theater Special Week 2018 Tandoku Juuban Shoubu! Second part!


(NMB48劇場スペシャルウィーク 2018 単独十番勝負!第二弾!)
2018.12.01 - 2018.12.09
10
3

Kojima Karin Produce Performance "Namba Ai 〜Ima, Kojima ga Omou Koto〜"


(小嶋花梨プロデュース公演 『難波愛~今、小嶋が思うこと~』)
2019.04.08 -
TBA
4

NMB48 Crown LIVE 2019


(NMB48 冠LIVE 2019)
2019.07.26 - 2019.07.28
6
Filmography
Movies
Events
NMB48 Request Hour
[2013.04.18]

NMB48 Request Hour Setlist Best 30 2013

[2014.05.21]

NMB48 Request Hour Setlist Best 50 2014

[2015.08.15]

NMB48 Request Hour Setlist Best 100 2015

[2016.08.26]

NMB48 Request Hour Setlist Best 235 2016
External Links