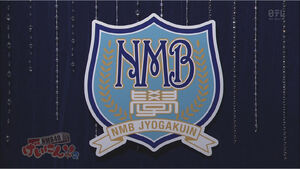 "Osaka Namba Girl's Private Academy, a prestigious, integrated junior and senior high school."
―NMB48 Geinin!(src)
NMB48 Geinin! (NMB48 げいにん!  NMB48 Geinin!?) is a TV Show featuring the members of NMB48. It has it's own movie.
Characters
OWARAI CLUB
Usually pitting against each other in Season 1, the Owarai Clubs of the 1st School and 2nd School became accustomed to each other in Season 2. After the merging of the two Namba Jyogakuin Branches, the two Owarai Clubs were also merged and mainly used the 1st School's Owarai Clubroom.
OTHER CLUBS
Members of other clubs frequent the Owarai Clubroom and has been granted concurrent status, mainly because of Milky's frequent cross-membership between them.
Faculty
Goto Terumoto - Owarai Club Adviser, Gym Teacher, and a close friend of Namba 2nd School's President.
Iwao Nozomu - the mysterious Janitor of Namba Jyogakuin. He was later revealed to be Namba 2nd School's President who loves to pose as a janitor.
Akashiya Sanma - Namba Jyogakuin's president. Appeared only on Season 2's final episode wielding a Golden Harisen.
Dr. Koyanagi - Namba Jyogakuin's School Doctor. Was constantly being mistaken for a boy.
Kendo Kobayashi - Namba Jyogakuin's Health and Fitness Teacher. He was only mentioned in Season 2's episode 8. In the two Movies, he was the Owarai Club's adviser.
Other Characters
Lai Lai Ken Restaurant
Osanai Sayaka (

小山内さやか

?

) - has striking resemblance to Yamamoto Sayaka, studies at Namba North School.
Family
Ripopo's Mother - The young-looking mother of Kotani Riho. Has striking resemblance to her daughter that the Owarai Club actually mistook her for Ripopo.
Owarai Guardian Deities
Suberu Devils - devils who can be summoned through the Book of Laughter. When summoned, makes the surrounding people cold and unfunny.
Owarai no Kami - the goddess of laughter, can be summoned through the Book of Laughter. When summoned, grants the surrounding people the feeling of becoming funnier.
Owarai Angels - the attendants of Owarai no Kami.
Shiroma Miru - the 50 year old spirit of the president of the Sewing Club. She has a striking resemblance to a relative in the present sharing the same name as her who is currently a member of the Flower Lovers Club.
Suberiland Fairies - fairies that were attracted to cold gags (suberu). Asks Nana for help to defeat the Ukeuke Daimao.
Ukeuke Daimao - Daimao of lavish laughter. Terrorizes Suberiland.
Modori Warashi - spirit that can reverse the effect of the Tenkousei Daruma. Two of them, called Mo and Wa, appeared to assist the afflicted SayaMilky combi.
Owarai Costume Fairies - Owarai no Kami's helpers based at the Owarai Clubroom. Their tasks involve the Owarai Club's costumes.
Episode Synopsis
External Links
Community content is available under
CC-BY-SA
unless otherwise noted.