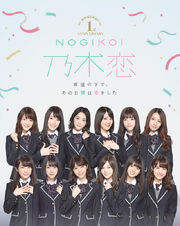 NogiKoi ~Sakamichi no shita de, ano hi boku wa koi o shita~ (乃木恋〜坂道の下で、あの日僕は恋をした〜  NogiKoi ~Sakamichi no shita de, ano hi boku wa koi o shita~?), or just NogiKoi (乃木恋  NogiKoi?) for short is a date simulation game app developed for smartphones.
Characters
Player
The player takes the role of a student who transferred to Nogizaka High School, only to find out that members of idol group Nogizaka46 are his classmates (3rd and 4th gens are later introduced as kohai schoolmates) and he ends up being their manager.
Nogizaka46 Members
Members in italics are set to transfer schools
Classmates
Current Classmates (1st and 2nd Gen, introduced at the beginning)
Former Classmates (Transferred Schools)[1]
Kohai Schoolmates
3rd Gen (introduced 2017 April 3)
4th Gen Batch 1 (introduced 2019 April 1)
4th Gen Batch 2 (introduced 2020 September 5)
Event Exclusive Characters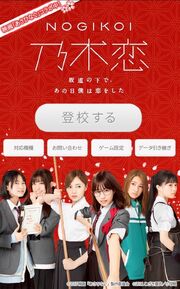 Asahinagu Event (2017 September 12-19)

Asahinagu characters use the same templates used by their actresses' in-game templates. None of the movie characters' Nogizaka46 counterparts appeared in the event.
Special Character Cards
Cards that have characters from dramas and movies the Nogizaka46 members appeared in.
Asahinagu Characters - see Event Exclusive Characters
Hayase Mai - Saito Asuka Card variants from Ano Koro, Kimi wo Oikakete
Narita Hatsumi - Hori Miona Card variants from Hot Gimmick: Girl Meets Boy
Matsuda Minori - Shiraishi Mai Card variants from Sumaho o Otoshita dake nanoni: Toraware no Satsujinki
Eizouken Characters - Saito Asuka, Yamashita Mizuki, and Umezawa Minami variants from Eizouken ni wa Te o Dasu na!
Official Book
Published and distributed by 7net. It was on limited sale from 2021 February 10 to 17.
It includes behind the scenes interviews, on-scene event images, past events, and a complete set of card list up to the event during the time of publication, including ones from graduate members.
Note
External Links
Community content is available under
CC-BY-SA
unless otherwise noted.