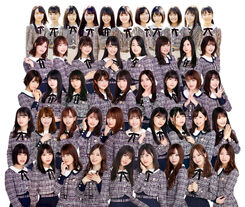 Nogizaka46 (乃木坂46) is a Japanese female idol group produced by Yasushi Akimoto, and it is billed as the "official rival" of the group AKB48.
Nogizaka46 was named after the place where the SME Nogizaka Building, which houses Sony Music Japan's office, is located in. Their producer Yasushi Akimoto also said that the number "46" was chosen as a direct challenge to AKB48.
History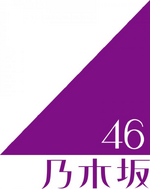 2011
The formation of Nogizaka46 was first announced on 29 June 2011, when it became the first group to be labelled as the "official rival" to the group AKB48. This is unlike other groups related to AKB48, like NMB48 and SKE48, because these groups are created as AKB48's sister groups. Even their name "Nogizaka46" also carries the meaning that "even with fewer members than AKB48, we won't lose".
The final auditions for the group was held over the weekend of 20-21 August, where 56 finalist competed for the 36 available places. Overall, 38,934 people applied to join their auditions The list of the 36 selected members was announced on 22 August. In a surprise announcement, it was also announced that another 16 girls would be joining the group as a provisional "senbatsu" member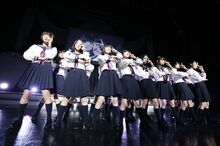 Nogizaka46 have their own variety show on television, and this show started airing on October 2, 2011. This variety show is entitled Nogizakatte, Doko? (乃木坂って、どこ?, Lit: Where is Nogizaka?), and is aired on the main television stations in the TX network, mainly TV Tokyo, TV Osaka, TV Aichi, TV Setouchi, TV Hokkaido, and TVQ Kyushu Hoso.
2012
On June 25, 2012, Nogizaka46 took part in Yubi Matsuri, an idol festival produced by Sashihara Rino from AKB48 . The concert was held at Nippon Budokan before a crowd of 8,000 people and featured such girl groups as Idoling!!!, Shiritsu Ebisu Chūgaku, Super Girls, Tokyo Girls' Style, Passpo, Buono!, Momoiro Clover Z, and Watarirouka Hashiritai 7.
Nogizaka46's second single "Oide Shampoo", released in April 2012, received attention for its sexually suggestive dance moves. The music video was uploaded for public view on Youtube. During one part of the video, the girls lift their skirts over their faces. This received attention in the Japanese media, as some of the girls in the video were as young as in middle school.
Members
Current Members
Former Members
Sister Groups
Discography
Singles
Albums
[2015.01.07] Toumeinairo (

透明な色

?

)
Singles Units
Filmography
Movies
TV/Web/Variety
Events
16nin no Principal
16nin no Principal II
See Also
Rival Groups
External Links
Notes
↑ Barrette is a type of hair accessory which was also a major plot item in the (Girl's Rule) PV.