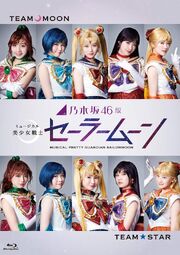 Nogizaka46 ver. Musical Sailormoon (乃木坂46版 ミュージカル「美少女戦士セーラームーン」  Nogizaka46 ver. Musical Sailormoon?) was a 2018 collaboration project between Nogizaka46 and Sailor Moon Musical (セラミュー  SeraMyu?) as part of the celebration surrounding the 25th Anniversary of Sailor Moon.
The stage performance ran from June 8 to 24 at the Tennozu Ginga Theater and September 21 to 30 at TBS Akasaka ACT Theater, both in Tokyo. Nogizaka46 members were split into two teams, Team Moon and Team Star, and they rotate performances of the show daily. The story of the musical covers the first arc of the manga.
A 2019 ver. was also announced with 5 new Nogizaka46 members to play the Sailor Warriors. It was scheduled to run around 2019 October 10 to 14 at the Tokyo Dome City Hall, and on 2019 November 22 to 24 at the Shanghai Majestic Theatre.
Cast
Others
Shiraishi Mai as Queen Serenity (video appearance)
Ishii Mikako as Chiba Mamoru (Tuxedo Mask)
Matsumoto Misato and Wakasa Hiroko as Luna (operator and voice)
Tamaki Nami as Queen Beryl
Ando Chihiro as Kunzite
Kojima Sari as Zoisite
Shin as Nephrite
Takeda Rina as Jadite
Yamauchi Yuka as Osaka Naru
Tanoue Marina as Umino Gurio
Ensemble
Kawamoto Mayuko
Kaburagi Mayu
Saito Kumiko
Kurachi Ayuka
Watanabe Minami
Mitsuoka Mami
Staff
Original: Naoko Takeuchi (published by Kodansha)
Production: Wally Kinoshita
Screenplay: Tamio (Eureika department store)
Music: Shunsuke Wada
Lyrics: Etsuko Shingiri
Choreography: AOI MATSUO
Sword fighting: Masanori Tomita
Art: Takahiro Shibata
Acoustic: Koichi Yamamoto (ESC Alliance)
Acoustic effect: Aoki Takuhei (Stage Office)
Illumination: Yoshiyuki Yoshie
Picture: Tomichi Kenjin
Costume: Seyshowo
Hair & Makeup: Reiko Kobayashi
Props: Yoji Hayashiya
Doll Modeling: Chihiro Takahashi (Puppet Theater Company Hitomi)
Singing Guidance: Akira Casanova
Practice Piano: Masato Sugita
Directing Assistant: Rie Fujiwara
Stage Director: Mitsunobu Nagashima
Technical Director: Yoshiyuki Hori (DDR)
Advertising Art: Shinjiro Eguchi
Advertisement Photo: Yusuke Miyake
Trivia
In the DVD release of Team Moon's Last Special Live Show performance, Ito Riria sang her Sailor Senshi role wrong once.
External Link
Community content is available under
CC-BY-SA
unless otherwise noted.