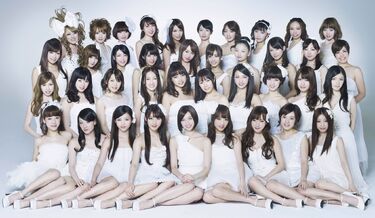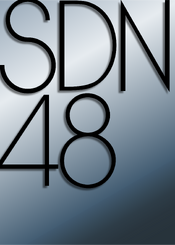 SDN48 (short for Saturdaynight48) was an Japanese all-female theater-based idol group produced by Akimoto Yasushi, and signed under Universal Music Japan. The group was known to be the mature version of AKB48, as the members were all aged 20 and above. The group was announced as an "adult only" show performed every Saturday at 10 PM in AKB48's Akihabara-based theater. However, the initial idea of performing on only on Saturday nights was later dropped, and they began to perform throughout the week. SDN48's theater shows had more mature themes than most of AKB48's stage performances, and therefore had an age limit of 18 or older. The group's members were divided by generation rather than by teams. All the members graduated from the group on March 31, 2012, through their farewell concert.
History
2009: Creation of the group, theater debut
SDN48 was first announced as a series of "adult only" shows in 2008. In August 2009, the two oldest members of AKB48, Team K's Ohori Megumi and Noro Kayo, became the first confirmed members for the group. At the same time, auditions to find the other members were held. SDN48's first generation had 18 full members and 4 undergirls (equivalent to an AKB48 Kenkyuusei). This lineup including Sato Yukari from Team A, and Urano Kazumi from Team B. Later one member dropped out, and Umeda Haruka was promoted from undergirls (bringing the total to 21 members). The debut performance of SDN48's 1st stage was on on August 1st, 2009 (a Thursday instead of a Saturday due to an AKB48 event on August 3rd). On September 22, Kohara Haruka transferred from AKB48's Team B to SDN48 and debuted as an undergirl. Two days later, undergirl Iwata Yuki withdrew from the group due to a medical condition. In December, Maeda Eiko transferred from SKE48's Team KII to SDN48's undergirls. She chose to use her real name, Tezuka Machiko, rather than the two stage names she was previously known by. On December 24th, Nakazato Ayami became the first full member to graduate from SDN48.
2010: 2nd generation debut, first single released
On May 15th, 2010, results of the second SDN48 audtions were announced, and 16 new members debuted. The four remaining undergirls (Kaida Juri, Nachu, Kohara Haruka, and Tezuka Machiko) became full fledged members of the 1st Generation. In June, SDN48 had a popularity election similar to AKB48's senbatsu election. Fans could submit votes in 3 ways: by voting on TV Asahi's mobile site; downloading their favorite member's profile picture on TV Asahi's site; or reading their favorite member's official blog. During their anniversary performance on August 1st, the group announced their plans to debut on the major label Universal Music. The top 12 members selected by the popularity election would participate in the A-side of their first single. The results of the selection aired on September 8th, 2010 on the group's TV show, Suppon no Onnatachi. However, senbatsu member Fukuyama Sakura announced her graduation on September 30th due to her deteriorating health. Four days later, Chen Qu was chosen by management to replace her as the 12th senbatsu member in the group's first single. On October 16th, Fukuyama Sakura graduated from SDN48 during a show at the theater. SDN48 released their debut single GAGAGA on November 24th. It was also released five days later in Korea. The single reached #3 on the Oricon Weekly Singles Chart, and became the #99 best selling single of 2010.
2011: 3rd Generation debut, disbandment announcement
At the end of January 2011, Ito Kana went on hiatus due to her poor health. She later announced her withdrawal from the group in February. The release of SDN48's second single was rescheduled from March 23rd to April 6th, because of the earthquake that devastated Japan. On May 12th, Ninomiya Yuka announced her graduation from the group to pursue a career in theater. The group lost another member later that month, when Tanisaki Tomomi announced her graduation. On May 27th, during the "Minogashita Kimitachi e" ~AKB48 Group Zenkouen~ Concert (a revival concert of all previous stages), the third generation was introduced. The seven members included Komatani Hitomi and Tojima Hana, both formerly of AKB48's first generation. Two months after this announcement was made, third generation member Hayakawa Sayo withdrew from the group. In October, it was announced by SDN48's captain Noro Kayo that the group would disband.
2012: Last single and "best of" album released, graduation of all members
At the Request Hour 2012 concert, SDN48's song Kodoku na Runner ranked in third place. On March 7th, SDN48 released their last single, Makeoshimi Congratulation. Their first and final album, NEXT ENCORE, was also released a week later. It became the only number one in the Oricon charts that the group had achieved. All the members of SDN48 graduated on March 31st, three days after their final performance at the Akihabara theater.
2013: Reappearance at AKB48 events, reunion concert
At AKB48's Request Hour 2013, the former members of SDN48 made a surprise appearance after Kodoku na Runner ranked in the top 20. The group performed a reunion concert at the AKB48 theater on March 31. In that same month, AKB48 graduates (with a total membership of 4 years or more) were allowed to participate in the 2013 Senbatsu Sousenkyo. The members from SDN48 who participated were Noro Kayo, Ohori Megumi, Sato Yukari, Kohara Haruka, and Watarirouka Hashiritai 7's stand-in Member Urano Kazumi. These members also participated in several TV shows and concerts. They also appeared in AKBINGO! and the AKB48 5 Big Dome Concert Tour.
2019: Debut of R and their Single, and Another Grand Reunion at 10th Anniversary Concert
On March 10, 2019, after the creation of the Japanese Girl Group R (アール) by the former members Akita Kazue, Fujikoso Yumi, Fukuda Akane, Kimoto Yuki, Kohara Haruka, and Okouchi Misa, they released their debut single LET ME DOWN. Former members Kato Mami, Hosoda Miyuu, and Shinahama Saemi appeared for the debut single coupling song ANNIVERSARY love SONG, serving as their guest vocals of the group.
On July 2019, the announcement has made that the group will celebrate their 10th Anniversary Concert held at AKB48 Theater on August 1, 2019. Former members of the group will reappear once again for the another grand reunion concert since 2013, except for the members whose already retired from the entertainment industry after their 1st grand reunion. Also, the setlist of the 1st stage is a modified version for the upcoming theater concert.
On August 1, during their theater concert, Kato Mami appeared only two songs on the given setlist due to her pregnancy, and none of the transferred members from AKB48 appeared on the said concert, even their former Captain Noro Kayo.
Members
All of the members have graduated from SDN48 on March 31, 2012 unless otherwise noted
SDN48 Members
Units
Single Units
Former Member Units
Discography
Filmography
Publications