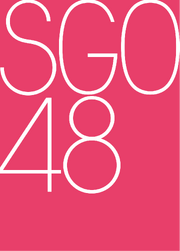 SGO48 (short for Saigon48) was a Vietnamese Idol Group produced by Akimoto Yasushi and the 6th international sister group of AKB48. The 1st generation members were announced on November 17, 2018. Unlike the other 48 Groups, SGO48 is named after the former name of Ho Chi Minh City, which is Saigon.
The motif color of the logo is based from a Lotus flower, which is the national flower of Vietnam.
On December 22, 2021, the group held their final concert entitled SGO48 The Last Show (Gửi Lại Thanh Xuân / Memories of Youth) at VOH Theater, along with the 3rd anniversary. After the show, the remaining 1st Generation members graduated, and the group was disbanded.
Members
History
Discography
Concert
Independent
Filmography
SGO48 Events
External Links