SGO48 Senbatsu Battle was a competition within SGO48. The members had to perform various different kinds of entertainment in front of an external panel of judges, who were experts in their respective fields. The battle was broadcast on the official SGO48 YouTube channel, with the first episode released on June 11th, 2020.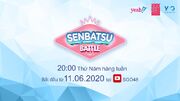 Episode 1 & 2
The first half of the first stage: All members of SGO48 perform one song for vocals and dance each and receive feedback from the judges. At the end of the episode the Top 4 get to pick teams for the next stage, Group Performances.
Judges
Singer: Ali Hoàng Dương
Dancer: Huỳnh Mến
Recap
Episode 3
Group Dance Performance. Four teams will be randomly picked a song from the given list and they have a week to practice.
Judges
Singer: Ali Hoàng Dương
Dancer: Huỳnh Mến
Recap
Episode 4
Every team had to create a 5-7 minute long screenplay.
Judges
Actress: Khả Như
Actor: Minh Dự
Recap
Team
Point
Note
A
170
-
Eyeliner
170
-
Mỡ
180
(extra 5 points individually)
Winner
Baby Queen
160
-
Episode 5
The teams have to pick a brand and then co-ordinate their outfits within 3 minutes, then they get 15 photos done by a photographer. The two teams with the lowest score have to submit a volunteer to be eliminated.
Judges
Fashionista: Quỳnh Anh Shyn
Photographer: Chanh Nguyễn
Recap
Team
Point
Note
A
155
Như Thảo
was eliminated
Eyeliner
165
-
Mỡ
200
Winner
Baby Queen
180
-
Episode 6
In this episode, the girls are measured in height, weight and bust, waist and hip width. Also, over the past week, the girls received points for how often they were on time for practice and a score of up to 100 points was kept for each member. Points were deducted for tardiness or not showing up to classes without proper notice.
Episode 7
This episode shows how handshake events work. Some members, like Ánh Sáng, have a lot of visitors, but there are also members like Phụng Nhi and DONA, who barely have any visitors in their lane at all. Due to the COVID-19 pandemic, members are wearing screen visors and fans have to get their temperature checked before being allowed inside. At the end, the members also put on a short performance. Then, the top 5 members with most handshake tickets are called to stage;
Episode 8
The four teams each chose an SGO48 song to perform. All teams had to nominate a member each that would not receive any points for this round. At the end of the episode, the 16 members with the most points were announced to be the senbatsu for SGO48's next single (not yet announced). Lệ Trang gave up her spot in senbatsu.
Judges
Singer: Ali Hoàng Dương
Dancer: Huỳnh Mến
Recap
SGO48's 3rd Single Senbatsu
Episode 9
This episode aimed to find the center for the upcoming single. They are each given one minute to sing and one minute to dance to RIVER. Always four girls at a time performed in batches. The center would be revealed in the next episode.
Judges
Singer: Ali Hoàng Dương
Dancer: Huỳnh Mến
Episode 10
SGO48's 3rd Single Senbatsu with Line Up
Trivia
Community content is available under
CC-BY-SA
unless otherwise noted.