SKE48 (short for Sakae48) is a Japanese Idol Group produced by Akimoto Yasushi. They are the 1st sister group of AKB48. The group has their own theater in Sunshine Sakae, in Nagoya (Aichi Prefecture). The 1st generation members were announced on July 30, 2008, debuting on October 5, 2008. The debut single of the group, Tsuyokimono yo, was released on August 5, 2009. They are currently signed under avex trax, originally from Nippon Crown Records.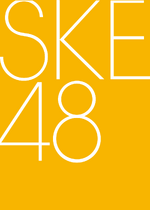 History
Members
Former Members
Sister Groups
Terms
Single Units
Discography
Stages
Team S
Team KII
Team E
Kenkyuusei
AKB48 Events
SKE48 Events
Filmography
Publications
[2009.10.07] SKE48 Complete Book 〜2008→2009〜
[2009.??.??] SKE48 Team S 3rd Stage "Seifuku no Me" Official Performance Guidebook (SKE48 チームS 3rd「制服の芽」公演公式ガイドブック)
[2010.09.17] SKE48学院修学旅行 (1週間MOOK)
[2010.10.01] 神曲の時間 SKE48リクエストアワーセットリストベスト30 2010 ~神曲はどれだ~ LIVE PHOTO BOOK
[2010.12.10] SKE48 COMPLETE BOOK 2010-2011
[2010.03.xx] Yan Yan Vol.11 (Feature)
[2010.11.xx] Yan Yan Vol.17 (Feature)
[2010.12.xx] Artist File BIG ONE GIRLS No.4 (Feature)
[2011.09.xx] girls! Vol.33 (Feature)
Number of current members
(as of April 21, 2017)

External Links
Community content is available under
CC-BY-SA
unless otherwise noted.