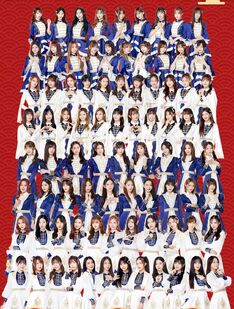 SNH48 (Short for Shanghai48) is a Chinese Idol Group and was the 2nd international sister group of AKB48. The group has their own theater in Shanghai, China. The 1st generation members were announced in October, 2012. On June, 2016 it was announced that SNH48 and its sister groups became fully independent from AKB48.
Information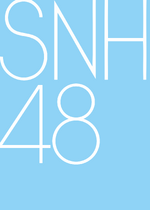 SNH48's formation under AKS and Chinese company Ninestyle was announced in April 2012. The group was based on the "idols that you can meet" concept of AKB48. SNH48 was the third international sister group of AKB48 to be announced, but was the second to become active. Before the group was created, AKB48 members Miyazawa Sae and Suzuki Mariya were temporarily transferred to SNH48 under Team Kaigai. This announcement was made during the Tokyo Dome Team Shuffle in August 2012. The 26 first generation SNH48 members were revealed in October. Construction of the SNH48 Theater, also called the Star Dream Theater, began shortly afterwards.
The stage debut and first handshake event of the group took place in January 2013. In April, 18 girls from the 1st Generation were promoted to official member status. Later that same month, RIVER, the first music video of SNH48 was released. In June the group released Heavy Rotation, their first extended play. The SNH48 Theater was opened in August, after 10 months of construction. In September SNH48's 2nd Generation was announced, and 31 new members were added to the group. The first theater performance of the 2nd Generation took place on November 2. Team SII and Team NII were formed on November 11, debuting at the theater soon after. On December 15, SNH48 joined the fifth season of China's Got Talent.
The SNH48 Kouhaku Utagassen 2014 was held in January 2014, with Team SII winning the competition. SNH48's 3rd Generation auditions also began in January. The first Senbatsu Election of SNH48 was announced in April, and began about a month later. Fans could vote only be purchasing SNH48's first album Mae Shika Mukanee online. The results of the election were revealed on July 26, with the elected members featured in the senbatsu of SNH48's fifth single. After the 3rd Generation members were announced in July, the next SNH48 auditions began. SNH48's first variety show SNHELLO!, based on AKB48's show AKBINGO!, was also first aired in July. On September 5, the third generation was promoted into the teams of SNH48. The third team of SNH48, Team HII, was announced on this same day. SNH48's first national tour, by Team SII and Team NII, began on December 18.
In January 2015, SNH48's first original song Yuan Jin Shi Jian was released as a digital single. The SNH48 Request Hour Setlist Best 30 2015 was held later that same month. At this event the 4th Generation members of SNH48 were revealed. The 5th Generation auditions for SNH48 started on March 18. Team X, the fourth team of SNH48, was formed in April. This made SNH48 the first sister group of AKB48 to have more than three teams. The voting period of the second election of SNH48 began on May 20.
On June 9, 2016, AKB48 removed all SNH48-related content on their website, declaring the group to be fully independent, after violating a contract.
On June 10, 2016, SNH48 management side insisted that they were an independent unit from the start and were never a sub-unit of AKB48, and there was never a contract to begin with. On the same day, AKB48 removed Mariya Suzuki's concurrent position with SNH48, and SNH48-related materials were removed from JKT48's website.
On June 11, 2016, according to a report by Southern Metropolis Entertainment Weekly, AKB48 founder Kotaro Shiba made a call to the SNH48 management, saying that he fully understood and supported SNH48's move towards originality.
Members
Sister Groups 
Units
Former Units
Single Units
One-Shot Units
Soloists
Outside SNH48
Terms
Discography
EPs
Graduation EPs
[2020.09.03] Take Me
Digital EPs
[2015.01.19] Yuan Jin Shi Jian
Cover Albums
[2014.05.10] Mae Shika Mukanee
Stages
Team SII
Team NII
Team HII
Team X
Team XII
1st Stage (剧场女神 / Theater no Megami) [2015.12.04 - 2016.12.15]
2nd Stage 「代號XII / Dàihào XII) [2016.12.23 - 2017.06.09] and [2017.06.16 - ]
Kenkyuusei
1st Stage (Give Me Power!) [2013.01.12 - 2013.11.11]
2nd Stage (剧场女神 / Theater no Megami) [2013.11.02 - 2013.11.10]
Special Stages
1st Stage (我们向前冲 / We rush forward) [2017.04.28 - ]'
SNH48 Events
Senbatsu Election
Request Time
Team Shuffles
Fashion Awards
[2015.10.31] SNH48 Fashion Awards
[2016.11.05] SNH48 Fashion Awards 2nd Edition
[2017.11.18] SNH48 Fashion Awards 3rd Edition
Kouhaku Utagassen
[2014] SNH48 Kouhaku Utagassen 2014
[2019] SNH48 Kouhaku Utagassen 2019
Theater Events
[2015.09.13] SNH48 Theater 2nd Anniversary Stage
[2016.02.01] Monkey's Year Stage
[2016.03.08] Tang AnQi Special Stage
[2016.09.15] SNH48 Theater 3rd Anniversary Stage
[2016.10.06] TOP 16 Tour Stage
Concert
TV Shows
SNHello! (SNHello!星萌学院) (2014 -)
Past TV Shows
China's Got Talent! (Guest) (2013 - 2014)
Guomin Mei Shaonu (國民美少女) (2016)
Happy Camp (Guest) (2016)
Heroes of The Remix (盖世英雄) (team with PSY and iKON) (2016)
Mnet Countdown (Guest) (2016)
Web Shows
Blossom Girls (2015)
Nushen Mianduimian (女神面對面) (2016)
Ouxiang de Tiaozhan (偶像的挑戰) (2016)
Shanghai High School 48 (上海學院48/SNH48のシャンハイスクール48) (2014 - 2015)
Jinji de Nusheng (進擊的女生) (2015)
Qiong Tu Molu (窮途陌路) (2015 - 2016)
Short Films
MoTian Jie (魔天劫) (2015)
SouLvenir (記念品) (2016)
Dramas
Mengxiang Yubei Sheng (梦想预备生) (2013)
Campus Beauty (贴身校花) (2016)
Cupid's Apprentice (见习爱神) (2017)
Nashi, Ke'ai de Tamen (那时,可爱的她们) (TBA)
Anime
Wuxian Shaonu 48 (无限少女48) (TBA)
Radio Shows
Seine Arabian Nights (塞納河畔夜談) (2015 - 2017)
External Links
Community content is available under
CC-BY-SA
unless otherwise noted.