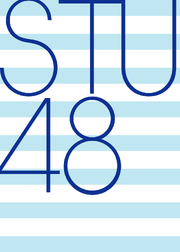 STU48 (short for Setouchi48) is a Japanese Idol Group and 5th domestic sister group of AKB48. The group has a shipboard theater, and started sailing through the seven prefectures of Setouchi Region (Yamaguchi, Hiroshima, Okayama, Hyogo, Tokushima, Kagawa and Ehime) in April, 2019. The 1st Generation members were announced on March 19, 2017.
Members
History
2016
On October 10, STU48 was announced in public at AKB48 Unit Janken Taikai 2016, in Kobe World Kinen Hall. Also, their theater will be on a boat. The group will started on summer 2017.
2017
The application for 1st Generation was started on January until February 5. During their auditions, AKB48 members Watanabe Mayu and Kashiwagi Yuki visited all seven prefectures in Setouchi Region to promote their sister group and the audition for 1st Generation members.
On February 22, two members, Okada Nana (Team 4) and Sashihara Rino (Team H), will joined STU48 as Kennin members, to hold the group as a captain and theater manager.
On March 19, 44 applicants were passed on their auditions, as 1st Generation members were introduced, held in Hiroshima City.
On a final day of March, the 1st Generation members were announced, debuting 31 original members.
On May 31, AKB48 released their 48th single Negaigoto no Mochigusare, included the first STU48's song Setouchi no Koe (this was later included on their debut single Kurayami on 2018).
5 days after the release of AKB48's 48th single, the music video of Setouchi no Koe was released.
On November 22, STU48 had a new song entitled Omoidasete Yokatta, as AKB48 released their 50th single 11-gatsu no Anklet. 3 days later, after the release of 50th single, Sashihara Rino announced that she would cancelled her Kennin position on STU48 as a theater manager, to focus her activities in HKT48.
2018
On January 15, STU48 has a variety show named STU48 no Setobingo! (STU48のセトビンゴ!, known as SETOBINGO!) which will run only for 11 episodes until March 26. It was aired on Nippon TV.
On final day of January, they released their debut single Kurayami, released in 6 types (limited and regular editions) and theater edition. This is the first single in all AKB48 groups to release more than 5 types.
On March 14, the group had their 3rd original song Pedal to Sharin to Kita Michi to, a coupling song where included and released by AKB48 as their 51st single Jabaja.
On April 14, the theater manager Yamamoto Manabu revealed their ship from formerly operated by Iki-Tsushima Sea Line or ITSL (formerly named Mikasa, みかさ), that will be used for STU48 Theater, especially for upcoming theater performances. It was formerly roll-on roll-off (RoRo) cargo / passenger ship before transformed to a shipboard theater. Followed by July, they announced their 2nd single release, which will slated on August 29. But due to flash floods and heavy rains affected in Setouchi Region, the release of 2nd single and the operation of their shipboard theater was moved to 2019.
On October 26, STU48 announced their first five units, namely Setomaiku, Charming Trip, Katte ni! Shikoku Kanko Taishi, STUDIO, and Seto7.
On November 18, the group was selected as one of the New Artist of the Year for the event 60th Japan Record Awards, making them a candidate to win the Japan Record Award for Best New Artist.
On December 12, they released their first guidebook entitled Mirai Kouro (未来航路). Followed on December 27, the main song music video of their 2nd single was released, titled Kaze wo Matsu.
2019
On January 22, the coupling song music video of Shukko was released, which was centered by Okada Nana. On their music video, their STU48 Shipboard Theater currently ongoing construction, though they're visited on Onomichi, Hiroshima to look the current status of their shipboard theater.
On February 13, they released the 2nd single Kaze wo Matsu. Followed on February 25, two STU48 Members Yano Honoka and Fujiwara Azusa painted personally their ship name on their bow. Also, they released the lists of ports where the STU48-go will dock on their theater performances.
On April 16, their STU48-go has officially launched in a ship commissioning ceremony at Hiroshima port, followed on evening performances for Shonichi of their 1st stage entitled GO! GO! Little Seabirds!
On June 2, in one episode of STU48 Imousu TV, the group announced on their upcoming 3rd single, which be released on July 31. Month after the 3rd single announcement, the music video Daisuki na Hito was released.
On July 15, the STU48-go present at Marine Day event organized by the C to Sea Project, held at Harumi Pier in Tokyo.
On July 31, their 3rd single Daisuki na Hito was released.
On October 27, the group announced their official 2nd Generation members.
On December 20, the senshuuraku stage of STU48's 1st stage. Followed on December 21 and 22, the 2nd Generation members held their debut performances at STU48 Theater.
2020
On January 11, the shonichi stage of Bokutachi no Koi no Yokan (2nd stage) was held on STU48 Theater. The stage was produced by Okada Nana.
On January 18, during their concert at Tokyo Dome City Hall, Okada Nana announced that she would stepped down as a captain (also serving as a manager) of the group, replacing her to Imamura Mitsuki as a new captain of the group, and Fukuda Akari as deputy captain (or vice captain). In addition, Naachan said that she will retain her concurrency membership as a regular member of STU48.
On January 29, their 4th single released, titled Mobou na Yume wa Sameru Koto ga Nai.
On February 20, the Shonichi of Kenkyuusei's 1st Stage was held at STU48 Theater, entitled Boku no Taiyou, a revival stage from Himawarigumi 1st stage.
On March 28, due to the impacts of COVID-19 pandemic, their 3rd anniversary celebration was held via live streaming on the video service Nico Nico. Also, they announced that their 5th single will released on May 27. But later, it was postponed due to pandemic, and moved to September 2 as their 5th single release.
On July 9, the management announced that the STU48 Shipboard Theater (STU48-go) will retire on spring 2021, and their performances next year would be held around Setouchi area with no fixed venue.
On July 23, they released the mixed version music video of 5th single main song Omoidaseru Koi wo Shiyou, which all members included.
On September 2, their 5th single released, where the main song of the single had two different Senbatsu members (1st Generation + 3rd Draft version and Kenkyuusei 2nd Generation version).
On October 2 - 4, the group joined on Tokyo Idol Festival 2020, where AKB48 and the rest of local 48 groups were attended. They were seen on Day 2 and Day 3 performances. Also, their STU48 Shipboard Theater was present on a port on Day 3 performances.
2021
On January 15, STU48 performed for the first time at Nippon Budokan, as they announced and performed their upcoming 6th single before their official release. Following their new announcement, the group announced that they will having a 4th anniversary concert, that will hold at Hiroshima Sun Plaza Hall on March 13 (Saturday).
On February 1, the group premiered their 6th single main song music video, titled Hitorigoto de Kataru Kurainara. After 2 weeks, the coupling song music video Boku wa Kono Umi wo Nagameteru, which was performed by Setouchi PR Unit, was released, two days before their full release of their 6th single.
On February 7, the group announced that their shipboard theater will cease their service on May 23.
On February 17, their 6th single Hitorigoto de Kataru Kurainara was released.
On March 13, the group celebrates their 4th anniversary concert at Hiroshima Sun Plaza Hall, entitled STU48 4th Anniversary Concert ~Bokura wa Koko kara ga Sugoizo!~ (STU48 4周年コンサート〜僕らはここからが凄いぞ!〜). Their schedule was held at noon part.
On April 5, Ishida Chiho, who was recently centered the main song Hitorigoto de Kataru Kurainara, has announced that she will going on a hiatus due to her physical condition. 2 days after her hiatus announcement, she was replaced by Tamura Natsuki, especially on their theater performances.
On May 23, the STU48 Shipboard Theater (STU48-go) stopped at their last tour in Hiroshima Port, where the ship was commissioned last April 16, 2019, to perform for their final time for Kenkyuusei's 1st stage (daytime performance) and promoted member's 2nd stage (night performance). After their night performance, the STU48-go officially decommissioned at Hiroshima Port.
STU48 Overall Leadership
Captain
Vice Captain
Sister Groups
Units
Single Units
Thematic Units
Special Units
Former Units
Discography
Singles
Other songs
Stages
STU
| # | Stage name | Date | Performances |
| --- | --- | --- | --- |
| 1 | GO!GO! little SEABIRDS!! | 2019.04.16 - 2019.12.20 | 63 |
| 2 | Bokutachi no Koi no Yokan | 2020.01.11 - | |
Kenkyuusei
#

Stage name

Date

Performances

1

Boku no Taiyou


(僕の太陽)
2020.02.20 -
Media Appearances
Variety
Web Shows
Setouchi Gakuen (2020 - )
Games
[2017.12.29] STU48 no 7 Narabe (Smartphone app)
AKB48 Events
Senbatsu Elections
External Link