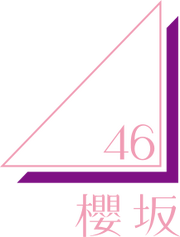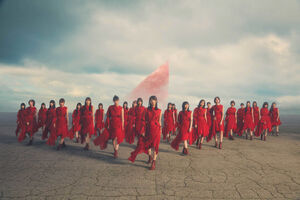 Sakurazaka46 (櫻坂46  Sakurazaka46?) is a Japanese idol group, formerly known as Keyakizaka46, that debuted on October 14, 2020. The group name was announced officially on September 20, 2020. Their debut single, Nobody's Fault, was released on December 9, 2020.
History
2020
Following the graduation of ace Hirate Yurina, on July 16, 2020, the captain of Keyakizaka46 (Sugai Yuuka) announced that Keyakizaka46 would undergo rebranding. They would release one final digital single and hold a last concert in October 2020.
On September 20, 2020, the twitter account UNI'S ON AIR (Keyakizaka46 + Hinatazaka46 Official News Account) tweeted the hashtag #櫻坂46 (Sakurazaka46) in combination with cherry blossom emojis. On the same day, a video advertisement was played on big screens on streets all over Tokyo, which read, "We will surpass Keyakizaka46. Sakurazaka46."
Members
Sakamichi Series
Terms
Discography
Singles
Concerts
Games
Keyaki no Kiseki/Hinata no Ayumi (欅のキセキ/日向のアユミ) (2017 - )
UNI'S ON AIR (2019 - )
TV Shows
Variety Shows
Soko Magattara, Sakurazaka?

(そこ曲がったら、櫻坂?) (2020 - )
Daisuki! Sakurazaka46 〜Geinoukai "Sakura" Mankai Keikaku & Live Eizou Kuradashi SP〜 (大好き!櫻坂46〜芸能界"櫻"満開計画&ライブ映像蔵出しSP〜) (2021)
Dramas
Borderless

(ボーダレス) (2021)
Radio Shows
Sakurazaka46 Kochira Yurakucho Hoshizora Housoukyoku (櫻坂46 こちら有楽町星空放送局) (2016 - )
Yuugata Paradise (ゆうがたパラダイス) (2017 – )
Sakura Hinata Lotti no Senobishiro Radio (さくらひなたロッチの伸びしろラジオ) (2021 - )
External Links