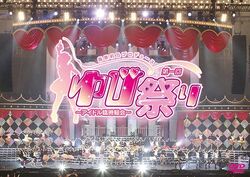 Sashihara Rino Produce Dai Ikkai Yubi Matsuri ~Idol Rinji Sokai~ (指原莉乃プロデュース 第一回ゆび祭り~アイドル臨時総会~) is a festival concert produced by Sashihara Rino, featuring many different idol groups, including Nogizaka46 and Watarirouka Hashiritai 7. The DVD and Blu-ray were released on December 26, 2012.
Tracklist
Disc 1
Opening Video
Houkago Getabako Rock n Roll MX - Shiritsu Ebisu Chuugaku
Guru Guru Curtain - Nogizaka46
Pock☆Star - Passpo☆
Shoujo Hikou - Passpo☆
Material Girl - Passpo☆
Shounen yo Uso wo Tsuke! - Watarirouka Hashiritai 7
Kanpeki Gu~no ne - Watarirouka Hashiritai 7
Overture - Momoiro Clover Z
Otome Sensou - Momoiro Clover Z
Ikuze! Kaitou Shoujo - Momoiro Clover Z
Rock you! - Tokyo Girls Style
Attack Hyper Beat POP - Tokyo Girls Style
Onnaji Kimochi - Tokyo Girls Style
Welcome to S G Show!! II - SUPER☆GiRLS
Joshi Royku←Paradise - SUPER☆GiRLS
EveryBody JUMP!! - SUPER☆GiRLS
Puripuri SUMMER Kiss - SUPER☆GiRLS
Disc 2
Hatsukoi Cider - Buono!
Rottara Rottara - Buono!
Renai♥Rider - Buono!
Yarakai Heart - Idoling!!!
One Up!!! - Idoling!!!
Ichigo Gyuunyuu - Idoling!!!
Hatsukoi Heels - Sashihara Rino
Ikuji Nashi Masquerade - Sashihara Rino
Soredemo Suki da yo - Sashihara Rino
Yeah! Meccha Holiday - Sashihara Rino, Haruna Ai
Making Of
Featured Artists
Shiritsu Ebisu Chuugaku
Passpo☆
Momoiro Clover Z
Tokyo Girls Style
SUPER☆GiRLS
Buono!
Idoling!!!
Haruna Ai
Community content is available under
CC-BY-SA
unless otherwise noted.