Shimazaki Haruka
島崎遥香

Shimazaki Haruka, 2016
Information
Nickname
Paruru (

ぱるる

?

)
Zakisan (

ざきさん

?

)
Ponkotsu (

ぽんこつ

?

)
Birthdate
March 30, 1994
Birthplace
Saitama, Japan
Bloodtype
A
Zodiac Sign
Aries
Height
157cm
B-W-H
72-57-84cm
Professional Information
Genres
J-Pop
Occupation
Singer, Idol, Actress
Years Active
2009-present
(11 years)
Agency
BIG APPLE Co., Ltd/AKS
group
AKB48
Team
AKB48 Graduates
Generation
9th Generation AKB48
Associated Acts
AKB48, SKE48, NMB48, HKT48, Nogizaka46, JKT48, SNH48
Sub-Units
Team Surprise, BKA48, Balance Sentai - Veggie Rangers
Google+
+島崎遥香
Graduated
December , 2016
Shimazaki Haruka was a member of AKB48's Team A.
Profile
Full Name: Shimazaki Haruka (島崎遥香)
Nickname: Paruru (ぱるる), Ponkotsu (ぽんこつ)
Birthdate: March 30, 1994
Zodiac: Aries
Blood Type: A
Origin: Saitama, Japan
Agency: Big Apple
Genres: J-pop
Years Active: 2009-present
Height: 157cm
Bust: 72cm
Waist: 57cm
Hips: 84cm
Senbatsu/Selection Events
Mechaike SP (BKA48) - #12 (55.6 average) BKA7
Team History
Discography Participitation
Units
Stage Units
RS2 (Idol no Yoake)

RS3 (Renai Kinshi Jourei)

RS4 (Theater no Megami)

41 (Boku no Taiyou)

A5 (Renai Kinshi Jourei)

Heart Gata Virus (Revival)
Concert Shuffle Units
Gyomu Renraku. Tanomuzo, Katayama Bucho! in Saitama Super Arena
AKB48 in TOKYO DOME ~1830m no Yume~
Unit Matsuri 2013
AKB48 Request Hour Setlist Best 100 2013
AKB48 Group Rinji Soukai "Shirokuro tsukeyou janai ka!"
AKB48
AKB48 Group
AKB48 Super Festival at Nissan Stadium
AKB48 2013 Manatsu no Dome Tour ~Mada mada, Yaranakya Ikenai koto ga aru~
Fukuoka Dome
Sapporo Dome
Osaka Dome
Nagoya Dome
Tokyo Dome
AKB48 8th Anniversary
Kimi Dake ni Chu! Chu! Chu!
AKB48 Kouhaku Utagassen 2013
AKB48 Request Hour Setlist Best 200 2014
Unit Matsuri 2014
Wagamama na Nagareboshi
Boy Hunt no Houhou Oshiemasu
AKB48 National Olympic Stadium Concert
AKB48 Group at Ajinomoto Stadium
Solo Songs
Dramas and Films
Video Games
Trivia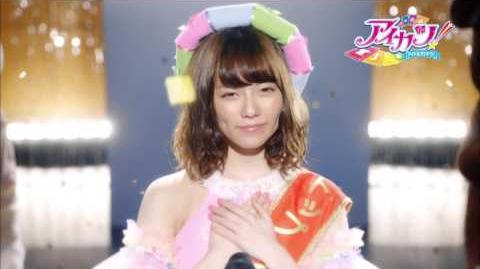 Member of Shino-Club.
Vice-Chairman of Melonpan Alliance.
Assigned to Big Apple agency on March 23rd, 2012.
Her only skill is unicycling.
Favorite snack is Jagabee.
Aki-P and fans called her "ponkotsu". Though the issue has also been investigated and cleared in Episode 158 of Shukan AKB, the term has already been embedded as one of her nicknames.
Some fans confuse her for Shimada Haruka due to their names being one kanji different apart (島崎, Shimazaki; 島田, Shimada).
Wants to wear the brand Honey mi Honey for her autumn outfits.
Reads each fan letter carefully and treats the presents she gets with care.
Likes ponzu!.
Has Honey mi Honey clothes.
Favorite meal is sukiyaki!.
Favoriting Keiko Kitagawa.
Her phone strap is currently of a cute Sherrie Mae that a fan gave her.
Likes Alice.
Bad at drawing.
Does not want her hair to be shorter than it is now .
Has small brother who is 10 years younger than her.
Close with Yokoyama Yui (YuiParu).
Favorite Country in United Kingdom
Gallery
Shimazaki Family Tree
Father
Mother
Haruka
Brother
Slideshow
Community content is available under
CC-BY-SA
unless otherwise noted.