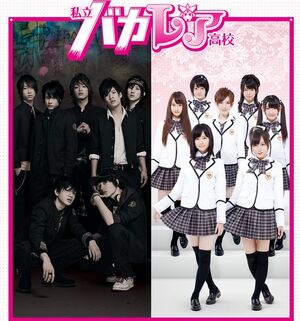 Shiritsu Bakaleya Koukou (私立バカレア高校) is a 2012 Japanese television series. Written by AKB48's producer Akimoto Yasushi, this television series features members of Johnny's Jr. and AKB48's Team 4.
Plot
Bakada High School is a well-known Yankī (delinquent) school, where students only know how to fight. On the other hand, Cattleya High School is a exclusive girls' school meant for the rich, where students are very refined. One day, it was announced that Bakada would merge into Cattleya to form Cattleya No.2 High School. However, students from Bakada and Cattleya were unable to accept each other, since they come from vastly different backgrounds. Over time, the two opposing groups slowly get to understand each other better.
Cast
Episodes
Episode title
Romanized title
Translation of title
Broadcast date
Ratings
Ep. 1
プロローグ
Purorōgu
Prologue
April 14, 2012
3.3%
Ep. 2
合併
Gappei
Merger
April 21, 2012
3.8%
Ep. 3
総選挙
Sōsenkyo
Election
April 28, 2012
2.1%
Ep. 4
カトレアのルール
Katorea no Rūru
Rules of Cattleya
May 5, 2012
3.9%
Ep. 5
今いる場所
Ima iru basho
Where you are today
May 12, 2012
3.0%
Ep. 6
バッティングセンター
Battingusentā
Batting Centre
May 19, 2012
3.0%
Ep. 7
初恋
Hatsukoi
First Love
May 26, 2012
2.3%
Ep. 8
ファミレス
Famiresu
Family Restaurant
June 2, 2012
3.0%
Ep. 9
裏切り
Uragiri
Betrayal
June 9, 2012
2.8%
Ep. 10
FGSP
FGSP
FGSP
June 16, 2012
N/A
Ratings for Kanto region
Movie Plot
The story progresses after the final episode of the series. After the dispute among the Bakada Boys, the students of the Bakada/Cattleya No.2 were temporarily transferred to Cattleya No.1 for a month due to the Bakada High School Building being renovated for repairs caused by the last earthquake. Upon transfer, the Bakada Boys' dispute escalated further, causing trouble for Fumie, Saya and the others. Furthermore, one of Bakada's old rival school re-appears to challenge the successor of Sakuragi Ren.
Music
Production
Shiritsu Bakaleya Koukou was first announced by AKB48 producer Akimoto Yasushi on 1 March 2012. This drama features members from the female idol group AKB48 and male idol group Johnny's Jr., with this being the first time where members of AKB48 and Johnny's Jr. collaborate together in a television drama. Most of the cast members featured in this show had no prior experience in acting.
It was subsequently revealed that Shiritsu Bakaleya Koukou would receive a movie sequel. Members of the original cast reprised their roles in the sequel, with additional cast members from both AKB48 and Johnny's Jr. The movie sequel was scheduled to be released in the Japanese box office last 13 October 2012.
External links
Community content is available under
CC-BY-SA
unless otherwise noted.