Takahashi Minami was a member of AKB48's Team A and the 48Group's general manager.
Catchphrase
見かけはちょっぴりヤンキー心はガラスのハートたかみなこと高橋みなみです!
Mikake wa choppiri YANKII kokoro wa GARASU no HAATO Takamina koto Takahashi Minami desu!
(My appearance is slightly yankee, but my heart is a glass. Called Takamina, Takahashi Minami!)
Team History
AKB48 Senbatsu Election
AKB48 Janken Tournaments
Solo Singles
[2013.04.03] - Jane Doe
[2017.09.26] - Kodoku wa Kizutsukanai (孤独は傷付かない)
Solo Albums
[2016.10.12] - Aishi Te mo Ii Desu ka? (愛してもいいですか?)
Solo Concert
[2015.04.08] Takahashi Minami Mirai he Kekki Shuukai~ Subete no Koto no Zenya~ (高橋みなみ未来への決起集会~すべてのことの前夜~)
Singles Participation
Albums Participation
Units
Persona
Stage Units
A1 (PARTY ga Hajimaru yo)

Skirt, Hirari (1st Unit)
Hoshi no Ondo (2nd Unit)
A3 (Dareka no Tame ni)
A4 (Tadaima Renaichuu)
Himawarigumi 1 (Boku no Taiyou)
Himawarigumi 2 (Yume wo Shinaseru Wake ni Ikanai)
A5 (Renai Kinshi Jourei)
A6 (Mokugekisha)
Kioku no Dilemma (New Units)
Team Surprise 1st Stage (Juuryoku Sympathy)
A5 Revival (Renai Kinshi Jourei)
Team Surprise 2nd Stage (Bara no Gishiki)
Concert Units
AKB48
AKB48 Group
Fukuoka Dome
Sapporo Dome
Osaka Dome
Nagoya Dome
Tokyo Dome
Shimane
Solo Songs
Photobooks
Media Appearances
Stage Plays
Movies
Densen Uta (伝染歌) (2007)
Shingeki no Kyojin (進撃の巨人) (2015)
Dramas
Densha Otoko Deluxe - The Last Holy War (フジテレビ系ドラマ「電車男デラックス~最後の聖戦~) (2006)
Desu yo nē (episodes 6, 10 and 11) (2006)
Joshi Deka! - Female Detective (ジョシデカ!-女子刑事-) (as Game Center Informant) (2007)
Saito-san (斉藤さん) (as Shinmi Kei) (2008)
Mendol ~Ikemen Idol~(メン★ドル ~イケメンアイドル~) (as Kawachi Nami/Kai) (2008)
Kotodama no Onnatachi (言霊の女たち) (2010)
Majisuka Gakuen (マジスカ学園) (as Minami) (2010)
Honto ni Atta Kowai Hanashi Raincoat no Onna (as Takahashi Minami) (2010)
Sakura Kara no Tegami~AKB48 Sorezore no Sotsugyou Monogatari~ (as Takahashi Minami/Tanizaki Minami) (2011)
Majisuka Gakuen 2 (as Minami and as Lieutenant/Female Investigator) (2011)
HUNTER ~Sono Onnatachi, Shoukin Kasegi~ (as Saori) (2011)
So long! (as Koga Akane) (2013)
Majisuka Gakuen 4 (マジスカ学園4) (2015)
Variety Shows
TV
[2012.12.07 -] AKB Kousagi dōjō
[2012.10.21 -] Snackshop Eden
[2012.06.29 -] Bimyo~na Tobira AKB48 no Gachichare
[2011.05 -] Shin Dōmoto Kyōdai
[2010.07.13 -] AKB to ××!
[2010.07.08 -] Mujack!
[2008.10.01 -] AKBINGO!
[2011.09.29 - 2012.02.23] AKB Conte (Bimyo~)
[2010.05.30 - 2012.03.08] Naruhodo High School
[2010.04.02 - 2011.03.25] PON!
[2009.10.05 - 2010.03.22] Omoikkiri PON!
[2009.07.10 - 2012.11.30] Shukan AKB
[2009.04.03 - 2009.10.02] Omoikkiri DON! 1155
[2008.07.13 - 2011.11.06] AKB48 Nemōsuterebi (Seasons 1 to 4)
[2008.04.07 - 2008.09.29] AKB 0ji 59fun
[2008.01.24 - 2008.03.27] AKB 1ji 59fun
Manga
Anime
Video Games
CM
Trivia
Audition Song: Will (Hamasaki Ayumi)
Hobbies: Reading manga, drawing
Special Skills: Copying pictures.
Favorite animal: All animals, but likes cats the most

Runs an Instagram account only with pictures of her cat (@neco_mina)

Favorite anime movie: Crayon Shin-chan: Calling the Storm; Battle of the Warring States
Favorite artist: Flumpool, Aqua Timez, w-inds, Nakamori Akina
Favorite color: Black, White and Pink
Favorite food: Katsudon, hamburger steak
Disliked food: Many, including sushi, broccoli,o tomato. In general she dislikes raw food
Favorite manga: "One Piece", but likes shounen manga in general, NANA
Favorite books: Uncle Tom
Favorite seasons: Spring & Autumn
Ideal female: A person that looks perfect, but isn't
Good friends with: Maeda Atsuko (AtsuMina), Minegishi Minami
Future ambition: Solo singer. She has also expressed interest in voice acting
Would like to be a voice actress in the future.
Claims to be quite stubborn, and bad at giving up.
She has three conditions that she looks for in a guy. Someone who is taller than her, funny and someone who manages money well. Also, she likes guys who wear suits, and thinks it is dreamy when they're fixing their collars.
Eats an apple every day to stay healthy.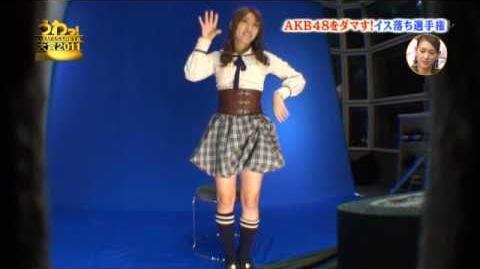 She is a constant target for Dokkiris (hidden camera pranks that are popular on Japanese variety shows).
Along with Mayuyu and Tomochin, her favorite Dragon Ball character is Son Goku.
When she was given the challenge for to perform Rakugo in a no3b's Kimi Shika Promotional Event, she was given the name "Harukaze Konami" as her Rakugo stage name.
As revealed to her in AKBINGO! (July 7, 2010), the only reason Takamina passed the initial written auditions was because of her height (148.5cm) and her birthdate (4/8/1991) both having the numbers 4 and 8.

During a segment in AKBINGO!, it was revealed that since their last check-up, she has been troubled by the result that she lost 5mm (in height, from 148.5cm to 148cm). In addition, during the EX-Episode for Majisuka Gakuen 2, she learned that Ichikawa Miori became taller than her

Former member of Light Music Club
Before joining AKB48, competed in The 30th HoriPro Talent Contest (第30回ホリプロタレントスカウトキャラバン) and was among the Top 15 out of 52,547 contestants

She received the loudest applause after her singing performance during this contest, and was the only girl who didn't cry when the winner was announced

Original center of AKB48
She is the only AKB48 member who participated in all singles (except Janken Tournament singles)
Was officially announced as Team A captain during the 2009 Team Shuffle
Known for her "failing" (suberi) character on TV (telling stories that she thinks are funny, but actually are not)
Only believes in fortune-telling when it's a good one
Wants to visit Egypt
Does not watch TV, instead closes her eyes and daydreams until she wants to go to bed
Likes indoors better than outdoors and is sensitive to heat and coldness
Would eat Ginza Bairin's katsudon for her last meal
Her childhood hero is Kakuranger
Based on Shukan AKB 100Q, she thinks that she is good at decisive dance choreography, but not as good at graceful dance steps
As seen on AKB 1ji 59fun!, she can't skip properly
Likes guys who wear suits. Thinks it's dreamy when they're fixing their collars
Feels happy at times when she can just relax, which she does by closing her eyes.
Rates herself as a 3 out of 10, her reasoning being that she doesn't think she has many feminine points and is probably a disappointment as a female
Can often be seen giving speeches and leading the group huddles for both concerts and stage performances. This, among other things, has led to many fans referring to her as the captain of AKB48 (until she was promoted to be official General Director of AKB48 in AKB48 in TOKYO DOME ~1830m no Yume~). She is even called "AKB's Papa" or "AKB's Soul" (AKB no Tamashii)

Her nickname Sou-chan derives from Soukantoku, the Japanese word for General Director

She got married on May 1st, 2019
Gallery
Slideshow
Community content is available under
CC-BY-SA
unless otherwise noted.