Team 4 is an additional Team. The first batch of members were transferred during the Tokyo Dome Team Shuffle Tokyo Dome random team. Their color of the team is Yellow . The second batch of members were transferred during the Manatsu no Dome Tour Concert. They currently have 24 members.
Members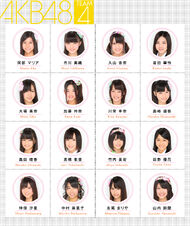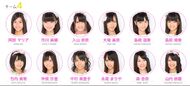 Stages
Information
On December 8, 2011, Mori Anna, Nagao Mariya, Oba Mina, Shimazaki Haruka, Shimada Haruka, Takeuchi Miyu, and Yamauchi Suzuran were promoted to full members of AKB48 Kenkyuusei. At the time, their status within the group was undetermined and they continued to perform as Kenkyuusei. Three months later, Nakamata Shiori was given the same promotion, followed by Ichikawa Miori in late May.
During AKB48's Tokyo Dome City Hall recovery performance, it was announced that the promoted kenkyuusei were to be placed in a new team, Team 4. Details of their debut were to be communicated later. During AKB48's Seibu Dome concerts, it was announced that kenkyuusei Iriyama Anna and Abe Maria would be promoted to Team 4.
Before their debut, Mori Anna resigned at the same time due to a back injury. Team 4 made their debut with a revival of Himawarigumi 1st Stage "Boku no Taiyou" in October.
On 6 July 2020, Kawamoto Saya (川本紗矢  Kawamoto Saya?)/ announce her graduation when Profile48 streaming on Youtube, her still AKB48 member until the end of August 2020.
Trivia
Team 4 Songs on AKB48 Albums & Singles
Community content is available under
CC-BY-SA
unless otherwise noted.