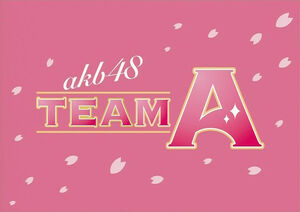 AKB48's Team A (チームA) is the first team formed for theater-based idol group AKB48. Their team color is Pink. They currently have 18 members, although 5 have announced graduation.
Members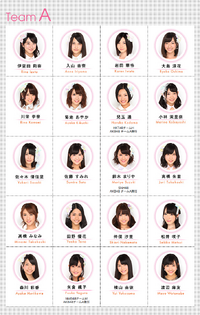 Stages
Information
In June 2005, Akimoto Yasushi had his first audition for his "Akihabara 48 Project", a project for a group that featured 48 girls who performed in their own theater. By October, he had picked 24 girls to be the first group of members for what came to be known as AKB48, and on December 8, 2005, 20 girls debuted in the Akihabara 48 Theater. At the end of Team A's first stage, Usami Yuki graduated to pursue a career in gravure.
In 2007, it was announced that Team A (who had just finished their fourth stage) and Team K (who had just finished their third) would be performing together as Himawari-gumi, a team of mixed Team A and K members who performed two stages together. At the time, it was unclear whether they would revert back to their original teams after the run.
In August 2009, it was announced that the teams of AKB48 would be shuffled in October 2009. The 'new' Team A consisted of Kuramochi Asuka and Matsubara Natsumi from Team K and Oota Aika, Katayama Haruka, Sashihara Rino, Nakagawa Haruka and Nakaya Sayaka from Team B, as well as the promotion from AKB48 Kenkyuusei of Iwasa Misaki, Ooya Shizuka, Suzuki Mariya and Maeda Ami. Suzuki Mariya, however, was added to Team B after Suzuki Shihori withdrew.
In August 24, 2012, all the teams were shuffled in the Tokyo Dome Concert.
In February 24, 2014 all groups were shuffled in the AKB48 Group Daisokaku Matsuri in order to give more opportunities to members.
In March 26, 2015, all the teams were shuffled in the AKB48 Spring Shuffle 2015 at the AKB48 Spring Concert 〜Jikiso Imada Shugyouchu!〜
In December 8, 2021, all the teams were shuffled in the AKB48 16th Anniversary at the AKB48 Theater.
Discography
Singles
Other
Team A Songs on AKB48 Albums and Singles