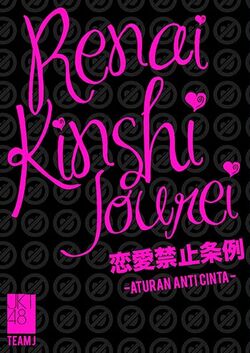 Renai Kinshi Jourei (恋愛禁止条例) is Team J's 1st Stage. The stage is a revival from Team A 5th Stage, with the songs being sung on Indonesian.
General Information
Stage Name

Renai Kinshi Jourei (恋愛禁止条例)

Stage Name (Indonesian)

Aturan Anti Cinta

Team

Shonichi / Senshuuraku
2012.12.26 - 2013.12.28 (Team J)
2013.12.26 - 2013.12.28 (Team KIII Tribute Show)

Setlist
M00. overture (JKT48 ver.)
M01. Nagai Hikari (長い光 / Cahaya Panjang)
M02. Squall no Aida ni (スコールの間に / Di Tengah Hujan Badai Tiba-Tiba)
M03. JK Nemurihime (JK眠り姫 / Gadis SMA Putri Tidur)
M04. Kimi ni Autabi Koi wo Suru (君に合うたび恋をする / Jatuh Cinta Setiap Bertemu Denganmu)

MC1
MC2
M10. Switch
M11. 109
M12. Hikoukigumo (ひこうき雲 / Jejak Awan Pesawat)

MC3
M13. Ano Koro no Sneaker (あの頃のスニーカー / Sneaker Waktu Itu)

Encore:
M14. JKT Sanjou! (JKT参上! / JKT Datang!)
M15. Namida no Shinkokyuu (涙の深呼吸 / Nafas Dalam Air Mata)

MC4
M16. Oogoe Diamond (大声ダイヤモンド / Teriakan Berlian)

Team KIII Tribute Show
Team KIII held a tribute show by performing this setlist form 26th December 2013 until 28th December 2013.
Setlist
M00. overture (JKT48 ver.)
M01. Nagai Hikari (長い光 / Cahaya Panjang)
M02. Squall no Aida ni (スコールの間に / Di Tengah Hujan Badai Tiba-Tiba)
M03. JK Nemurihime (JK眠り姫 / Gadis SMA Putri Tidur)
M04. Kimi ni Autabi Koi wo Suru (君に合うたび恋をする / Jatuh Cinta Setiap Bertemu Denganmu)

MC1
M05. Kuroi Tenshi (黒い天使 / Malaikat Hitam) (Rona Anggreani, Viviyona Apriani, Riskha Fairunissa)
M06. Heart Gata Virus (ハート型ウイルス / Virus Tipe Hati) (Shinta Naomi, Jennifer Hanna, Octi Sevpin)
M07. Renai Kinshi Jourei (恋愛禁止条例 / Aturan Anti Cinta) (Noella Sisterina, Ratu Vienny Fitrilya, Alicia Chanzia)
M08. Tsundere! (ツンデレ!) (Cindy Yuvia, Nadila Cindi Wantari, Della Delila)
M09. Manatsu no Christmas Rose (真夏のクリスマスローズ / Mawar Natal Musim Panas) (Natalia, Lidya Maulida Djuhandar, Thalia, Sinka Juliani)
MC2
M10. Switch
M11. 109
M12. Hikoukigumo (ひこうき雲 / Jejak Awan Pesawat)

MC3
M13. Ano Koro no Sneaker (あの頃のスニーカー / Sneaker Waktu Itu)

Encore:
M14. JKT Sanjou! (JKT参上! / JKT Datang!)
M15. Namida no Shinkokyuu (涙の深呼吸 / Nafas Dalam Air Mata)

MC4
M16. Oogoe Diamond (大声ダイヤモンド / Teriakan Berlian)

Releases
Studio Recording
Artist

Album

Team J 1st Stage "Renai Kinshi Jourei –Aturan Anti Cinta–"

Release Date

2014.12.07

Label/Catalog Number/Price

Label: HITS Records
(CD) / Rp 100.000
Members
Aki Takajo, Ayana Shahab, Beby Chaesara Anadila, Devi Kinal Putri, Frieska Anastasia Laksani, Gabriela Margareth Warouw, Ghaida Farisya, Haruka Nakagawa, Jessica Vania Widjaja, Jessica Veranda Hardja, Melody Nurramdhani Laksani, Nabilah Ratna Ayu Azalia, Rena Nozawa, Rezky Wiranti Dhike, Sendy Ariani, Shania Junianatha
DVD Release
Artist

DVD

Team J 1st Stage "Renai Kinshi Jourei –Aturan Anti Cinta–"

Release Date

2013.12.21

Label/Catalog Number/Price

Label: HITS Records
(DVD) / Rp 150.000
Members
Ayana Shahab, Beby Chaesara Anadila, Cindy Gulla, Devi Kinal Putri, Gabriela Margareth Warouw, Ghaida Farisya, Haruka Nakagawa, Jessica Vania Widjaja, Jessica Veranda Hardja, Melody Nurramdhani Laksani, Nabilah Ratna Ayu Azalia, Rena Nozawa, Rezky Wiranti Dhike, Sendy Ariani, Shania Junianatha, Stella Cornelia
Trivia
Participating Members
Shonichi
Aki Takajo, Ayana Shahab, Beby Chaesara Anadila, Cindy Gulla, Devi Kinal Putri, Gabriela Margareth Warouw, Ghaida Farisya, Haruka Nakagawa, Jessica Vania Widjaja, Jessica Veranda Hardja, Melody Nurramdhani Laksani, Nabilah Ratna Ayu Azalia, Rena Nozawa, Rezky Wiranti Dhike, Sendy Ariani, Shania Junianatha
Senshuuraku
Ayana Shahab, Beby Chaesara Anadila, Cindy Gulla, Devi Kinal Putri, Gabriela Margareth Warouw, Ghaida Farisya, Haruka Nakagawa, Jessica Vania Widjaja, Jessica Veranda Hardja, Melody Nurramdhani Laksani, Nabilah Ratna Ayu Azalia,Rezky Wiranti Dhike, Sendy Ariani, Shania Junianatha, Sonia Natalia, Stella Cornelia