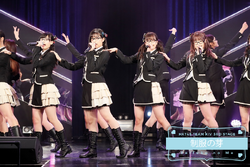 Seifuku no Me (制服の芽) will be HKT48's Team KIV 3rd Stage (KIV3). The stage is a revival from Team S 3rd Stage.
General Information
Stage Name

Seifuku no Me (制服の芽)

Team

Shonichi / Senshuuraku

2018.01.29 -
Setlist
M00. overture (HKT48 ver.)
M01. Koi wo Kataru Shijin ni Narenakute... (恋を語る詩人になれなくて・・・)
M02. Goukaku Kiss (合格Kiss)
M03. Antenna (アンテナ)
M04. Seifuku no Me (制服の芽)

MC1
M05. Omoide Ijou (思い出以上) (Iwahana Shino, Kumazawa Serina, Motomura Aoi)

M06. Ookami to Pride (狼とプライド) (Tomonaga Mio, Fuchigami Mai)

M07. Onna no Ko no Dairokkan (女の子の第六感) (Ueki Nao, Unjo Hirona, Tanaka Yuka, Tomiyoshi Asuka, Fukagawa Maiko)

M08. Kareha no Station (枯れ葉のステーション) (Miyawaki Sakura)

M09. Mangekyou (万華鏡) (Imada Mina, Shimono Yuki, Jitoe Nene, Moriyasu Madoka)

MC2
M10. Jealousy no Alibi (ジェラシーのアリバイ)
M11. Doubt!
M12. Nakama no Uta (仲間の歌)

MC3
M13. Mizu no Nai Pool (水のないプール)

Encore:
M14. Rakuen no Kaidan (楽園の階段)
M15. Pinocchio Gun (ピノキオ軍)
MC
M16. Tegami no Koto (手紙のこと)

Unit Positions
* Didn't participate in the shonichi
Participating Members
Shonichi
Imada Mina, Iwahana Shino, Ueki Nao, Unjo Hirona, Kumazawa Serina, Shimono Yuki, Tanaka Yuka, Jitoe Nene, Tomiyoshi Asuka, Tomonaga Mio, Fukagawa Maiko, Fuchigami Mai, Miyawaki Sakura, Motomura Aoi, Moriyasu Madoka
Murashige Anna did not participate in the Shonichi due to health problems.
Trivia
Community content is available under
CC-BY-SA
unless otherwise noted.