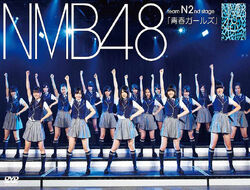 Seishun Girls (青春ガールズ) is NMB48's Team N 2nd Stage (N2). The stage is a revival from Team K 2nd Stage.
General Information
Stage Name

Seishun Girls (青春ガールズ)

Team

Shonichi / Senshuuraku

2011.05.19 - 2012.09.20
Setlist
M00. overture
M01. Seishun Girls (青春ガールズ)
M02. Beach Sandal (ビーチサンダル)
M03. Kimi ga Hoshi ni Naru Made (君が星になるまで)

M05. Kinjirareta Futari (禁じられた2人) (Yamada Nana, Yoshida Akari)

M06. Ame no Doubutsuen (雨の動物園) (Watanabe Miyuki, Kondo Rina, Mori Ayaka, Shiroma Miru, Jonishi Kei, Kadowaki Kanako, Kinoshita Haruna)

M08. Don't disturb!
M09. Virgin love
M10. Hizukehenkousen (日付変更線)
M11. Boku no Uchiage Hanabi (僕の打ち上げ花火)

Encore:
M13. Yakusoku yo (約束よ)
M14. Korogaru Ishi ni Nare (転がる石になれ)
M15. Cinderella wa Damasarenai (シンデレラは騙されない) (Yamada Nana, Yamamoto Sayaka, Watanabe Miyuki, Shiroma Miru, Ogasawara Mayu, Kondo Rina)

Studio Recording
Artist

Team N (チームN)

Album

Seishun Girls (Team N)

Release Date

2014.01.01

Label/Catalog Number/Price

Label: laugh out loud records
YRCS95012 (CD) / ¥3,000
Tracklist
overture
Seishun Girls
Beach Sandal
Kimi ga Hoshi ni Naru Made
Blue rose
Kinjirareta Futari
Ame no Doubutsuen
Fushidara na Natsu
Don't disturb!
Virgin love
Hizukehenkousen
Boku no Uchiage Hanabi
Yakusoku yo
Korogaru Ishi ni Nare
Cinderella wa Damasarenai
Members
Ogasawara Mayu, Kadowaki Kanako, Kishino Rika, Kinoshita Haruna, Kotani Riho, Kondo Rina, Shinohara Kanna, Jonishi Kei, Shiroma Miru, Fukumoto Aina, Matsuda Shiori, Yamaguchi Yuuki, Yamada Nana, Yamamoto Sayaka, Yoshida Akari, Watanabe Miyuki
Trivia
Members who did participate in the stage, but didn't have a unit song and therefore performed as unders for unit songs: Kotani Riho, Shinohara Kanna
Under positions
Community content is available under
CC-BY-SA
unless otherwise noted.