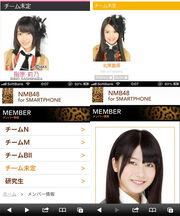 Team Unknown, or sometimes commonly referred as Team Undecided (チーム未決定, CHIIMU Mikettei) or Team Undetermined (チーム未定, CHIIMU Mitei) in some documents, is a temporary Team used when a newly promoted member has no spot on the Regular Teams, or when the announcement of her promotion/transfer was announced before the final determination of her new Team.
Current Members
Transferred / Promoted
List of known members who have been assigned in Team Unknown
Note
In response to the Labor Law of China, 20 members of SNH48 were promoted to regular members on April 17, 2013. Although promoted, a Team name was still unannounced. The members are often referred to as either Team Kenkyuusei or Team Unknown.